BACK TO NEWS
Industrial Profile
8/23/2013
Jonathan Paskowitz, President at Lightning Bolt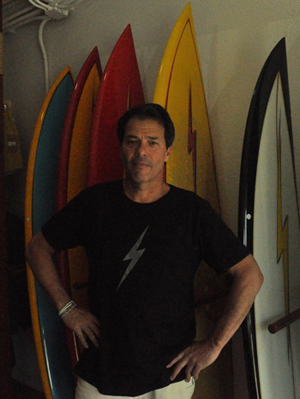 Jonathan Paskowitz, President at Lightning Bolt
Jonathan Paskowitz grew up with the legendary 'Doc' Paskowitz and mother Juliette raising him and a clan of eight other surf-stoked brothers and sisters, who (according to IMDB) "were all home-schooled and raised in a small camper on the beach." With his father's status in the surf world, Jonathan spent his childhood around the lifestyle's finest individuals - figures like Duke Boyd, Jack Shipley and Gerry Lopez. It's safe to say he has been immersed in surf culture since birth. And with stints working at companies like Black Flys, Astro Productions and Gotcha coming after his time served as a pro surfer, he was primed to do what he did in 2008 when he took over the role of President at the iconic surf brand called Lightning Bolt.
"We spent a lot of time researching the brand and looking at the way Bolt was made in the primary years that made it famous," explained Jonathan in a Company Q&A feature on Lightning Bolt from 2010 by Malakye.com. "We want the Aloha spirit of the older Bolt to be seen and felt in the newer Bolt."
We spoke with Jonathan Paskowitz about how he became involved with Lightning Bolt, why he loves living in California, rewards and challenges he's faced in his storied career, and how his past experiences have helped lead him to where he is today.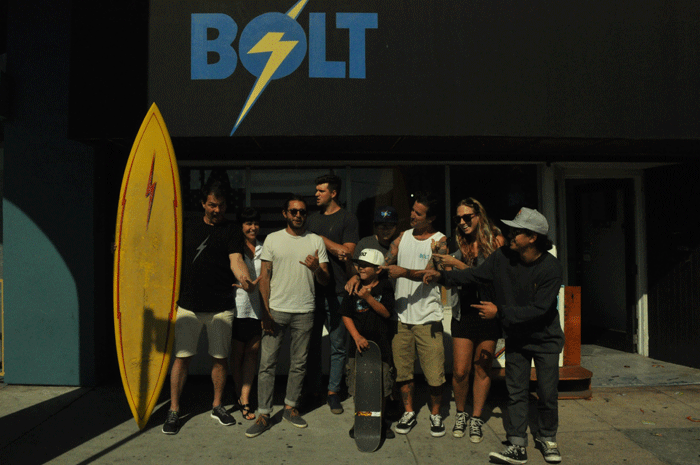 Lightning Bolt's office/retail space is located in Venice, Calif. - just off the boardwalk at Pacific and Windward. Come say hi to the friendly team - (from l-r) Jonathan, Sara, Shawn, Robbie Fresh, Hunter, Waylon, Chris, Leah, and Tommy Guns. Like what you see? There are more photos of the Lightning Bolt office/retail location on our Facebook page.
Growing up, your life centered on surfing and the coastal lifestyle - what inspired you to get involved in fashion?
I always loved fashion, guys like David Nuuhiwa and Mickey Dora were all about fashion, and they were surfing icons that I looked up to. I remember reading Diana Vreeland the queen of fashion wanted to be a surfer! I thought that was super cool. I wanted to be surrounded by models like her.
How did you wind up as the president of Lightning Bolt - did you have any former connection with the company?
I grew up near Gerry Lopez and the other Bolt guys and was friends with Duke Boyd who at one time owned it but officially I was just a wanna be. My old distributor for an eyewear company I worked for got the Lightning Bolt license. I partnered with the guy who bought it from him and we decided to make quality Bolt stuff in the USA and Europe.
How have you seen the company evolve since the rebirth over five years ago?
Well I have learned a lot about good stuff we don't make in the USA any longer due to outsourcing. And I have seen a big move all over the world to support smaller life style companies like Lightning Bolt. Internally we have grown a lot, we make items that support a casual well dressed guy that doesn't have to claim going pro to justify being a surfer and I have seen a global revolution to better product. Our biggest evolution has been in the team, with Shawn Hanna and Jose Furtado coming onboard I think we have a real machine now.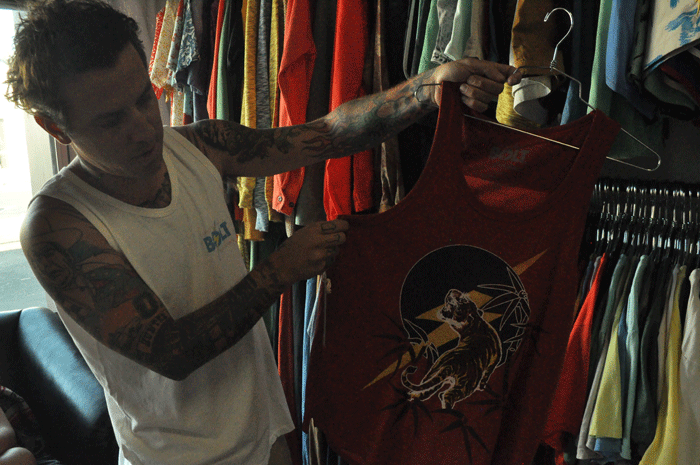 Chris Eidem works in Sales at Lightning Bolt and is showing off a bold new graphic on a tank for the Spring '14 line. Lightning Bolt will be showing its Spring/Summer 2014 line at Surf Expo this September at booth #1488. Please contact Chris Eidem @ 310-994-1495 or chris@lightningbolt-usa.com for an appointment and new dealer inquires.
What's it like to be at the helm of a legendary brand with 40+ years of industry history and what is a typical day-in-the life for you?
It's a dream come true. I drew bolts all over everything just like every other kid in the 70's and Uncle Gerry-Jack Shipley and Duke and Rory and Reno and Tom Parrish and B.K. have helped me a lot to know the DNA of the brand. A day, a lot of talking and visiting stores, trying to make the best stuff we can in the U.S. and making sure we stick to what we have learned about the brand DNA. Also you have to surf a lot, which I love….
Lightning Bolt was originally founded in Hawaii, where you grew up, but now the company is headquartered in Venice, Calif. How is it for you to be based in California?
Well I love Cali, I always have. Hawaii is too remote to run from but we still make a lot of boards there and I will always be very connected to the islands. Plus I am only an hour from San O which is my second home.
What has been the biggest challenge for you in serving as the President of Lightning Bolt?
Living up to the brand history and getting Gerry to shape the occasional board for me.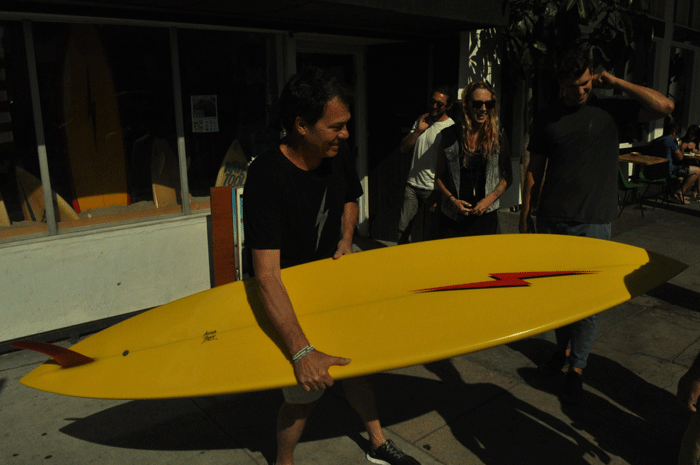 "I love Lightning Bolt, it's part of my life as a surfer. And I love to share that."
What has been the biggest reward for you throughout your storied career - working with Herbie Fletcher at Astro Productions, producing Surfwise, surfing professionally, developing Black Flys?
Haha you did you research, you forgot Club Iguana and Gotcha. I would say teaching people to surf when I was a kid at Paskowitz surf camp. Nothing is more rewarding then sharing true Aloha of surfing. I love that!
What of your past experience are you drawing from to help you lead Lightning Bolt to success?
My dad is still my adviser and that really helps. My father is one of the last of the modern surfers. At 93 he is still sharp and is a great friend and advisor. Also the core lessons Herbie Fletcher taught me. He is a true surfer. His kids, wife and family were like my second family for years and what he taught me will never go away.
Tell us about the guy behind the title, something most people don't know about you.
I am pretty private but I will say I am a proud mama's boy. Also I love to work with my brother Josh who I think is a huge talent and undiscovered artist. And lately I really get a lot out of helping my brother Izzy teaching autistic kids to surf.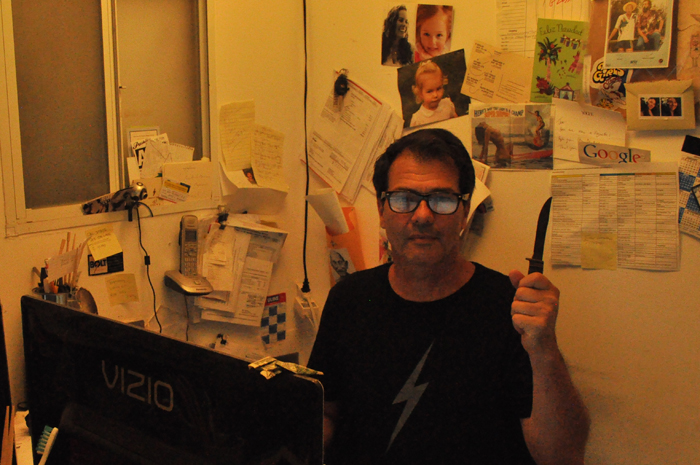 Jonathan hard at work in his office just behind the retail space at Lightning Bolt HQ in Venice, CA.
Can you share some of your personal favorite Lightning Bolt products and designs?
The OG bolt pocket tee with BOLT on the pocket and nothing else. Every time I see that tee shirt my mind time travels to sitting watching Gerry wear the same shirt. The boards, the boards, the boards!
What advice can you give someone who is building a career in the industry, or looking to start one?
Do it! Times are changing and kids and adults want to touch the hand of the creator. If you have a good point of view and want to share it, do so. Smaller more boutique companies are so great and people love them. To meet the inspiration and creators of them is easy compared to a bigger brand. Then these people are connected to you and you to them and you can grow together, it's like the way it was before. Also make good shit!
Any last words?
Just thanks to everyone, we love making Lightning Bolt. I love Lightning Bolt, it's part of my life as a surfer. And I love to share that. Big aloha, J.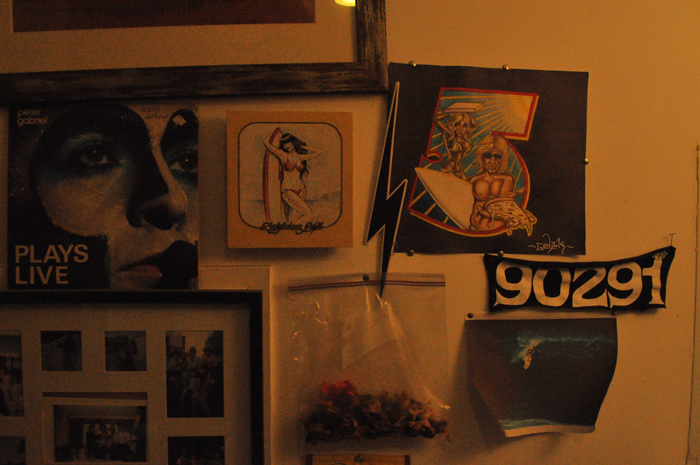 Here's a look at some amazing artwork in Jonathan's office.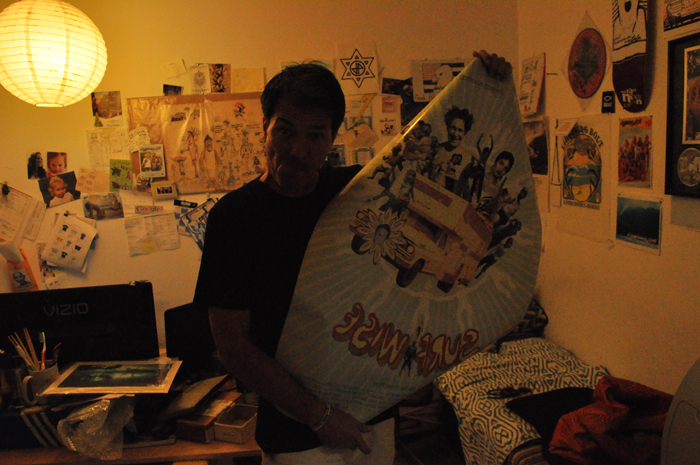 Jonathan produced Surf Wise, which was released in 2007 and told the story of his family.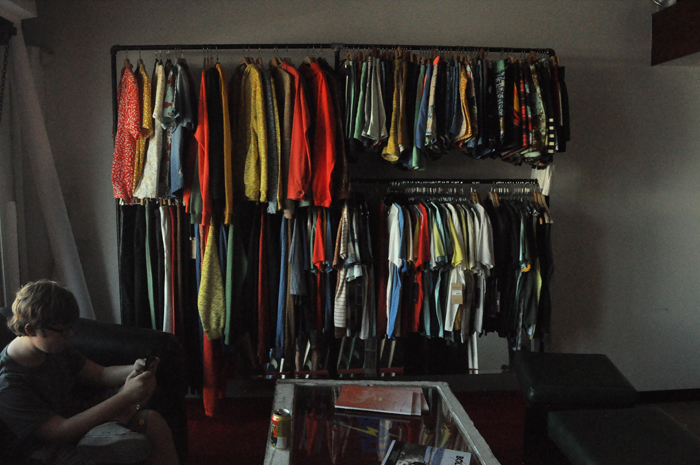 Spring '14 was in the house, with some great looking styles and designs to be on offer soon from Lightning Bolt!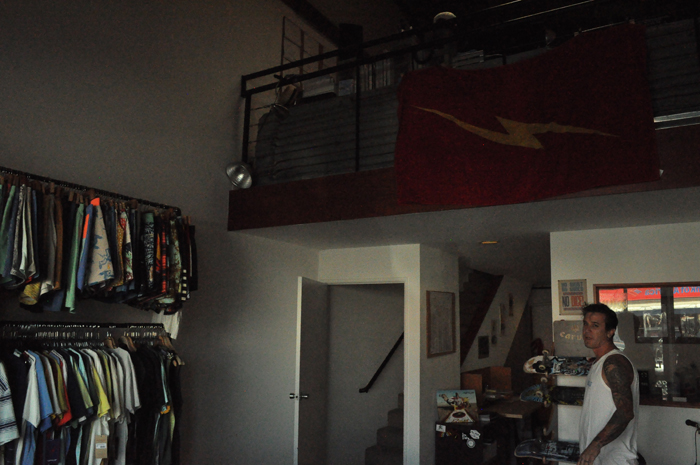 Lightning Bolt Sales/Design offices. There are more photos of the Lightning Bolt office/retail location on our Facebook page.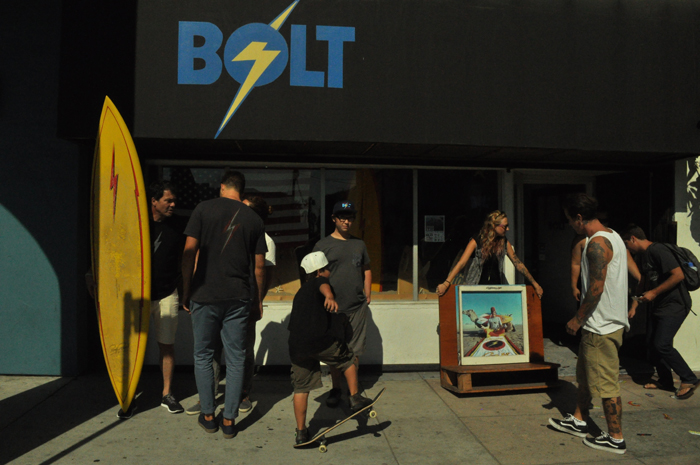 If you're not close enough to swing by the retail store in Venice, be sure to check out Lightning Bolt at lightningbolt-usa.com and follow them online at Facebook.com/LightningBoltUSA, @LightningBoltus on Twitter and @LightningBoltUSA Instagram.
---