BACK TO NEWS
EVENT: Surf Park Summit - The Future of Surfing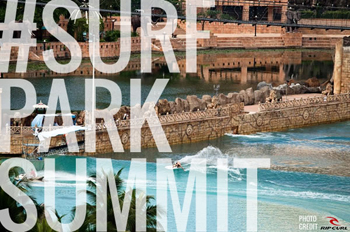 Surf Park Central is excited to announce Surf Park Summit, the industry's first collaboration to accelerate the future of surf parks and sustainable surfing outside the ocean, on Friday, September 13th in Laguna Beach, California
Press Release from Surf Park Summit
Hosted by Surf Park Central and San Diego State University's Center for Surf Research, the Summit represents a movement toward impending disruption in the surf industry.
The vision for the Summit is clear: create a community of people and resources that can help facilitate authentic, sustainable and profitable surf experiences to grow the surf industry globally and provide the mental, physical and emotional stoke of surfing to those that do not have access to the ocean.
To do this, the Summit will gather the industry's top minds including, surf park developers, investors, suppliers, academics and athletes to discuss the opportunities and challenges related to the development of man-made surf parks.
"We want anyone who's in a position to make an impact and who's passionate about being an industry leader at the Summit. Success for us means two things happen: First, at least one surf park is developed as a result of the connections that are made at the event. Second, we want current developers, suppliers and investors to be able to make more informed decisions because of the knowledge and information that is presented during the Summit." – Matt Reilly, Director of Marketing & Operations of Surf Park Central.
Summit speakers and interviews include:
- Fernando Aguerre (International Surfing Association),
- PT Townend (Surf Legend)
- Doug Palladini (Vans),
- Chad Nelson (Surfrider),
- Dr. Jess Ponting (Director of SDSU's Center for Surf Research),
- Bruce McFarland (American Wave Machines),
- Jamie Meiselman (Ron Jon Surf Park),
- Tom Lochtefeld (Wave Loch),
- Greg Webber (Webber Wave Pools)
- Glenn Brumage (Wabsono- Surfing China)
- Chris Sutton (Select Contracts)
- Chris Hines (A Grain of Sand)
- Nick Hounsfield (The Wave: UK)
- Pete Indelicato (Webber Wave Pools)
Summit topics will include state of wave technology, surf park economics & business models, surf tourism, sustainability and the development of surf culture in non-coastal regions.
Surf Park Central and SDSU's Center for Surf Research are confident that Surf Park Summit is the first step in building a healthy, informed industry and are proud to host the event.
If you are just as charged to make major waves in the industry, please request an invitation at www.SurfParkSummit.com.
Surf Park Summit
Friday, September 13th
Seven-Degrees Laguna Beach
www.surfparksummit.com
---