BACK TO NEWS
Industrial Profile
8/30/2013
Terry Diamond, Artist & Graphic Designer at lbombs.com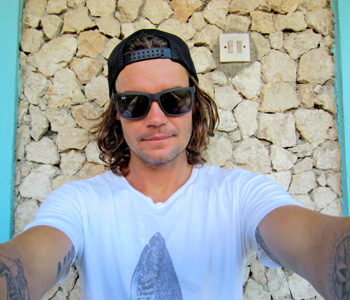 Terry Diamond, Artist & Graphic Designer at lbombs.com
Terry Diamond is a Southern California based artist, illustrator, graphic designer and product developer who has been involved in the professional world of art and creating for the past eight years. Terry was originally from the east coast and made the move out west after graduating college with a B.A. in Communications and Fine Art from the University of North Carolina Wilmington in 2006. Since then, he has been fortunate to land dream jobs as a designer at Electric and SCOTT Sports (with a little help from his friends).
"In 2009, I saw that Scott Sports was hiring in Sun Valley, ID," explained Terry via email. "I always wanted to spend time snowboarding and this looked like the perfect opportunity. I applied through Malakye and a few weeks later was flown to Idaho for an interview and hired as a graphic designer."
We caught up with Terry, who recently left SCOTT Sports to pursue freelance work and explore new opportunies, to get his thoughts on what it's like to be based by the beach in Santa Monica relative to recently having lived in Idaho, how he initially became involved in surfing and action sports, and what it takes to be a successful artist and designer.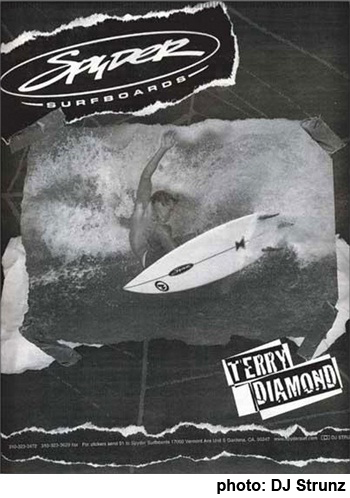 How has the transition been from working a full-time gig in Idaho to freelancing in Southern California?
It has been great shift from Sun Valley, Idaho back to Southern California. I love the diversity of the projects and companies that are coming across my desk. That said, I am in the process of looking for a full-time job near Santa Monica, so being busy with my own projects has been perfect for a smooth transition.
What is Lbombs.com?
Lbombs.com is my company that is currently being used as a freelance platform. At this time it is an online portfolio site. I have plans for the future, but for the time being it is another piece for an online presence.
You've been involved in action sports all your life; how was it growing up as a sponsored surfer and how has that helped you get to where you are today?
I was born and raised in Philadelphia, PA with a house on the beach in South Jersey. I started competing in E.S.A and N.S.S.A events when I was 10 years old and was subsequently sponsored by Spyder surfboards along with other companies. All my fellow competitors had "cool" shop logos and my surf shop sponsor Wild Ocean's sticker was a cut-up bumper sticker. So, one day in one of my freshman classes I drew a logo with pencil and ink. The owner really liked it and shortly after it was turning up on tees, hoodies, hats, stickers and skateboards. I was seeing it all over town and that was really fulfilling. From that point on I kinda knew that was what I was going to do.
What is your educational history?
I graduated from the University of North Carolina Wilmington. My degree is in Communication Studies and Studio Art. In school I was doing the set design and set dressing for school productions. I was also doing solo art exhibitions with my paintings and art while enrolled in school.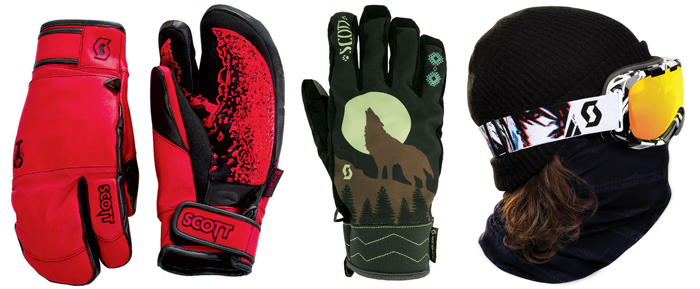 Gloves and goggles designed by Terry Diamond for SCOTT Sport.
How did you get your start as an artist and designer in the action sports industry?
While still enrolled in school I was approached by Digital Wunderland Productions to design their surf film DVD cover. After that project was completed, I graduated, put my portfolio together and moved to Dana Point, CA. I was hired a few weeks after being in California by Brad Dorfman (Vision Skateboards/Select Distribution/Draven Shoes) to design and create art for shoes, skateboards, apparel and catalogs. I had never designed product from the ground up, so it is safe to say it was a "sink or swim" situation. I spent a year there and learned a great deal about product development, marketing campaigns and working under pressure.
When did you first hear about Malakye.com and how did you utilize the site to land dream jobs at Electric and Scott Sports?
Malakye has been nothing short of amazing for my career and life. I first heard about Malakye in 2008. Electric had posted a Production Designer position and every job description listed was perfect for what I wanted to do. I applied and ended up getting the job working in the art department under Carl Smith and Kip Arnette. It was such an amazing job; I was able to learn so much in design/production while also able being able to surf at lunch time. It was a close-knit family there and I made friends for life. In 2009, I saw that Scott Sports was hiring in Sun Valley, ID. I always wanted to spend time snowboarding and this looked like the perfect opportunity. I applied through Malakye and a few weeks later was flown to Idaho for an interview and hired as a graphic designer. While at Scott I had the opportunity to work on advertisements, packaging, posters, apparel and goggles. For the 2014 season, I was able to create our team snowmobile wraps, wintersport gloves, socks and beanies. Another opportunity was being able to art direct photo shoots, one in which won an award for the motosport division. Hands down, the biggest perk was definitely being able to walk to the gondola to snowboard from my house. Overall, there have been amazing experiences along the way in both work and play with all the companies I have worked.
Can you share any similarities and differences you've experienced between working for the man full-time compared to running your own schedule as a freelancer?
In terms of similarities, everywhere I have worked has offered a diverse range of projects. I can be working on a logo, product development, and a website all at the same time. So it helps to be able to wear different hats and manage your time wisely. Like working at full-time corporate job, work does not end at 5pm. The difference is that now I am developing different types of brands in very different markets. That said, my schedule has not changed much as a freelancer; I wake up early, usually go for a surf and then head to work.
What enables you to be a successful designer?
It really boils down to three things for me: networking, research, and following up. Networking - I try to use my resources the best I can. Research - really helps to understand your project and clients. Following up - there have been so many times that following up on a meeting or a contact that has lead to something good.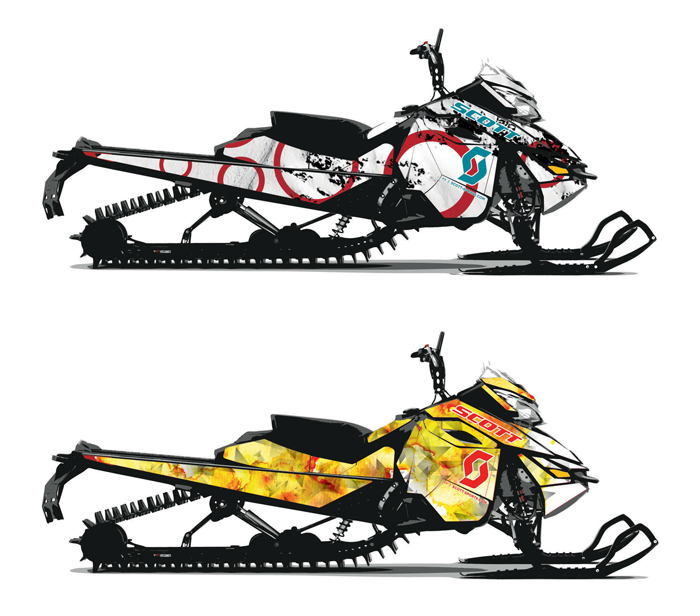 Snowmobile wraps for SCOTT Sports.
What has been the biggest challenge for you in working as a freelance artist and designer and what has been the biggest reward?
The biggest challenge is that it is nice to work with a team. Bouncing ideas of other designers and learning new things always helps. The biggest reward is seeing my clients' visions come to fruition, and sharing in their journey. At the moment, I'm working with a lot of early-stage companies and start-ups, which is great. It starts as a sketch and then turns into a reality.
What are some of your personal favorite designs or projects you've worked on throughout your career?
One of my favorite projects I have worked on was the mural I did for Coyote Grill in Laguna Beach ,CA. I created a mural on their ocean view porch and redecorated their bathrooms. It doesn't hurt to be painting while looking at ocean sunsets and having amazing tacos and margaritas with cool people when you are done for the day.
What advice can you give someone who is building a career as an artist or designer, or looking to start one?
See what's out there and make it better.
Any last words?
Let's go!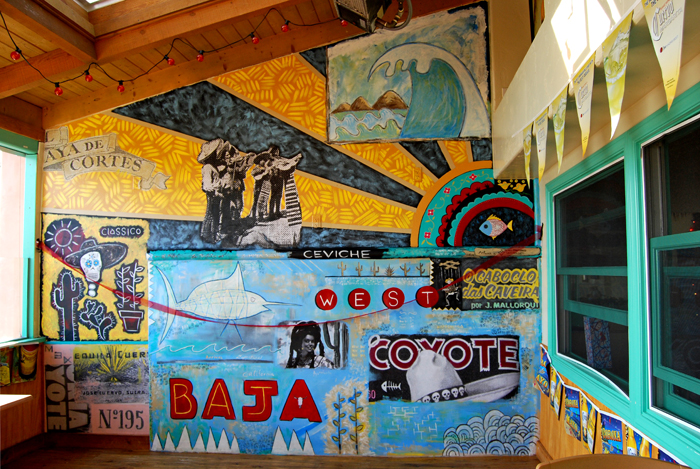 The Coyote Grill in Laguna Beach, Calif. with artwork courtesy of Terry Diamond. Be sure to connect with Terry on LinkedIn and check out to check out lbombs.com.
---