Back to News
B$Z: Aerotherm aerogel brings an advanced thermal insulation Nano-Technology to the Outdoor Industry
September 3, 2013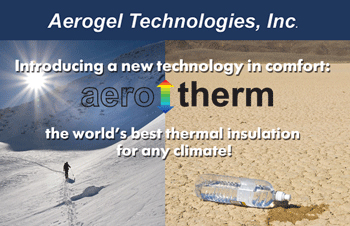 Aerotherm® aerogel brings an advanced thermal insulation Nano-Technology to the outdoor industry's Footwear, Apparel and Gear products
Press Release from Aerotherm
Aerotherm® aerogel insulation is tested and proven the world's most advanced thermal insulation protection used in extreme environments, both hot and cold.
Aerotherm® aerogel insulation OEM Partnerships: With leading outdoor brands, Aerotherm® custom develops aerogel insulated products for Footwear, Apparel, Accessories and Gear.
Advantages of Aerotherm® aerogel insulation:
• Comprises the newest NASA developed aerogel material
• Composed of over 90% air, aerogel is a highly effective insulator with the lowest thermal conductivity of any solid
• Best Clo value per unit thickness in comparison with other types of materials
• Record low thermal conductivity – up to 8 times better insulator than traditionally used materials
• Unlike lofted fibrous insulation materials Aerotherm® does not decrease its performance when being compressed
• Water resistant
• Protects from both COLD and HEAT
Aerotherm® aerogel insulation Custom Retail Products: Along with our growing roster of OEM developments, we have also launched Aerotherm® Outdoor retail products:
Footwear Insoles , Gloves, Seat Pads, Grill Mitts, Thermal Coolers, Custom products can be private labeled upon request.
Aerotherm® NEWS - Extreme Insulation – 2013, Textile World Magazine (QFOM)
For more information, please visit our website: www.aerotherminsulation.com
---