Back to News
Andy Davis, Artist for Network A's
September 6, 2013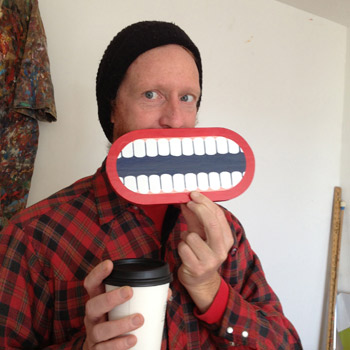 Andy Davis, Artist for Network A's "Skate Sketch"
Artist Andy Davis is well-known for his successful collaborative projects with Billabong and Vans (among many others) and for starting his own brand, Ando and Friends Clothing. For his latest project titled "Skate Sketch", Andy teamed up with animator Randall Christopher and musician Spencer Rabin to bring his whimsical illustrations to life.
"My art is a daydream. I get lost in the process of painting and drawing; it is the only part of my life that has never had rules," states Andy Davis on his website: mynameisandy.com. "Every person that sees my work has a different interpretation of the meaning and I like it that way."
"Skate Sketch" explores the lighter side of skateboarding and the animated series can be seen on Network A's YouTube channel, home of other hit action sports series like "Alana Surfer Girl", "Surf House" and "Paul Rodriguez Life".
We asked Andy to respond to questions via email to get his take on life as a professional artist, what challenges he's faced along the way and how he got to where he is today.
What was the initial inspiration for "Skate Sketch?"
Skateboarding and sketching. And sketchy skateboarding.
How did you and animator Randall Christopher get started working together?
We started working together through a mutual friend, a guy named Richard Kenvan who's a legendary surfer from La Jolla Windansea area. He was working for Kane Garden Surfboards at the time. They were going to do some animation for their branding, he brought Randall to come meet me, he had shown Randall my art and thought my stuff would be really cool to animate. I'd always wanted to do something with animation; I was really blown away when he showed me a clip he'd done. This was almost ten years ago. Randall's really easy to work with - he doesn't have any ego, he's really talented and he makes it fun.
Is Skate Sketch the first time you've merged real life with animation?
We've done it before where Randall animated the actual surfer to become a cartoon, but it was from real surfing. He calls it rotoscoping - that was the real surfing in Secret Sound Underground of Alex [Knost]. So Randall had the idea of doing that with skating, we kind of did it with Sway's episode, but it was a different vibe. In Paul's [Ronchetti], it was just skating to start with, we were going to add in a few things and I was like 'this isn't going to look good,' it's going to be so boring. I was like, What can we do to make this really abstract and tweak it to where hopefully it's something that people haven't seen yet.
What is the process for working together on this series?
We started this series wanting it to be real experimental. We wanted each episode to have its own life and its own vibe so to speak, some of the stuff we figured might repeat and interlink somewhere down the line. A lot of the times we'd just get together at my house and listen to music and start brainstorming ideas. We'd come up with a loose concept - I would take it out there and Randall would bring me back in. Then we'd look at what was possible from a production standpoint, I'd do some character sketching, he'd come back with some lose rough animations, and we'd just build on that.
Have any characters or themes emerged from Skate Sketch that you're excited about?
I really like all of them. They're all so different. I like Billy and D Mon and hairball is fun. For me it's just really neat to see a weird idea I have brought to life, and Randall is so good at that.
What's your favorite episode so far/why?
I don't know if I have a favorite - I like different things about all of them. I guess if I had to pick a favorite I think it would be "Rolling With Sway."
How did you get your start working with leading companies in the world of action sports like Vans, Patagonia, Surfer Magazine, and many more?
To quote four famous insects, "I get by with a little help from my friends."
Can you share how you initially got involved with Billabong in designing a collection for them in 2011 and how that went?
It was all based on my tube riding and aerial assault. It went big. Just like I do. Seriously though, I would like to give a big aloha to Royce Cansler, Paul Naude, and Rob McCarty for believing in me. Aloha, gents.
Have you noticed a difference between creating content purely for Network A's audience's enjoyment versus for brand marketing? Is there any?
Yeah it's really cool to have something that's super loose and organic and have that creative freedom - with this there's really no structure other than dates and budget. I think not having a specific sort of idea of "it's going to be this," we're really able to play around with it which is a good thing when the final outcome isn't what you started with - and you're happy with it.
What have been some of your personal favorite works from the past?
Most recently I really like the animation we did in Jack Coleman's film Secret Sound Underground, the animations we did at Billabong, and the Skate Sketch show. Also, some of the fin designs for Capt. Fin, and doing art shows with Jeff Canham, Tyler Warren, and most recently Aaron Regan.
Weird Al from Andy Davis on Vimeo.
What have been some of the challenges you've faced along the way?
Too many to name but here's a few. Running a business takes a very special kind of person. You really need to be well balanced, very focused, have patience, and unfortunately I don't have any of those things. So here I am. Getting through life is the greatest challenge.
What has been the most rewarding aspect of your life as a professional artist?
Not having a nine to five job and being able to spend time with my family and trying to surf as much as I can.
Last words?
The main thing I'm just trying to do is make people laugh. Aloha and mahalo. Listen to Gap Dream.


Check out more of Andy's artwork at mynameisandy.com. For more on "Skate Sketch", head to networka.com/.
---