Back to News
APP: Joel Parkinson Pro Surf Training app, by Wes Berg
September 6, 2013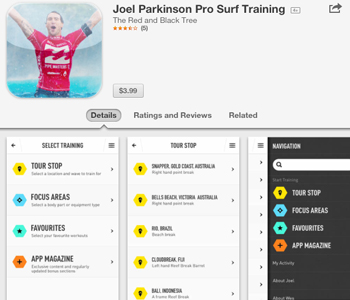 Joel Parkinson Pro Surf Training app, by Wes Berg
Press Release from Joel Parkinson
The fitness training programs that helped surfer Joel Parkinson claim the 2012 Association of Surfing Professionals world title are being released to the public in a world-first mobile app.
The programs are the product of a five-year partnership between Parkinson and surf trainer and professional ironman Wes Berg and provide a step-by-step guide to the fitness and flexibility that surfers require to perform at their optimum levels.
The iPhone app –Joel Parkinson Pro Surf Training–has now been released on the App Store during the Billabong Pro Tahiti and is available for downloadhttp://www.appstore.com/joelparkinson
It contains training programs customised to each of the 10 stops of the world tour, allowing surfers and those seeking to improve their general fitness to adapt their exercise regime to suit their local conditions.
Users can view step-by-step instructions and video demonstrations of every exercise from Joel and Wes, as well as view regularly updated video content in the App Magazine (a new technology giving users frequent bonus content after they have already purchased the app).
Joel takes users through every wave of the tour, offering a rare insight into the challenges surfers face for each tour stop.
"I first started working with Wes in 2009, and it completely revitalised my surfing," says Joel. "The extra conditioning allowed me to get the best out of my surfing. It let me surf harder, for longer, and it's played a huge part in the success I've had in recent years."
From long pointbreaks, to big barrels or perfect beachbreaks, the app allows users to select the type of wave for which they want to train.
"Over the years we've tailored our training to suit different types of surfing," says Joel. "Training these days is so much more than just beach runs and push-ups, and different kinds of waves require different kinds of movements to surf them well. We've been able to refine our programs to the point where it doesn't matter whether I'm paddling out at Snapper or Trestles or Teahupoo, I'm paddling out fit and confident."
The app contains 30 programs and more than 150 surfing-specific exercises from Joel and Wes to help make every surfer the best they can be.
"There is nothing else out there like this that's built just for surfers. Each exercise replicates the body movements used in surfing so what we do in the gym translates to the way surfers perform in the water," said Wes Berg.
The app has a particular focus on core strength, leg power and balance and the exercises have been adapted to ensure they remain appropriate for the general surf community and those seeking to improve core strength.
"The app is for everyone from grommets through to elite surfers and gives them the tools to improve their confidence and performance. After six years with Joel and the other boys testing the programs in every contest environment we know what works for surfers," said Wes Berg.
Joel Parkinson
Is the current ASP World Champion and one of the most naturally gifted surfers of his generation. Since teaming up in 2009 Joel & Wes have developed and tested one of the most comprehensive and successful surf training programs in the world.
Wes Berg
Is one of the world's leading professional ironmen. His years as a professional athlete and oceanman have made him one of the most successful and respected surf trainers in the industry. Wes trains current ASP World Champion Joel Parkinson and current ASP World Junior Champion Jack Freestone. Over the past five years Wes has helped turn Joel's natural talent into some of the most explosive and consistent surfing in the world.
APP FEATURES
Follow The World Tour
Joel & Wes guide you through the 10 stops of the ASP World Championship Tour with video instructions and insights on each type of wave and guidance on how to prepare for them.
Never Before Released
For the first time, the most successful surf programs in the world are being released to every surfer. Now you can experience the same programs that took Joel to a world title.
Train For Different Waves
From long point breaks, to big barrels, and perfect beach breaks, the app has different programs so you can train and improve in the types of waves you want to surf.
Built For Surfers
Each exercise replicates the body movements used in surfing so what you do in the gym directly translates to the way you perform in the water.
Train With Joel
Get step-by-step instructions and video demonstrations from Joel and Wes on every exercise.
For All surfers
Focusing on core strength, leg power, and balance the app is designed to give all surfers, from grommets though to world champions, the tools and confidence to be the best surfer they can be.
Keep Track of your Progress & share
Track your personal progress and share it with your friends
App Magazine
Get exclusive content and check out all the behind the scenes action. Watch Joel win the world title, see what board he rides for each wave or cheer on Wes in the famous Molokai2Oahu paddle. The App Magazine is continually updated so you can keep coming back for new photos, videos and stories from Joel and Wes on tour.
Focus Areas:
Select a body part or type of equipment to focus on.
Favourites
Build your own programs using Favourites.
---