Back to News
CamelBak Q&A with Marketing Manager Seth Beiden
September 18, 2013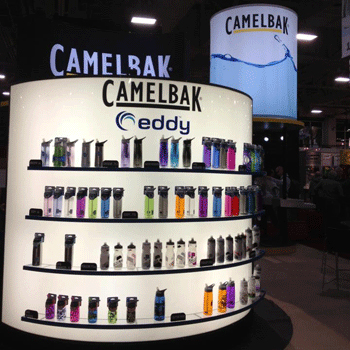 CamelBak Q&A with Marketing Manager Seth Beiden
CamelBak is the originator in hands-free hydration and since 1989 the company has produced its signature high-performance packs, bottles, water purifiers and much more with the mission "to continuously reinvent and forever change the way people hydrate and perform." The company, based in Petaluma, Calif., offers a product catalog featuring a vast array of gear targeted specifically for running, biking, hiking, climbing, skiing, snowboarding, travel, SUP, fitness and any other activity you could think of that would require proper hydration.
Now, more than twenty-five years after CamelBak was founded, the company continues to pride itself on its heritage and keeping the founding spirit alive by delivering on its customers' expectations with existing products. The innovative crew at CamelBak are forward-thinking and always looking to produce the best hydration-solutions possible.
"CamelBak invented the hydration pack category back in 1989...We've never stopped improving existing products or inventing new ones," explained CamelBak's Marketing Manager, Seth Beiden, via email. "I look forward to seeing what our nutty R&D and Product development crew will come up with in the future!"
We caught up with Seth about what's new and exciting with CamelBak, what the future holds for hands-free hydration, and we asked him how the most recent Outdoor Retailer show went for the company.
How was OR for CamelBak - what new products were shown that you're able to speak on?
OR was insanely busy for us which is just how we like it. The biggest buzz for CamelBak at OR was CamelBak Forge, which is a self-sealing leak-proof vacuum insulated hot beverage mug, designed for coffee and tea. We even outfitted the booth with a barista, espresso machine and coffee lounge which included some jazz flute medleys and comfy chairs.
What are some of the most popular products from CamelBak?
We offer so many products to so many different consumers it is hard to tell. My favorites are the Mountain Bike packs that have had major technology innovations like Lumbar Reservoirs and ventilated NV back panels, but we also launched a completely new Run collection complete with handhelds and belts that use a Podium Arc bottle with integrated cage. Those have definitely been a huge hit. It's tough to not get excited about the All Clear UV Microbiological Water Purifier. All Clear turns questionable water into safe drinking water in 60 seconds. That is probably what I get asked about the most from friends and family.
Can you speak on CamelBak's sponsored athletes and what impact they have on spreading the good word?
We pride ourselves on having some the most approachable and positive athletes in the industry. For example, Kirt Voreis has been riding CamelBak products since the early 90's. He is our longest running athlete and is the main reason for my entrance and enthusiasm into the world of cycling. He and his wife Lindsey Voreis spend their time touring the country, spreading the good word of why life is more fun on a bike. We also sponsor many more incredible athletes including Garmin-Sharp, LUNA Chix, Mark Weir, Eric Porter, Katie Holden, Slater Trout and others. The biggest thing we care about is getting people stoked on proper hydration during the activities they love. Whether riding the Tour de France or bombing enduro runs or singletrack hills, we want to make sure that our products help people go further, ride better and stay on the rides longer. Hydration is an essential piece of performance gear and our athletes offer a unique perspective into hydration importance in their sport.

Who do you see as your biggest competitor in the market and is there anyone out there doing what you do?
CamelBak invented the hydration pack category back in 1989, so we see anyone making hydration products as a competitor, but it's something that truly inspires us to push harder and drive innovation ourselves rather than worrying about what other people are doing. More people entering into the category helps grow the overall category and we are confident that the culture of R&D and innovation we pride ourselves on will keep us as the leader in this industry. We've never stopped improving existing products or inventing new ones. No one could predict that a tube sock with an IV bag that was sewn onto a cycling jersey back in 1989 would drive a brand that produces Military hydration packs, UV water purifiers, coffee mugs and more.
CamelBak continues to be a leader in hands-free hydration technology - can you speak on some of the developments that have come from CamelBak that has led the company to where it is today?
Many of the items we work on our core to our roots – mountain biking. We are constantly focused on developing the best hydration packs and bottles athletes need. This year we launched a revolutionary ventilated and articulating back panel called NV – which is showcased on our most popular pack, the MULE NV. We are also committed to sustainability and eliminating disposable bottled water as the most common way to hydrate. We are launching a coffee/tea travel mug in 2014 as well as a new water bottle, called Chute, with a screw top that will help reduced disposable waste for water and coffee/tea consumers by giving them a reusable option.
Who is the target CamelBak customer?
We supply some of the best products to ultra-runners, mountain bikers, road cyclists, adventure racers, stand-up paddlers, yoga instructors, children, soldiers, skiers and snowboarders, etc. We also offer pack collections specifically designed for women. And of course, we always put our money where our mouth is by backing it up with our Got Your Bak Lifetime Guarantee. If we build it, we bak it.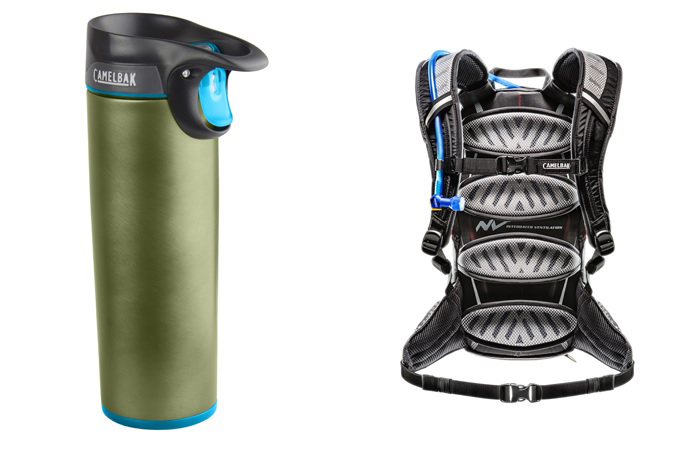 New for 2014, the 16 oz. Forge and the NV Hero Hydration Pack
.
The company's mission statement is "To continuously reinvent and forever change the way people hydrate and perform." So, what's next for CamelBak?
CamelBak Forge, coffee and tea travel mug, is a completely new category for us. We know the coffee/tea category is crowded, but in true CamelBak fashion we are bringing a product that solves problems people are having with existing products and our initial launch to press and retailers has been massive. Most of the responses are something like "Finally a coffee mug from CamelBak!"
The Impact Counter on the site shows the numbers in detail of how CamelBak's product are making an impact - was giving back part of the initial inspiration in launching the company?
We are involved in so many programs and sponsorships it is hard for me to keep track. Some of the biggest programs we participate in showcase our range of commitment – Water.org, Wounded Warrior, Conservation Alliance, Outdoor Nation, OIWC (Outdoor Industries Women's Coalition), IMBA (International Mountain Bicycling Association) & NICA (National Interscholastic Cycling Association).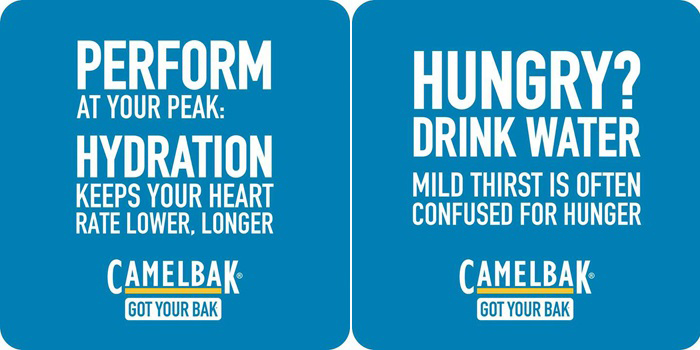 How has the company evolved since being founded in the late 1980s?
CamelBak has grown from the first production products that consisted of a single pocket and purple push top reservoir to a brand that makes some of the best reservoirs, hydration packs, water bottles, coffee mugs and UV water purifier. I can't wait to launch the future products CamelBak has in the works!
Where is there growth for CamelBak?
We are always growing. Our expansion into UV Purifiers, water bottles, coffee mugs and other future products are where our culture of obsessively innovative R&D can really make an impact. Creating products that make a difference around sustainability and performance are also in our DNA and we will continue to push wherever we can create better and more sustainable products for our fans.
Any last words?
I would like to emphasize how fun this ride has been. When I started with CamelBak almost 6 years ago we were just launching our first cycling bottle, the Podium, and had recently launched the first water bottle CamelBak ever made, the Better Bottle. There is no way I could have predicted the other new products and category firsts that CamelBak would produce in my short time here. I look forward to seeing what our nutty R&D and Product development crew will come up with in the future!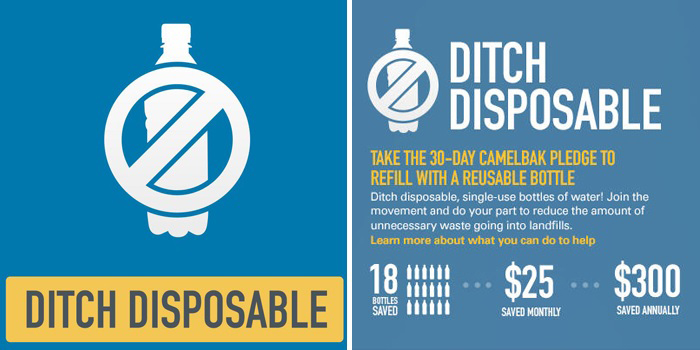 Check out more on CamelBak at camelbak.com and be sure to like and follow them on Facebook, Twitter, Instagram.
---