Back to News
B$Z: Action Sports Hall of Fame Announces First Class of Inductees
September 17, 2013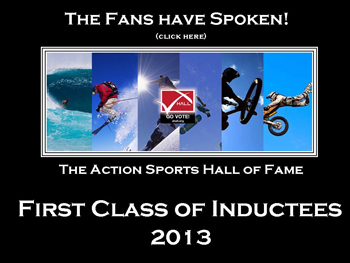 Action Sports Hall of Fame Announces First Class of Inductees
Press Release from Action Sports Hall of Fame
Carlsbad, CA -- (SBWIRE) -- 09/13/2013 -- The Action Sports Hall of Fame has announced the first class of inductees for 2013.
The winners were chosen through a worldwide vote that took place on their website during the last year. Fans voted for their favorite athletes from the sports of Surfing, Snowboarding, Skateboarding, Skiing, Motocross/FMX, and BMX/Mountain Biking.
"We've been blown away by the amount of enthusiasm, support, and votes from the fans around the world," said founder Matt Savage. "We established the first hall of fame that lets the fans decide who gets inducted, and we couldn't be happier with the results. The first class is pretty large, and we will only add about 5 athletes a year in each sport in the future. Once the dust settles, we will add more nominees to the current list, open up the voting again, and let the fans decide who will be inducted in 2014."
The first class of Action Sports Hall of Fame inductees include:
Surfing: Andy Irons, Baron Lynch, Brad Gerlach, Brock Little, Bruce Irons, Christian Fletcher, Corky Carroll, Darrick Dorener, Darryl Flea Virostko, Dave Kalama, Duke Kahanamoku, Eddie Aikau, Garrett McNamara, Gary Elkerton, Gerry Lopez, Greg Noll, Herbie Fletcher, Ian Cairns, Jeff Clark, Kelly Slater, Laird Hamilton, Luke Egan, Manoa Drollet, Mark Occhilupo, Mark Richards, Martin Potter, Matt Archbold, Michael Peterson, Peter Mel, Raimana Van Bastolaer, Rob Machado, Ross Clarke-Jones, Shane Dorian, Shaun Tomson, Sunny Garcia, Taylor Knox, Titus Kinimaka, Tom Caroll, Tom Curren, Vetea Poto David, Rabbit Bartholomew, Wayne Lynch, Frieda Zamba, Keala Kennelly, Layne Beachley, Lisa Andersen, and Rochelle Ballard.
Skateboarding: Andrew Reynolds, Andy MacDonald, Bam Margera, Bob Burnquist, Bucky Lasek, Chad Muska, Chris Miller, Christian Hosoi, Daewon Song, Danny Way, Dennis Agnew, Duane Peters, Eddie Elguera, Eric Koston, Geoff Rowley, Jay Adams, Jeff Phillips, John Cardiel, John Rattray, Lance Mountain, Mark Appleyard, Mike McGill, Natas Kaupas, Omar Hassan, Pierre Luc-Gagnon, Richie Jackson, Rob Dyrdek, Stacy Peralta, Steve Alba, Steve Berra, Steve Caballero, Stevie Williams, Tony Alva, Tony Hawk, Willy Santos, Cara Beth Burnside, and Elissa Steamer.
Snowboarding: Andy Coghlan, Andy Hetzel, Bryan Iguchi, Chuck Barfoot, Craig Kelly, Danny Kass, Devun Walsh, Eero Ettala, Gigi Ruf, Ingemar Backman, Jake Burton, Jamie Lynn, Jeff Brushie, Jeremy Jones, Kevin Pearce, Louie Vito, Marc Frank Montoya, Mike Ranquet, Nicolas Muller, Noah Salasnek, Peter Bauer, Reto Lamm, Shaun Palmer, Shawn Farmer, Steve Graham, Terje Haakonsen, Terry Kidwell, Todd Richards, Tom Burt, Tom Sims, Travis Rice, Gretchen Bleiler, Hannah Teter, Kelly Clark, Nicole Angelrath, Tara Dakides, and Victoria Jealouse.
Skiing: Anselme Baud, Bill Johnson, Candide Thovex, Chris Davenport, Cody Townsend, CR Johnson, Dick Durrance, Doug Coombs, Eric Pollard, Glen Plake, Hermann Maier, Ingemar Stenmark, Jamie Pierre, Jon Olsson, Jonny Moseley, JP Auclair, Kent Kreitler, Kjetil Andre Ammodt, Lasse Kjus, Mike Hattrup, Phil Maher, Pirmin Zurbriggen, Ptor Spricenieks, Sage Cattabriga-Alosa, Scot Schmidt, Seth Morrison, Shane McConkey, Sylvain Saudan, Tanner Hall, Andrea Mead Lawrence, Elyse Saugstad, Julia Mancuso, Lindsey Vonn, Picabo Street, Sarah Burke, and Tamara McKinney.
Motocross/FMX: Bob Hannah, Brian Deegan, Carey Hart, Chad Reed, David Knight, Derek Garland, Doug Henry, Evel Knievel, Gary Wells, Jeff Kargola, Jeff Stanton, Jeremy Lusk, Jeremy McGrath, Jeremy Twitch Stenberg, Kenny Bartram, Kyle Loza, Larry Linkogle, Mike Jones, Mike Metzger, Rick Johnson, Ricky Carmichael, Robbie Maddison, Travis Pastrana, Trigger Gumm, Dee Wood, Jolene Van Vugt, and Mercedes Gonzalez.
BMX/Mountain Biking: Bob Haro, Cam McCaul, Chad Kagy, Cory Nastazio, Danny MacAskill, Dane Searls, Darren Berrecloth, Dave Dillewaard, Dave Mirra, Dave Voelker, Gary Fisher, Hans Rey, Jamie Bestwick, Jay Miron, Joe Kowalski, John Tomac, Lance Mosley, Marc Gonzalez, Mat Hoffman, Mike Escamilla, Richie Schley, Rick Throne, Ryan Nyquist, Scot Breithaupt, Stu Thomsen, Tim Fuzzy Hall, Thomas Vanderham, Tom Ritchey, TJ Lavin, Van Homan, Wade Simmons, Cheri Elliot, Joey Gough and Missy Giove.
The Action Sports Hall of Fame can be visited on their Website (www.xhall.org), Twitter, and Facebook pages. Press inquiries contact: (760) 845-6939 / [email protected]
About the Action Sports Hall of Fame
The world of Action Sports is fantastic, groundbreaking, and undeniably unique. As a result, you'll notice that some of the nominees in the Action Sports Hall of Fame are quite young, but they've already solidified their position among the best ever. We've actually had to leave out quite a few younger athletes that should probably be nominated, but there's always next year….The rules are there ain't no rules.
Our nominees take into account competition results, worldwide exposure, and the impact they've made in progressing their respective sport. We've included athletes from all disciplines, since it's impossible to pigeonhole certain accomplishments.
An example:
Should an Olympic alpine ski racer like Ingemar Stenmark be considered a better skier than a pioneer freestyler like Shane McConkey? Is a national champion motocross racer like James Stewart better than freestyler Mike Metzger because he goes around a track faster? Is Kelly Slater a better surfer than Laird Hamilton because Laird has never won a world title? The answers to these questions could be debated forever, and it's why we include the best athletes from all disciplines.
Established in 2012, the Action Sports Hall of Fame breaks the barriers that bind other sports. Now, and every year from now, we let the fans decide who should be inducted. Vote now for the class of 2013, and let your voice be heard!
---