BACK TO NEWS
Eastern Mountain Sports Q&A with Vice President of Great People Colleen Clark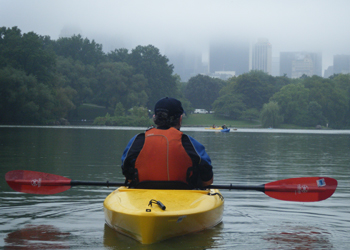 Eastern Mountain Sports Q&A with V.P. of Great People Colleen Clark
Eastern Mountain Sports was started in 1967 by two outdoor enthusiasts, Alan McDonough and Roger Furst, who opened the company's first store in Wellesley, Mass. with a simple mission: to help people have more fun outdoors.
Now, there are 70 EMS locations in 13 states and the company currently employs over 1,300 people. And, although the original owners left the company 12 years after its start, the passion and commitment to serve the outdoors is still alive and well today.
We caught up with Colleen Clark, Vice President of Great People at EMS, via email and asked her about what it's like to work at Eastern Mountain Sports and what the next 45 years will hold for EMS.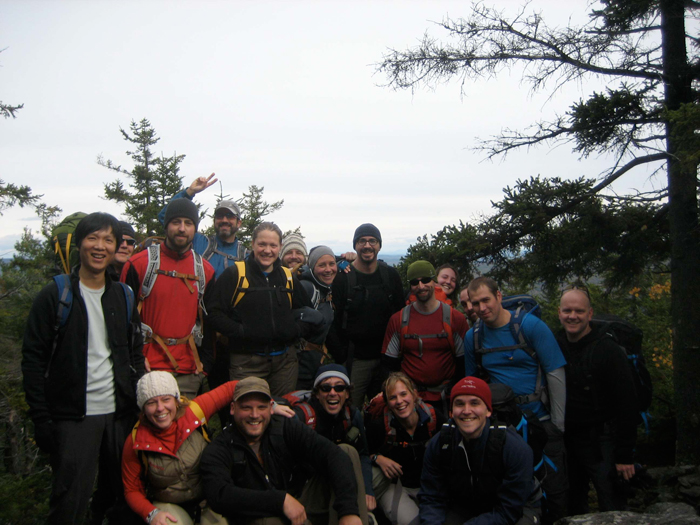 What is the culture like at Eastern Mountain Sports?
My best answer is this: The conversation is the culture.
Why? I believe culture is created every day by people who are easy to follow. What are we talking about? Our customers. What are we worried about? Keeping our customers happy and finding new ones. How do we respond to the challenges and chances we face each day? This is the real culture of any company, not what gets written on walls or quoted in speeches.
So, culture evolves continuously and in all the conversations we have. As the faces and voices change, what stays the same is this: we all want to make a meaningful difference in the lives of our customers. So difficult to do, but the only thing that makes this worth doing.
EMS is headquartered in Peterborough, New Hampshire – can you describe base camp?
Peterborough is a well-kept secret. Great outdoor diversity. Skiing and paddling paradise. The most-hiked mountain in the western hemisphere is 10 miles away. It's the perfect place for outdoor fanatics to test product and their own limits.
Inside our Base Camp the vibe is informal, yet it's definitely not casual. Our hallways are full of the bikes our employees ride to work. People work hard together and always leave feeling there is more to do than will ever get done. It can be discouraging at times but you always know you matter to the business.
We are very proud of our "so ugly it's cool" building, our duct-taped carpets and chalkboard walls: "scrappy, happy and poor" probably fits us. McGyver would be at home here.
What's new and exciting with Eastern Mountain Sports?
There's a whole lot more that's new than old. New owners, new leadership team, and a clear focus on a few strategic targets. We're looking for builders and winners who want to join us in the quest for making a great brand better. We've opened several successful stores in the last 12 months and our customers in those communities are thrilled to have us in their backyards. Our schools were founded in the White Mountains, in the shadow of Mt. Washington and the most severe weather on earth. That's where we test our products before customers take them home. Our schools are rapidly becoming the destination for paddlers (sitting and standing), climbers, winter mountaineers, rescue teams, Navy Seals, and most recently, the student population of MIT. Yeah, we're kinda proud.
What have been the challenges for EMS?
That answer would be a book, not a blog. Let's start with the top 3: Mother Nature, lack of exposure to potential new customers, and competitors who have bigger boxes with more stuff in them. Our customers are very smart. When it rains, they buy raingear. When it snows they buy snowshoes and gloves. We love that about them, we just wish we had a little more love from "Mom". Every season brings another meteorological cliffhanger.
We spend our money on making great product and hiring credible people, not marketing. We haven't found a reliable way to let future customers know what they are missing. The big guys (REI, Dick's, backcountry.com) offer lots of stuff for customers to choose from. We think smart people don't want to spend their time searching through a big box or driving through crowds to the big box. EMS is your neighborhood store. We don't have as much stuff, but what we do have is an enduring brand and trusted people who know the product, the sport, the area and the competitors' product. We're harder to find, but worth the trip. What we do well is very hard to do well. It's also very hard to copy. We curate our store teams for the community where they live and play.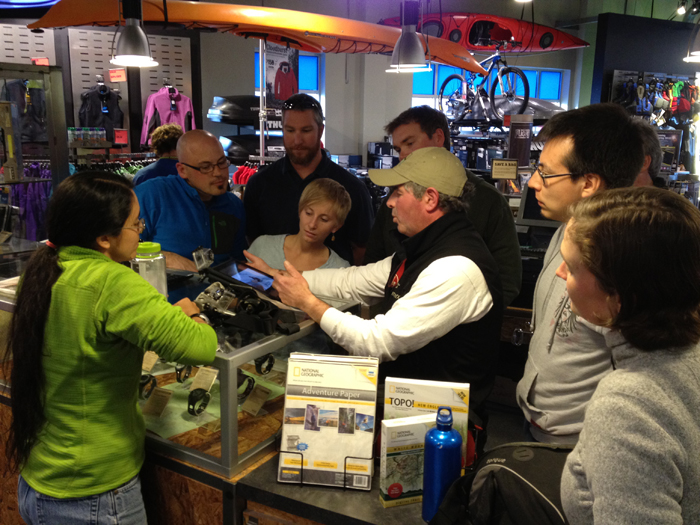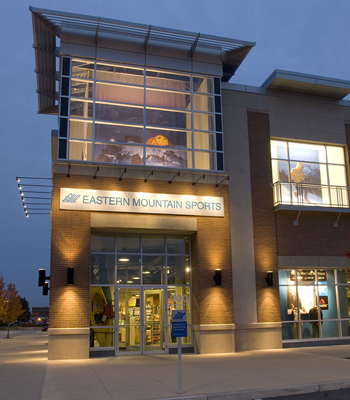 In this online space, are there benefits with having roots in traditional retail?
Yes and no. It depends on the picture our customer (or prospective customer) has in his/her head. It's easier to sell art if you've seen the work of the artist. This is very true for us. People who already shop in our stores are our best online customers. If the in-store experience is good, it's easier to be credible online. If the customer doesn't know our stores, it's a new game and the site has to delight and dazzle on its own. The downside is that the customer may not be able to envision all that we offer online because the traditional retail experience has walls and limits. In our case, no two stores look the same so it's harder to accurately convey in one URL.
What have been some of the most popular products throughout Eastern Mountain Sports' 70 stores?
Customers collect our gear. We get kudos from them and the industry for our tents, sleeping bags and backpacks. Techwick is a must-have staple in the outdoor closet. Our Fencemender pants and SmartWool socks are favorites. EMS graphic tees are designed by hand and every one of them comes from one guy, an amazing artist. They are 100% organic cotton from a cool little company in Peru. Customers rave about their Thunderheads and down jackets, too. Hard to choose a favorite and I own way too much of it to be objective.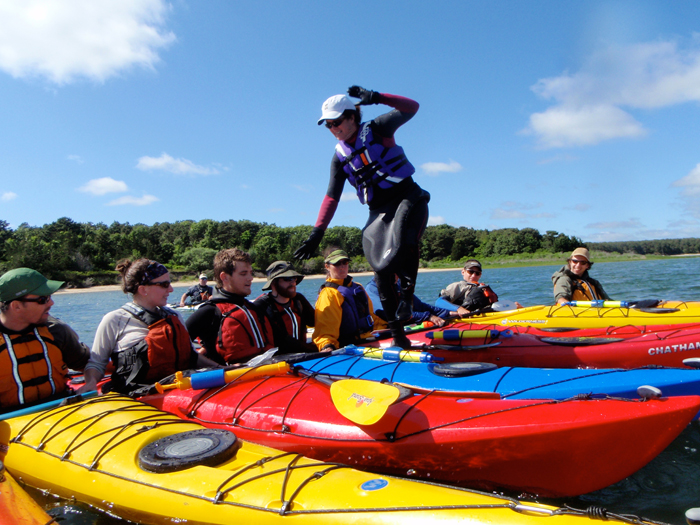 How big is the company?
We're the second largest company in our industry and #1 is exponentially larger. I tell our store managers that we are as big as the one good rock we have aimed at Goliath - our store Guides. Our stronghold is New England. We have 70 east coast locations in 13 eastern states. Many of our customers think of us as their local store and we truly are. We hire local people, we know the local places to play and we support our local communities.
The short answer: "#2 in sales, #1 in soul"
Dick's Sporting Goods, Paragon Sports, TheClymb.com and Backcountry.com are a few direct competitors. Is there room for everyone?
It's funny, if you look at other industries you see that, as they mature and get more competitive; the winners become clearer about who loves them, why they are loved and how they keep that love. I use the word "love" intentionally. People "love" Starbucks. They "love" their Macs. They "love" staying at the W. Yet the competitors keep coming and some of them succeed, too. How is it that Ace Hardware, Holiday Inn and Folgers are still standing tall against the backdrop of formidable new choices for consumers? Those icons have stayed true to what their best customers value most. Not everyone has to love what you do, just enough people to count.
That said, I believe if you zoom out far enough, you realize we don't compete with each other at all. We compete with inactivity, obesity, depression, low self-esteem and the myriad of ailments that burden us. So far, we humans haven't found a way to help each other realize that feeling better is just a doorknob away. Outdoor activity is a huge, free solution to many of the expensive and sobering trends our communities are struggling to reverse.
Can you describe what you look for in new hires?
I believe you have to hire what can't be taught: smart, happy, curious, courageous and committed. Love the outdoors. Bring integrity, a spine, a voice, and know how to use all three. If everyone has those attributes, the game changes. The pace is faster. The problems get hacked up in no time. Everything is more fun! And one more thing...for our people who meet customers, they have to love talking to strangers.
Essentials of Climbing: Overlooked Items from EASTERN MOUNTAIN SPORTS on Vimeo.
The company started in traditional retail nearly 50 years ago and has expanded to include online services and schools - can you talk about the future for Eastern Mountain Sports?
Quite literally, we create our own future every day as a team, just like the outdoor explorers we admire and aspire to become. The future will be full of listening, trying new things, creating new products, opening new stores, giving our all and believing we make a difference in the lives of our customers.
The road ahead most likely has many challenges. What are the keys to succeeding?
Great question and the answer is one you'll like. Every great leader will tell you the same thing: get the right people and ask the right questions. We are serious about talent. Not personality, not pedigree, not potential. We look for people with the confidence to take a stand, the courage to hold it despite early criticism, and the humility to always learn from customers and those who serve them. We are serious about asking the right questions. How can we make it easy for our customers to love us? How can we make it easy for our people to do the right things right? What's getting in the way that doesn't add meaningful value and how fast can we get rid of it?
Care to add anything else?
Thank you for giving us our 15 minutes. Now get outside and have some fun.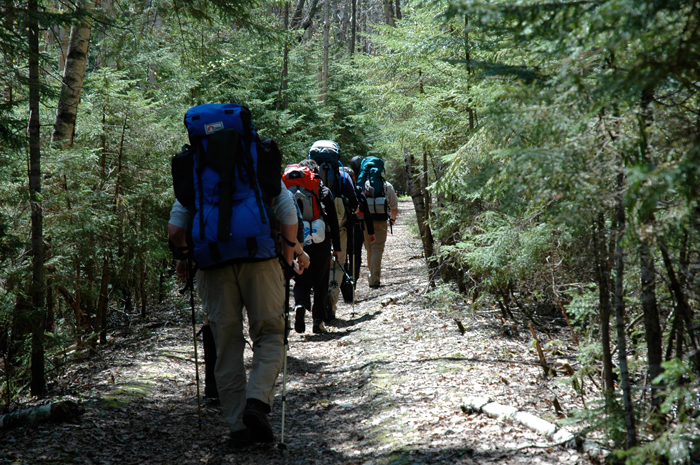 Check out more on Eastern Mountain Sports at ems.com and be sure to like and follow them on Facebook, Twitter, and YouTube.
---