BACK TO NEWS
Industrial Profile
9/27/2013
James Appleby, Global Brand Director for etnies
James Appleby, Global Brand Director for etnies
James Appleby is originally from the UK but has lived in three different countries over the past ten years while gaining extensive experience working for Globe, Dwindle Distribution and Sole Technology. In the new year, he plans to officially move to the U.S. as a result of taking over his new role at etnies as the Global Brand Director. As his current title suggests, James' role makes him responsible for the etnies brand across product, sales and marketing for the world market.
James started as Global etnies Brand Director earlier this year after making a major transition in September of last year when he took on the role of Global Marketing Director at etnies. On his LinkedIn profile, James describes his impact on a key product launch shortly after moving from retail to marketing when, in his words: "The etnies Marana was the first project of my new role to be utilized as a tool to present what the etnies brand should be and was delivered as a complete global package. All assets, tools, catalogues, etc were planned and presented on Nov 26th globally."
We caught up with James Appleby, Global etnies Brand Director, via email to find out how he initially got involved in action sports growing up in the UK, what it's like to work in the skateboarding industry and what challenges and rewards he's faced along the way.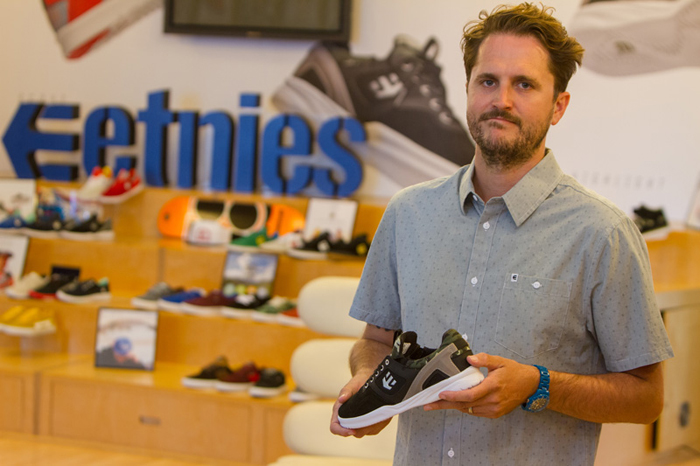 James Appleby, Global Brand Manager for etnies, seen here holding the new Highlight in the Tyler Bledsoe colorway.
How did you initially get involved in the action sports industry?
While I was studying at University I got a job in a skate shop called Route One in the UK. This was around 1998 where I learned pretty much a basis of everything I know now about retail. I ran one of their stores, became their US product buyer and eventually their head buyer for their chain of retail and began building their mail order catalogue and online store. It has been an onward path in action sports ever since, and each new role provided the sales and marketing experience needed for my current position as etnies brand director.
Can you give a brief run down of your duties and responsibilities as the Brand Director for etnies?
According to my job description, I am responsible for managing and growing the global etnies brand. Basically, I work with each of the departments across the US, Europe and the International markets to lead the product, marketing and sales strategy to strengthen and grow the brand – no pressure…
If it wasn't for the strong etnies team I work with this job would be impossible. I am really proud to work with the experienced etnies product, sales and marketing staff! One of their recent successes was the global launch of the Marana. Everything from product design, to marketing worked together to translate to solid sales with the launch of that shoe.
What aspects of your previous experience in marketing and sales with Sole Technology, Globe and Dwindle Distribution helped lead you to your current role?
Each role and company has taught me different things, from learning the difference between the hardware business to the shoe and apparel business, the snow market, to US and European ecommerce, to global marketing for a single brand to European Sales for a house of brands. Each area continually added knowledge of differences in consumers, regions, cultures and retailers. The main lesson was that nothing is a straight cookie cutter approach from one role to the next, especially with people management. I have learned that adapting to the environment and evolving your methods, thinking and approach each step is important. I have been lucky to have had many mentors along the way, and it seems only when you move on, do you understand why they were trying to teach you those things. Thank the gods for hindsight.
When did you make the move to the United States, coming from the UK?
I have officially not moved to the states as of yet. I am here on a long-term visa right now, and I will officially move here in the start of the New Year. This will be my third country to have moved to since leaving the UK over 10 years ago. I first moved to the south of France, from the UK, to work for Globe and Dwindle. Around six years ago I made the move to Amsterdam to work for Sole Technology Europe and in around three months I will be moving to the US.
What portion of your time do you spend at the company's office in Lake Forest, Calif. compared to working in Amsterdam? And how often do you travel for work?
The last 12 months have been pretty consistent with me alternating between the Lake Forest, and Amsterdam offices every three months. I am in Lake Forest for three months, and then I'll be in Amsterdam for six weeks before making my final move to the U.S. The year has been extremely challenging with the moves and the time zones, with my times in Europe being mostly on the night shift from 3 p.m. to 3 a.m. in an effort to stay in contact with the US departments during their workday. I am glad to be back in the US and not working weird hours. In between these global travels I am trying to visit retailers and key regions every month as well, especially in selling times or tradeshow season. I think its essential to be in the markets as much as possible to see the regional and even retailer differences.
Is the company any different now than it was when you started?
Yes, there have been many changes at etnies since I started but the brand's ethos has remained the same. I don't know any successful company that is the same year after year to be honest, especially not in the action sports industry or retail sector.
etnies ethos and values have remained unchanged, which I think is amazing! etnies was the first skateboarder-owned global action sports footwear and apparel company and the company continues to create innovative products that are focused on style, comfort and protection. This started with creating the first pro model skateboard shoe, the Natas, in 1987 and continues today with the Marana and soon to be released Highlight.
The etnies brand has always supported progression and continues to stay true to its roots by giving back to the skateboard, surf, snowboard, moto x and BMX communities.
While change is a constant, and sometimes change is very hard, I am proud to work for a brand that has remained steadfast in its values.

How has the industry as a whole changed since then?
The main change I suppose would be the inability to unplug. Everything is 24 hours and at your fingertips, which means more changes than can be listed...
The changes that I have seen include consumers, competitors, product, technologies, trends, marketing (social media was just starting when I joined to give a reference), new regions opening and developing, global brand awareness, immediate consumer expectations and performance reviews, global online purchasing, cross border selling and retailers closing.
You've been working for Sole Technology since 2008, what accomplishments are you most proud of?
The most memorable ones I have are starting the European Boot Camps for ThirtyTwo, Opening an Emerica and Altamont shop in shop at Slam City, London and the recent Marana Launch Campaign for etnies. A mixture of experiences, but all focused on positive moments of supporting action sports while building relationships.
What has made you successful in what you do over the past five years at Sole Tech?
Doing my best to be honest in my thinking and expectations while being realistic in what is actually possible for a project, target or the management of a team. Being humble and sharing the glory when it arrives. I am a firm believer that no one person makes the difference; it's a team effort.
What has been the biggest challenge for you in your new role as the Brand Director for etnies?
The biggest challenge is trying to stay focused on the brand and developing its direction while knowing this direction won't please everyone. Making changes not for the sake of it, but for the long-term needs of the brand. Managing a global team and trying to give everyone the time they need to do their job while maintaining the ability to do my own.

Is there anything about your current position that is different than what you anticipated?
A lot of things, but mostly the amount of communication required running a global role and the skills needed to be able to jump from one time zone to another in literal terms with regions but also in product calendars. There is never a dull moment when you are developing for 18 months, selling for six months and marketing now.
What is the most rewarding aspect of what you do?
Knowing that I am learning every single day and I that I get to work with people that inspire me to learn more. Never mind the fact that I get to work with the sports, athletes, people of Sole Tech and the industry that I love is an aspect that cannot ever be taken for granted. I am one lucky MOFO.
What advice could you give someone who is building a career within marketing or sales in the action sports industry, or looking to start one?
Travel to regions outside of your knowledge to open the understanding and needs of a global market. The learning of the similarities across regions is gold, but the learning of the slight or vast differences is priceless. I think it is better to have a broad global awareness with the ability to adapt to a specific region, than it is to be an expert of a specific region without the understanding of the different markets and their possible needs.
Any last words?
Just a small thanks and a tip of the hat to all the bosses I have worked with over the years:
A) For putting up with my youthful ignorance and seeing a possible potential despite it all
B) For planting the ideas and knowledge that has been breaking through slowly over the last years and hopefully will continue to do so.
I also want to thank all of my colleagues that are making it happen at etnies. 2014 is looking to be a great year for the brand!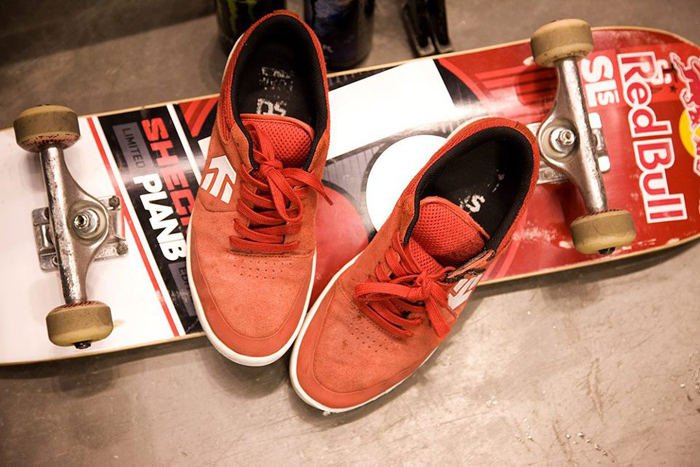 Ryan Sheckler's shoe du jour: the etnies Marana.
Keep up with the latest on what James is working at by visiting etnies.com and join the conversation on Facebook, Twitter and Instagram.
---