BACK TO NEWS
EVENT: The Shmooz at Interbike is a Success!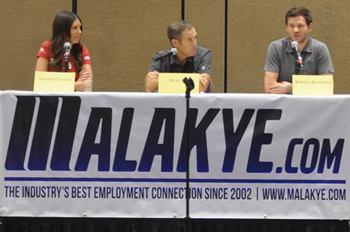 The Shmooz at Interbike is a Success!
The Shmooz is Malakye's version of a job fair and professional networking event and features leading employers from the cycling industry.
The Shmooz returned to Interbike on Friday, September 20th as the show moved across the strip this year to its new venue at the Mandalay Bay Convention Center and was attended by nearly 100 jobseekers eager to meet with representatives from companies within the cycling industries. Interbike's continued support of and belief in the Malakye event enabled the Shmooz to bring together 12 of the industry's leading employers, including SRAM, Specialized, PowerBar and more.
For the first time at the Shmooz at Interbike was a discussion panel session, which was debuted earlier this year at the winter Shmooz series. The panel, featuring human resources professionals from industry leading companies, focused on the topic: "Standing Out in a Competitive Market" and was attended by over 50 people. The panelists were: Samantha Fedorik - Senior HR Generalist at SRAM, Bryan Pate - Co-Founder & Co-President at ElliptiGO and Brandon Bouwkamp - HR Manager at Specialized.
(See a lot more photos on the Malakye Facebook Page)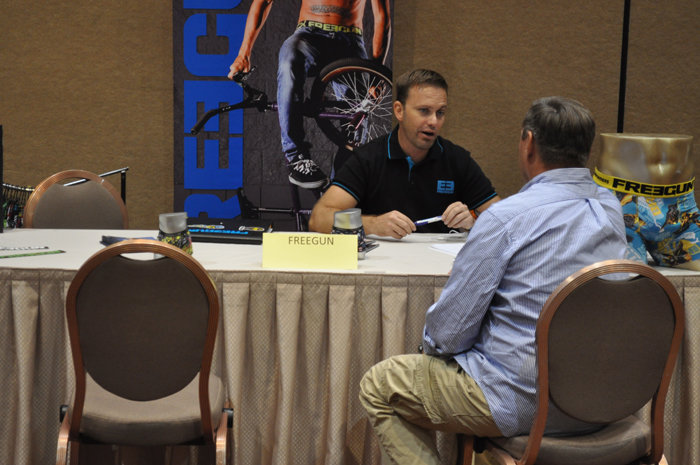 (See a lot more photos on the Malakye Facebook Page)
The action picked up after a 15 minute break following the end of discussions – and at noon the Shmooz was on! Nearly 100 people came through during the Job Fair and Networking portion of the event to visit 12 of the industry's leading employers. The participating companies were: Specialized, SRAM, Canari Cyclewear, shebeest, Pivot Cycles, BelgiumBike, ElliptiGO, Red Kite Prayer, Freegun Underwear, Trigger Point Performance, PowerBar and Hang Ten Original.
""The Shmooz at Interbike continues to grow," stated Malakye.com's Kelly Bader. "We had 12 companies exhibiting this year, up from 10 last year, and job seekers came from all over the country for the opportunity to speak face to face with some of the leading brands in the industry. The discussion panel added a lot to the event as well - representatives from Specialized, SRAM, and ElliptiGO shared valuable information with the audience of job seekers, and helped better prepare them to make the most of their time at the Shmooz."
(See a lot more photos on the Malakye Facebook Page)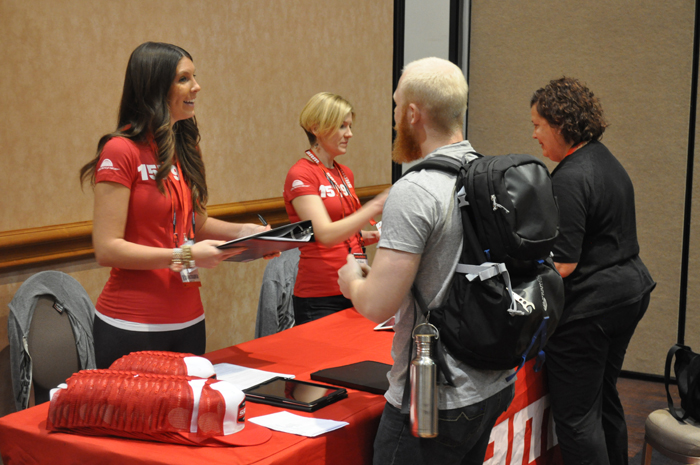 (See a lot more photos on the Malakye Facebook Page)
As The Shmooz wound down, many of the employers reported a turnout of great people. It truly served the purpose of bringing the job hunt to life and creating an opportunity for both companies and jobseeking candidates to become more than text to each other.
**Did you Shmooz? What did you think? How can we make the next Shmooz even better? Get the conversation started on social with the hashtag #Shmooz and please send all feedback, suggestions and encouragement to: shmooz@malakye.com
Keep up with the latest from Malakye.com - like us on Facebook and follow us on Twitter & Instagram.
(See a lot more photos on the Malakye Facebook Page)


(See a lot more photos on the Malakye Facebook Page)
---