Back to News
B$Z: Competitive Cyclist Is Official Online Retailer of Outerbike
September 30, 2013

Online retailer of premium cycling gear sponsors outdoor bike expo in Moab to support industry and engage community
Press Release from Competitive Cyclist
PARK CITY, Utah (Sept. 30, 2013) – The annual Outerbike expo is all about finding your perfect ride. Hundreds of bike enthusiasts converge on the mountain bike mecca of Moab, Utah for the five-day event to throw a leg over next year's hottest steeds and mingle with members of the industry. Today, online specialty bicycle retailer Competitive Cyclist announces its sponsorship of Outerbike as the official online retailer. Home to some of the top brands in the industry, unmatched customer service, and dozens of knowledgeable Gearheads, Competitive Cyclist is the leading online source for cycling gear and looks to support the industry and engage community at Outerbike.
"Outerbike is perfect for connecting with core bike customers," said Adrian Montgomery, Director of Brand Marketing at backcountry.com. "The 1,000 or so attendees who come to Moab and test next year's product closely match the profile of folks who would join our online community. We also feel they'd be comfortable making a big purchase like a bicycle online having already tested it in a real world environment. I'm a real fan of what Outerbike has grown into and a proud supporter of the event."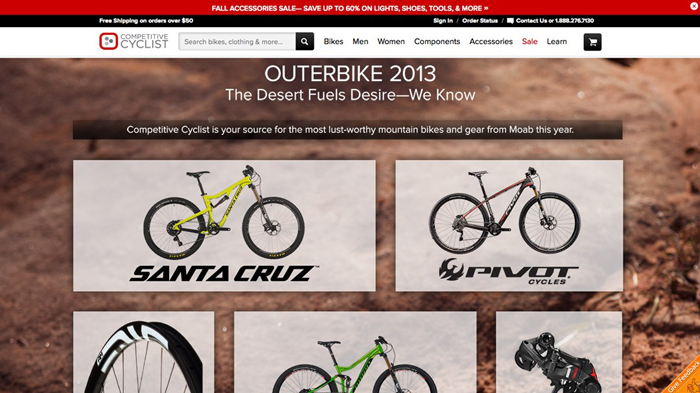 As official online retail partner of Outerbike, which runs Oct. 2-6, Competitive Cyclist aims to educate and engage the cycling community about the brand and its strong stable of vendor partners. Bike brands attending Outerbike that Competitive Cyclist sells include: Santa Cruz, Yeti, Ibis, Pivot, Niner, SRAM, Continental, Industry Nine, ENVE, and Smith Optics.
Not only is Outerbike an ideal setting to test 2014 bikes and gear on world-class trails, but for Competitive Cyclist it's the perfect atmosphere to connect consumers with the best brands and inform them of the site's unique features – in-depth product reviews, Bike Builder, and the Fit Calculator. Competitive Cyclist will also have a display booth at the expo showcasing product from their top suppliers.
"Outerbike is a bike demo event for the people," said Ashley Korenblat, CEO of Western Spirit Cycling. "We provide the opportunity for everyone to test ride next year's bikes on world-class trails in Moab. Having Competitive Cyclist join us as our official online retailer allows consumers to close the loop after trying out the bikes and gear."
The first two days of Outerbike offer guided rides and clinics, while the final three days are the demo expo and the chance to ride and test loads of new product. Event registration gets you lunches, shuttled rides, prizes, movies, and entrance to all the evening parties.
Offering expert, industry-leading customer service, a No Questions Asked return policy, and built-to-spec, ready-to-ride bike delivery service, Competitive Cyclist brings the best brands in cycling to you to help make your next ride better than the last.
For more about Outerbike, check: outerbike.com.
For more about Competitive Cyclist, check: competitivecyclist.com.
MEDIA CONTACT | Keith Cozzens | Verde PR | [email protected] | 970.259.3555 x2
---