Back to News
BIKE: Bike Co-op Members Get Great Margins, Additional Incentives With New Vittoria Partnership
October 1, 2013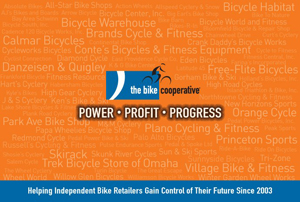 Bike Co-op Members Get Great Margins, Additional Incentives With New Vittoria Partnership
Press Release from the Bike Cooperative
Manchester, NH (Tuesday, October 1, 2013) – With its new partnership with Vittoria Industries North America (V.I.N.A), The Bike Cooperative has added some of the world's most respected and accomplished brands to its stable of supplier partners. Effective immediately, The Bike Cooperative's member retailers will earn rebates on all purchases of Vittoria, 3T, Geax and Selle Italia products and receive additional incentives, including stock rotation, exclusive group buying discounts, and 60-day right of first refusal on all closeouts and specials.
"Vittoria and Geax have a legacy of comfortable, reliable, resilient tires, and the Selle Italia and 3T brands are celebrated worldwide for their quality," said Scott Barrett, president of The Bike Cooperative. "Our member retailers are very pleased to see these brands in the Co-op."
"The combination of these brands takes the quality of our vendor partnerships to a whole new level," added Bike Co-op director of supplier relations Nat McAllister. "Most dealers think that stocking boutique Italian parts would be difficult to turn. But with keystone margins, stock rotation and closeout opportunities on some of the finest parts in the world, this will no longer be an issue for our members, which is something they're very excited about."
Vittoria national sales manager Rick Dyer said, "Members welcomed us warmly at Interbike and were very enthusiastic about the new partnership. The Co-op provides significant growth and exposure opportunities for V.I.N.A. brands with its network of strong retailers. At the same time, we feel the exclusive incentives and programs like our Selle Italia ID Match fitting will be beneficial to stores who take bike fitting seriously, want to offer their customers higher quality saddles, and upgrade to premium aftermarket parts."
ABOUT THE BIKE COOPERATIVE
The Bike Cooperative is a member-owned cooperative with a mission of improving the profitability of independent bike retailers. The Bike Cooperative provides members with exclusive product specials and rebates, consumer financing and credit card processing programs, comprehensive customer loyalty and marketing services, and training in management and sales. For information on becoming a Co-op member, call TBC Member Services at 1-800-450-7595 or visit www.thebikecooperative.com.
ABOUT VITTORIA GROUP
Since 1953 Vittoria Industries Ltd. has built highly reputable partnerships within in the cycling industry and created a unique brand image. Today's Vittoria Industries Ltd. is the world's leading manufacturer of bicycle tires, with an annual production of more than 7 million tires and 900,000 famous tubulars and cotton tires. The group owns two brands: Vittoria for road tires, GEAX for MTB and trades several third party brands in some countries (3T, Fox in Italy; 3T and Selle Italia in the US).
---