Back to News
B$Z:: Surf Industry Raises an Estimated $70,000 for SIMA Humanitarian Fund
October 1, 2013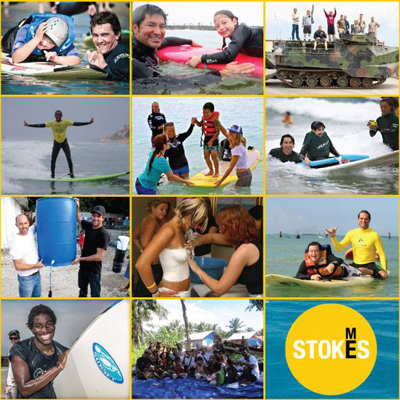 Surf Industry Raises an Estimated $70,000 for SIMA Humanitarian Fund
Press Release from SIMA
ALISO VIEJO, Calif. (October 1, 2013) – With the end of September, the SIMA Humanitarian Fund's 30-day campaign, Stokes Me, also comes to an end, successfully raising funds for 11 humanitarian beneficiaries. Numbers are being totaled from many different fronts as surf industry brands, retailers and consumers joined forces to raise money for important humanitarian causes throughout the month of September.
As final numbers are still being totaled, the SIMA Humanitarian Fund Board of Directors estimates that $70,000 was raised through Stokes Me. Each part of the surf industry – retailers, brands and consumers – played equally important roles in the fundraising efforts, which poised the campaign for a greater success rate.
Participating surf industry retailers dedicated the month of September to asking their customers to add a dollar to their purchases in order to donate to the SIMA Humanitarian Fund beneficiaries. This add-a-buck initiative was adopted by 19 different retailers with many launching the campaign from multiple storefronts. The implementation of the initiative in the retail stores was vital in meeting the Stokes Me fundraising goal. The SIMA Humanitarian Fund Board of Directors is grateful for all retailers who participated including BC Surf & Sport, Brave New World, Hansen's, Hi-Tech, Huntington Surf & Sport, Jack's Surfboards, Killer Dana, Maui Nix, Noll Surfboards, Rip Curl Retail, Rusty Del Mar Surf Shop, South Coast Surf Shop, Spyder Surf, Sun Diego, Surfside Sports, Surf Ride, Swell.com, Thalia Surf Shop and Volcom Retail.
"The big success in this year's campaign was finding our feet with the format and the amazing participation of the key retailers in our industry," said Ross Garrett, President of the SIMA Humanitarian Fund. "All over the country, the message of surfers and the surf industry helping other people was shared, and crucial funds were raised for our 11 beneficiaries."
Surf industry brands were also able to donate by pledging to be a "Super Stoked," "Stoked" or "A 'La Carte" donor. By doing this, brands were also able to participate in the campaign kick-off, the second annual Stokes Me Surf Contest, held during the Surf Expo Industry Party presented by Sanuk. The surf contest alone raised $35,000 for Stokes Me, more than doubling the funds raised from the previous year. The following brands made that possible: Super Stoked donors Liquid Tribe (Aguerre Bros.) and Sanuk; Stoked donors Hurley, Rip Curl and Vans; and A 'La Carte donors Agenda, Body Glove, Electric, RVCA, Stance, Surfline and Volcom.
Aside from the retail participation and brand donations, additional events were held to benefit Stokes Me and the SIMA Humanitarian Fund. Noll Surfboards' artist reception featuring Trevor Mezak ended in a live auction to benefit Stokes Me, Rip Curl held a team signing with a mega-raffle also raising funds for Stokes Me and Salt Life raffled a Trevor Mezak piece and held an Instagram contest with all proceeds benefitting Stokes Me.
The Stokes Me campaign is the official fundraising event for the SIMA Humanitarian Fund. Since 2004, the SIMA Humanitarian Fund has donated more than $1.58 million to surf-related, non-profit humanitarian organizations. All proceeds from this year's efforts will benefit 11 surf-related humanitarian non-profit organizations selected by the SIMA Humanitarian Fund Board of Directors for their dedication to improving the quality of life, health and/or welfare of people. The 2013SIMA Humanitarian Fund beneficiaries include AccesSurf, Best Day Foundation, Cystic Fibrosis Foundation, Jimmy Miller Foundation, Keep A Breast, Life Rolls On, Outdoor Outreach, Stoked Mentoring, SurfAid International, Surfers Healing and Waves for Water.
About SIMA
The Surf Industry Manufacturers Association (SIMA) is the official working trade association of more than 300 surf industry suppliers. Founded in 1989, SIMA is a non-profit organization that serves to promote awareness of the surf industry and participation in the sport of surfing through public relations efforts and a variety of services, educational programs and research. In addition, SIMA actively supports oceanic environmental efforts through its 501(c)(3) charitable environmental foundation, the SIMA Environmental Fund. In the past 23 years, SIMA's Environmental Fund has raised more than $6.2 million for environmental groups seeking to protect the world's oceans, beaches and waves. The SIMA Humanitarian Fund, also a 501(c)(3) charitable foundation, was established in 2006 to award grants to various surf or boardsport related social and humanitarian non-profit organizations whose efforts are focused on improving the quality of life, health and/or welfare of people.
---