BACK TO NEWS
EVENT: LA Men's Market Debuts at the California Market Center in downtown LA on Oct. 14-15
LA Men's Market Launching at California Market Center, Top Downtown LA Showrooms combine into one multi-brand market event
Press Release from the NTWRK Agency
Los Angeles, CA (October 1, 2013) — The NTWRK Agency, The Park Showroom, The FNDTN and Flagship Agency are combining to present the first installment of LA Men's Market on October 14 & 15 at California Market Center in downtown Los Angeles. Men's Market will coincide with the California Market Center's Market Week, and will offer a focused vision of contemporary men's fashion and accessories. The Men's Market will bring together 200 of the top retail buyers in Southern California, including Active Ride Shop, American Rag, Kitson, Jacks Surfboards, Aloha Sunday, for a two-day event centered around over 65 top men's brands.
From men's accessories collections by Herschel Supply Co, Komono, Urbanears, G-Shock, Super Sunglasses, clothing collections by Zanerobe, OBEY, 10 Deep, Huf, Brother Marshall, Primitive, Altru, Unyforme, SLVDR, and footwear by Alife, Native, Generic Surplus, LA Men's Market offers "a convenient and efficient opportunity to see their top brands and shop new brands," states Kellen Roland, President of The NTWRK Agency. "
We are reminding retailers that we have an incredibly high concentration of men's brands based in Downtown LA. It is a hub of men's contemporary, action sports, and street fashion."
"We expect 200 buyers to come through, and we're expecting more at-once buyers," explains Willard Ford, of Flagship Agency. "We're hoping to establish a culture where people take advantage of showrooms."
The 2-day event will be punctuated with a hosted ping-pong tournament at SPiN Standard, the West Coast's premier Ping-Pong Club based at the Standard Downtown LA on the first night (October 14th), and a closing event October 15th at Pattern Bar. Buyers will be treated to discounted hotel rooms courtesy of The Standard Hotel, and transportation courtesy of Uber.
WHAT: [LA Men's Market at California Market Center. 40+ of the top men's brands showcasing collections for 200 premier West Coast retailers in Downtown LA.
WHEN: October 14-15th , 9am – 6pm
WHERE: California Market Center, 110 E 9th St, Los Angeles, CA 90079, B-413 (parking available below building)
WHO: Presented by The NTWRK Agency, The FNDTN, Park Showroom, Flagship Agency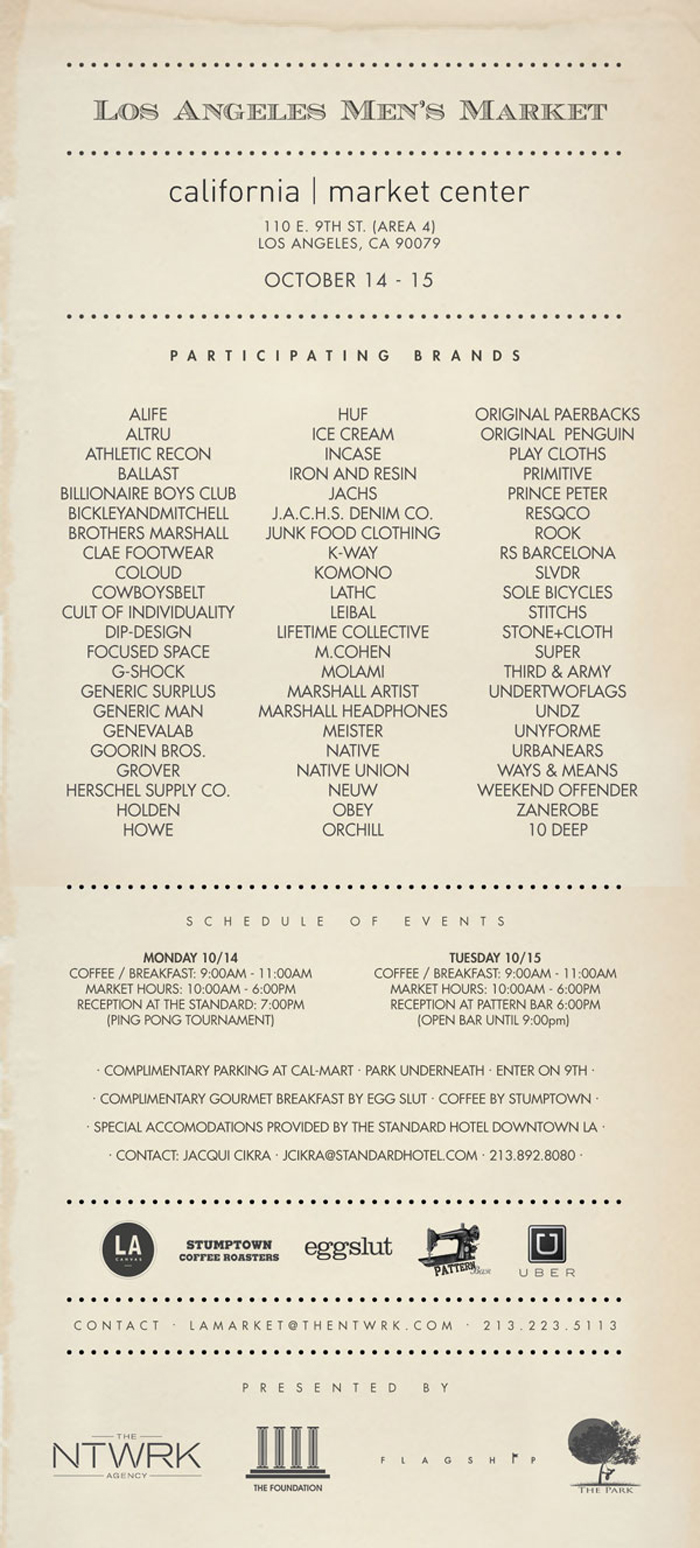 ADDITIONAL DETAILS.
• Check in at Cal-Mart (110 E. 9th St.) Park underneath building. Enter on 9th.
• Complimentary parking at the Cal Mart
• Complimentary gourmet buyers breakfast provided by Egg Slut / Coffee provided by Stumptown
• Buyer incentives and raffle prizes including an Apple iPad and products from Participating Brands (see below)
• Transportation deals Provided by Uber (see below) in the form of a $20 voucher
• Special hotel rates at The Standard Hotel*
• Party and Ping Pong Tournament with Prizes at The Standard Hotel (night 1 October 14th)
• Reception Party w custom drinks and appetizers at Pattern Bar (night 2 October 15th)
October 14th
Food / Coffee: 9:00am - 11:00am
Market Hours: 10:00am - 6:00pm
7:00pm Standard Ping Pong Tournament / Prize (1,2,3rd place prizes)
October 15th
Coffee / Breakfast 9:00am - 11:00am
Market Hours: 10:00pm - 6:00pm
6:00 - 9:00 Open Bar Reception at Pattern Bar
LA Men's Market email: lamarket@thentwrk.com Phone: 213.223.5113
*Jacqui Cikra
Standard Hotel Rates
Contact: jcikra@standardhotel.com
---