Back to News
Indosole Q&A with Kyle Parsons, President
October 2, 2013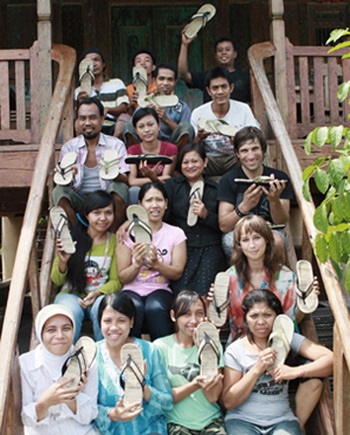 Indosole Q&A with Kyle Parsons, President
Indosole was launched in mid-2010 as a lifestyle brand based around resourceful thinking that primarily produces footwear. The initial idea for the company came back in 2004 while Kyle Parsons was on a surf trip in Indonesia. He was looking around for an authentic & unique souvenir to bring home and wound up with an unusual pair of locally-made sandals produced from discarded motorcycle tires.
Although the quality of the sandals left a little to be desired, the concept of repurposing tires to make shoes stuck with Kyle - and he figured he could make them better.
Now nearly ten years after his inspirational trip to Indo, Kyle has managed to take the original idea from conception to reality. Indosole is currently operating out of San Francisco, Calif. and the company produces organic products that are both fashionable & highly functional using discarded materials in Bali with a showroom in Southern California.
"Sandals and shoes have been made from tires for a long time," explained Indosole President Kyle Parsons via email. "We didn't invent the concept of using a tire as a sole of a shoe, but we have made it a lot better!"
We spoke with Kyle in anticipation of the company relaunching Indosole.com to find out what's unique about the company and its products, plus we asked him about the initial inspiration behind Indosole and much more.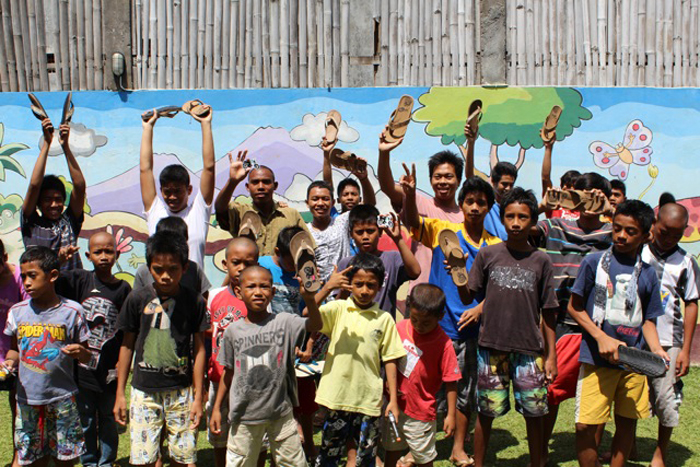 How is business going?
What started in 2006 as suitcases full of sandals rolling through airports between Bali and California has steadily grown into a legitimate business. The development of a unique product like Indosole has taken some time - we had to create a process to work with raw tires and turn them into shoe soles without compromising the integrity of the product, all while keeping the entire process organic.
Our business has grown at the same speed as our learning curve in figuring out how we could make the best repurposed tire sole footwear possible. Now, we have a formula that is really working and our new product is clean and colorful. This has resulted in increased product quality, increased volume, and a nice bump in sales.
Who was behind the initial inspiration of using repurposed motorbike tires and other trash to make sandals?
Sandals and shoes have been made from tires for a long time. People love to talk about Mexican Huaraches, which are traditionally made with tires, but they also love to talk about how they were uncomfortable and took years to break-in. Our mission is based around preventing more tires from ending up in Indonesian landfills, but producing a comfortable, fashionable, and functional pair of shoes that people genuinely want to wear, from day one.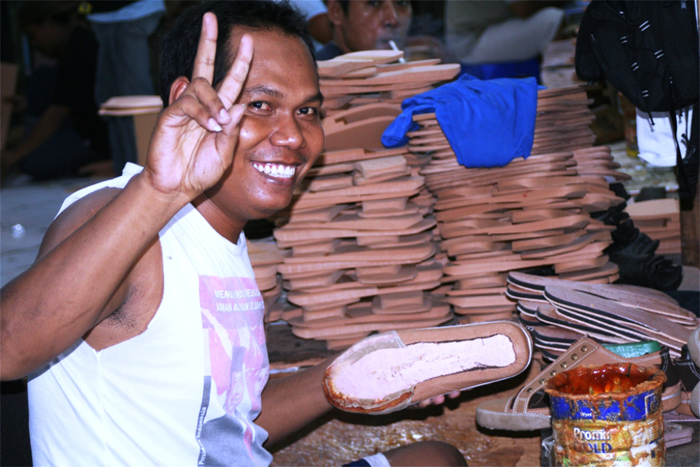 Indosole is based in San Francisco, with production in Bali and a showroom in San Clemente - what are the pros and cons of having the company's operations separated?
Yes, our business model is based around a crossover concept between Bali and California. We like to call it "Balifornia." Building a brand in two totally separate markets has its pros and cons.
Communicating with the Bali crew via Skype has definitely been a challenge over the years. Our production manager and Indonesian/California native, Kai Paul, have been key in managing things on the Bali side. He speaks the language, has a network and has done a great job of taking control of our manufacturing process over there.
The roots of the brand and main office are in San Francisco, where we have a growing fan base. Since SF's climate is significantly different than SoCal and Bali, we've had to take a different approach with our marketing, but it's definitely an area where urban trends are created, so it has been satisfying to make ourselves a staple among the local community here.
Our San Clemente spot is a small showroom/office with a strong history in industry startups (both Ocean Minded and Stance were founded there). Even though there's a ton of big-name competition in Southern California (Rainbow is only a few blocks from our showroom), it has been an invaluable market for us to break into. We've done so with the help of our new sales manager, Ed Santos and our marketing guru, Stevie Farmer.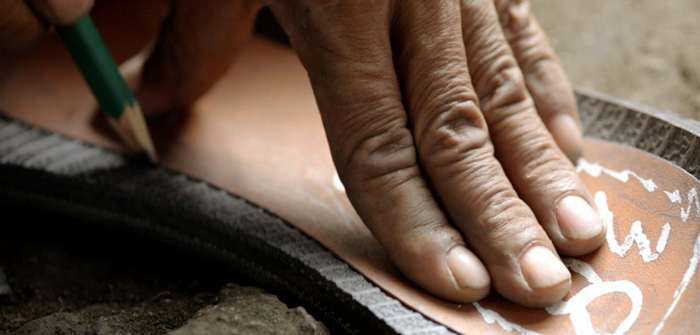 What have been some of your most popular styles and designs?
Our new "Innertubed" sandal has been a mover and holds a quality beyond the price. It's a 66% re-purposed sandal with tire sole and innertube on the straps. Its flexible, low-profile and great for girls and guys.
The Women's Pantai is a beach shoe that comes in bright, vibrant colors like Mint, Marigold Yellow and Chill Blue. It's an easy, slip-on-and-go style that is ultra comfy and machine washable.
The "Ikhanna" model was our first step towards a fashion forward sandal for women, and the response has been huge! It features a vegan suede woven strap and patterned uppers in classic Indonesian prints. The ladies love it, and it appeals to a diverse range of people.
Where do you see growth with the current product line?
Our business started with just 4 sandal models which were focused mostly on men. Our motorbike tread sandals continue to be some of our leading sellers - they've been in our line since 2010 and we get repeat customers coming back for more all the time.
Now, we're expanding into shoes, and are starting out with low-volume production runs to test the market. The fit and quality of our shoes continues to improve, and we're focusing more on women's models as well.
The 2014 line features new shoe models with colorful Indonesian batik and even some custom fitted organic cotton apparel. Our new designer, Kenya, went on a material sourcing adventure in Bali and pulled out some amazing batik options. She settled on four patterns that called to her and we are running them throughout our footwear and apparel line - we're pretty stoked on it. Stay tuned for more next spring!
The product has drastically improved and we are more confident than ever in our customers, friends, and family being totally pumped when they slip into a new pair of Indos.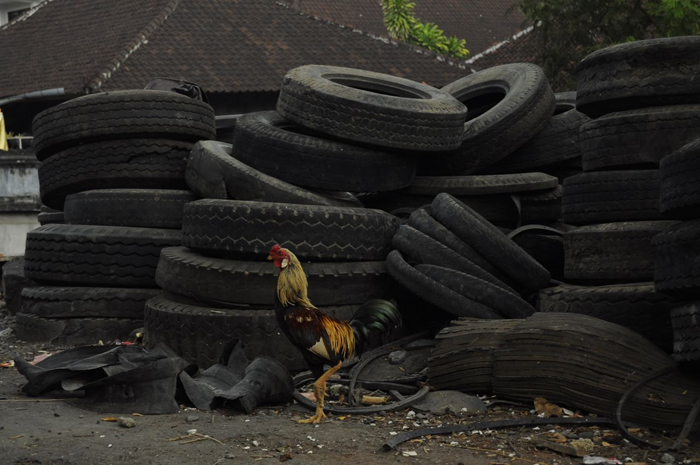 Are there any plans for expansion into new product lines or using different source materials?
With the launch of an apparel collection next spring, we are looking to spread our wings and tap into niche categories like yoga, natural food markets, and resort wear. Our clothing is all super soft organic cotton, and follows our storyline with hand-dyed Balinese batiks that are produced in a clean and natural way.
We've also adopted the name "Indo" as our apparel branding and we feel our clothing and coffee sack burlap shopping bags will get a solid response next spring.
What have been the biggest challenges for you in your time with Indosole?
Oh man, where do I begin! There has been many challenges for sure, but I wouldn't trade it for any other lifestyle. The early challenges were putting the concept into action. Getting on a plane and figuring out how to find manufacturing for a pipedream sandal project in a far off land as ignorant Americans. At the time, I was an independent sales rep for snowboarding/lifestyle brands and was putting every commission check into Indosole and sneaking away unannounced for 2-3 weeks at a time and running around Bali asking people on the streets where the "shoe factory" was. I averaged two trips per year for three years and I felt like I was getting nowhere, even though I was putting in so much effort.
In 2009, I partnered with my friend Faye, who was also passionate about Indosole and wanted in on the adventure. So, she took one for the team and sold her car and quit her job to move to Bali and manage the production while I stayed home and kept working. Together, Faye and I finally found a factory with amazing Balinese craftspeople and we worked closely with them to develop a process and product that had really never been done well before. We started completely from scratch, with no previous development experience of any sort. It was like chiseling down a piece of ice, as our sandals started off so big and clunky.
The following year, in 2010, I quit my full time job and jumped into Indosole head first. I immediately ran into new challenges surrounding cash flow, raising money and a slew of other things I had no prior experience in. Luckily, I have great friends and mentors who have helped me along the way with advice, loans and investments.
Since then, Indosole has braved some storms, but this past January, we got our first major investment. It took a ton of sleepless nights and a few close calls, but I'm proud to say that we're now going strong. In the beginning, it was a relentless game of creating challenges and somehow duct taping things together to keep on rocking. Making mistakes, and learning from them. But Indosole has been the most exciting roller coaster ride of my life, and we are just getting into the fun part of the ride.
How has the company grown since being founded in 2009?
Indosole has grown from a 2 person backyard operation to 6 full employees doing their thing in various areas of the business. Our first shipment was 500 pair of sandals in 2009. 4 years later, we are filling shipping containers, and expanding distribution throughout North America and Indonesia. This past winter, we partnered with The Farmer family of Newport Beach, CA who has helped fuel the growth of our team and product line. We have been fortunate to get involved with good people along the way and 2013 has seen steady growth. We're planning on keeping the progress up in 2014, and it's shaping up to be a good year.
Where do you see the company in another four years?
I see us as carving our own niche, on our own terms in the future. We aim for a steady growth period which will keep our product and brand story special and inspiring. Our retail distribution started at the core level with small surf shops and boutiques. While growing into new markets we want to be selective about where the product is placed and make sure to keep the fun vibes flowing.
What's unique about Indosole?
It starts with the product and brand story. We are pioneering a niche in repurposed footwear, which is unique to the footwear market. We've done it with a custom created product and from scratch. No footwear brand has ever made fashionable and functional shoes from repurposed tires and made that the focus of their story.
We also have an extremely unique production process. It's a 100% organic manufacturing process that does not use fuel-powered machinery. There aren't any smoke stacks at our factory, and we don't use any toxins or fumes. We are also completely transparent about who is making our shoes. We have a dedicated staff of professional Indonesian craftspeople that are in our factory every day with smiles on their faces. A lot of companies don't like to show what goes on behind the scenes, but we feel it's important for our customers to feel a part of our mission and relate with the people making the Indosole product.
Indosole Production Process from IndoSole on Vimeo.
What are you most excited about for the future of Indosole?
Our brand is finally starting to reach the point where we are seeing years of hard work coming to fruition.
The next level of our business is going to be more fun, as we can focus on more brand building and marketing at the retail level.
We're going to start a retail and festival tour called "Indos and Coconuts" that's going to be a great opportunity for us to support our retailers at the ground level and refresh the soles of our customers while telling our story first hand.
We're also introducing new products that allows us to really explore new directions for Indosole and our customers, which is incredibly exciting.
What makes your company a great place to work for?
Indosole is a great place to work because it all starts with our crew - the people behind the scenes. Whether it's our craftspeople making the products in Bali, our in-house staff, or our outside sales reps…we all truly believe in the brand mission and product we are selling. We are here because we want to be here!
A mid-day surf session happens on occasion too, and by living our lifestyle the way we want to live it, we stay motivated and satisfied. We are super lucky to have such a great crew of young and talented people!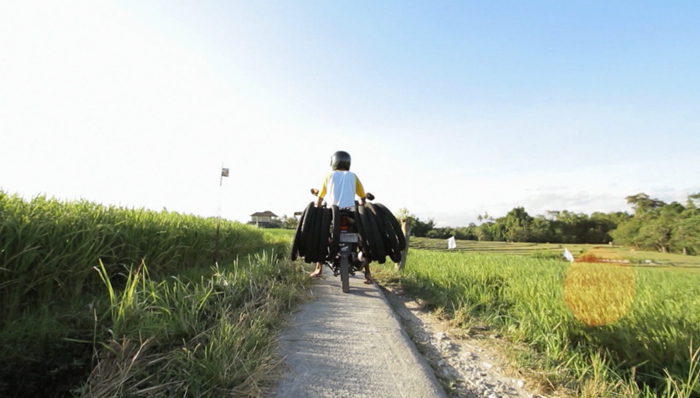 Any last words?
Thanks to everyone who has participated in Indosole's vision. Whether you are friends, family, an investor, lender, or a walk-by customer at a street festival. We are truly thankful for your support and allowing us to continue doing what we love to do. Each day that we get to wake up in the morning, and go to work for this brand, is a special day. We are stoked!
Please check out our NEW website!
www.indosole.com
Please follow us too:
Instagram: @indosole
Facebook: www.facebook.com/indosole
Vimeo: www.vimeo.com/indosole
Twitter: @indosole
Pinterest: @indosole
---