Back to News
GEAR: olloclip Unveils 4-IN-1 Lens for iPhone and iPod touch
October 16, 2013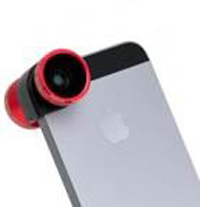 Four creative options in less than one ounce -- fisheye, wide-angle, and now two macro lenses – with enhanced optics and sleek new design in one small package
Press Release from olloclip
Huntington Beach, Calif.– October 16, 2013 – According to recent Pew Research, 82 percent of smart phone owners are using them to take pictures.* Now, olloclip takes mobile photography further with the new 4-IN-1 quick-connect lens, making it more fun to capture and share life's experiences with the iPhone and iPod touch.
The olloclip 4-IN-1 lens system, the latest in the company's line of simple, easy-to-use mobile photography tools, offers fisheye, wide-angle, and two macro (10x and 15x magnification) lenses in less than one ounce -- with enhanced optics and sleek new design -- all for $69.99 USD.
The four new quick-change lenses are similar to those available with larger DSLR cameras, yet fit easily in a pocket and palm of the hand. Simple, elegant and unobtrusive, the olloclip 4-IN-1 lens connects to the iPhone within seconds. With the fisheye and wide-angle lenses on opposite sides, selecting a lens is as simple as flipping the lens over. The macro lenses are cleverly revealed by unscrewing either the fisheye or wide-angle lens.
The olloclip 4-IN-1 lens works with all favorite apps in photo and video mode, making it easy for sports and travel enthusiasts, amateur and professional photographers to get exactly the shots and videos they want.
Building on the success of the original olloclip 3-in-1 lens, the olloclip 4-IN-1 lens solution is designed from aircraft-grade aluminum and precision-ground, coated glass optics -- but with the specific field-of-view, light-control and resolution characteristics of the iPhone 5s' eight-megapixel camera in mind. The wide-angle and fisheye lenses have been improved to deliver sharper images, edge to edge, with less lens distortion and enhanced clarity overall. Additionally, the 10x macro lens has a focus distance of about 18mm, allowing users to get more light on the subject (as compared to its predecessor, the 3-IN-1 olloclip lens) and allowing more depth of field so that more of the image is in focus.
"We wanted to enhance the new features of the iPhone 5s camera, including the five-element lens, autofocus matrix metering and dynamic local tone map that ensures more true-to-life color, while also complementing the iPhone's aesthetic look," said Patrick O'Neill, founder and president (CEO) of olloclip. "We believe we've succeeded in creating an elegant, pocket-size product that any iPhone user will be proud of and that any iPhone photographer will be inspired to use to create great art."
Product features/benefits:
Fisheye lens captures approximately a 180° field-of-view.
Wide-angle lens nearly doubles the iPhone's normal field of view.
10x macro lens 10X magnification with a 18mm focus distance.
The 15x macro lens 15X magnification, with a 12mm focus distance.
Enhanced panorama increases the field of view, horizontally and vertically, when used with the iPhone's panorama mode.
Size 1.5" x 1" x 1"
Weight 0.8 oz.
Compatibility iPhone 4/4s, 5/5s, iPod touch 4th and 5th generation (with special adaptor included with the lens; also can be used with all photo and video apps)
Colors Black, silver, red
The olloclip 4-IN-1 lens retails for $69.99 USD and can be purchased at http://www.olloclip.com and through Apple and other major retailers.
More information on the full olloclip product lineup of mobile photography tools for Apple devices, including the Telephoto + Circular Polarizing Lens (CPL) and Quick-Flip™ case with Pro-Photo Adapter for iPhone and iPod touch, is available at www.olloclip.com.
About olloclip
The olloclip® brand is synonymous with creativity in your pocket — olloclip products give amateur and professional photographers alike the ability to use the iPhone to capture and share what was previously impossible — easily, spontaneously and artistically. With olloclip, one's mobile phone becomes a window to the world, and mobile photography/videography enters a whole new realm of possibility. For more information about olloclip, visit olloclip.com.
olloclip® is a registered trademark. © 2013 olloclip. All rights reserved. Featured photography and the content within are the property of respective owners. olloclip Registered Community Design Numbers 001312359-0001, 001312359-0002, 001312359-0003, 001312359-0004, 002199992-0001, 002199992-0005. U.S. Patent No. 8,279,544 and D678379. U.S. and foreign patents pending. iPhone 5/4/4S and iPod are trademarks of Apple Inc.
Connect with olloclip
@olloclip and #olloclip
Instagram - http://instagram.com/olloclip - @olloclip
Flickr - http://www.flickr.com/groups/olloclip/
Facebook - www.facebook.com/olloclip
Twitter - http://twitter.com/olloclip
YouTube - http://www.youtube.com/user/olloclip
DISCLAIMER: The information provided in this press release is deemed to be true at the time of release.
* Pew Internet Research, Cell Phone Activities 2012. by Maeve Duggan, Lee Rainie Nov 25, 2012, http://pewinternet.org/Reports/2012/Cell-Activities/Main-Findings.aspx
---