BACK TO NEWS
B$Z: Matix Clothing Presents the Matix Workshop

Matix Clothing Presents the Matix Workshop
Press Release from Matix
Los Angeles, California (October 8th, 2013) Matix is proud to announce the official reveal of the Matix Workshop. Being a mobile trailer, we park it, pop open the front and unveil the full workshop and showroom hidden within, bringing the Matix story directly to consumers at our retailers' stores.
Within the depths of the showroom on wheels, an experienced tailor is ready to hem and taper any Matix purchase made from the retailer on-site at no additional charge. Then, custom label packaging is added to the pants creating a custom one-off item allowing the customer to get the experience of a customized garment.
The workshop is guaranteed to create good vibes and an even better time with our on-site Matix team. Especially, when the custom tailoring is paired with gree giveaways with purchase - selected by the retailer ahead of time. Various promotions include heat transfer custom tees with hand-selected designs, shop rags with custom stamps and specialty pins/buttons.
Matix Clothing present the Matix Workshop from Matix Clothing on Vimeo.
"The Matix Workshop was a great interactive experience for our employees and customers. It clearly demonstrated that Matic is committed to high quality custom fit denim that is tailored to our industries consumers. The customized experience mixed wiuth food, music and the Workshop vibe left a tremendous impact. Today more than ever, people are valuing quality in the products they buy and the Matix team is doing a great job displaying their commitment to exceeding expectations of today's consumer." - Active President Esmail Mawjee
The Matic Workshop previously launched at Agenda in Long Beach earlier in 2013 to showcase the new Matix collection by building Agenda's 10-year anniversary jeans and focus on showing the steps of building the product. It was such a triumph that Matix dcided to take the concept on the road. The execution took over 4 months from ceoncept to competion to perfectly finesse every detail as it was envisioned to bring you the Mati Workshop as it is today.
The upcoming Matix Workshop tour is focused on working with core specialty shops. Look for upcoming dates and information on our website: www.matixclothing.com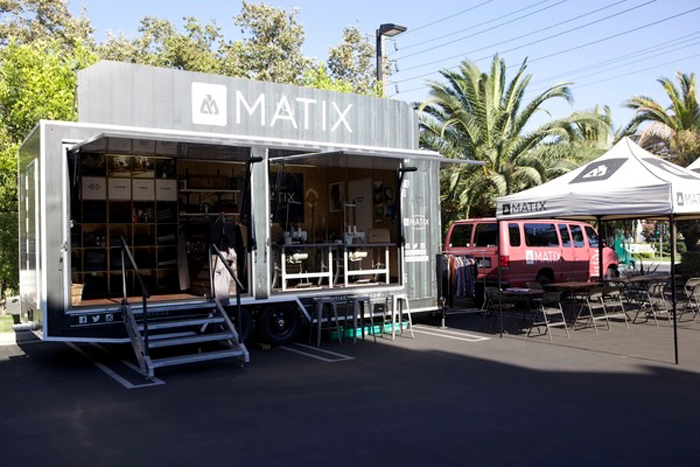 ---