Back to News
B$Z: Backcountry.com Launches 'Explore' and 'The Beacon'
October 21, 2013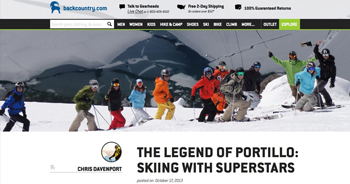 Backcountry.com Launches 'Explore' and 'The Beacon'| A Community-Driven Adventure Journal and Newsletter
Press Release from Backcountry.com
New photo, video, and content-rich digital creations are home to trip reports, expert advice from athletes, Gearheads, and other #goatworthy contributors in stylish formats.
PARK CITY, Utah (Oct. 21, 2013) – Online retailer of premium outdoor gear, Backcountry.com, is not only the leader in providing the best products from the top brands and memorable customer experiences, they're also the number-one source for detailed information about outdoor gear, supplied by people who know a lot about it.
Recently, backcountry.com expanded the way they talk about gear and the lifestyle surrounding it by launching Explore – a fresh, new, community-driven adventure journal dedicated to everything from gear tips to trip reports and colorful cultural commentary about the things we love to do. Accessed by the Explore tab on the homepage, this entire space on backcountry.com is devoted to bringing you closer to the outdoors through the eyes and words of our knowledgeable Gearheads, athletes, and community.
In conjunction with Explore, backcountry.com also introduces their new monthly newsletter, The Beacon, which places a selection of choice stories from Explore right in your inbox. Backcountry is committed to creating killer content that educates, inspires, and entertains.
These new content platforms allow Gearheads, athletes, and other members of the outdoor community to share adventurous stories, supply training tips, and offer expert gear advice with you, as well as their personal experiences with fear, dedication, defeat, and elation. These first-hand stories run the gamut from a visceral piece on pooping at altitude to tips on transitioning to trail running to a video tour of Burton's prototyping facility – all wrapped in entertaining, visually-compelling packages that embody the outdoor soul.
"As we continue to grow our community, Explore is the perfect portal for us to tell amazing stories, offer gear advice, and enhance our customer experience by supplying one more element that shares the culture of our brand," said Adrian Montgomery, Director of Brand Marketing at backcountry.com. "By curating all this diverse, inspiring content on Explore and in The Beacon we're engaging with our audience on a level that bridges beyond a retail interaction. Our customers expect more than sales pitches and regurgitated vendor content, we get that and here is our answer."
Sign up for backcountry.com news and receive a free goat sticker, here: http://www.backcountry.com/Store/global/stickerRequest.jsp.
For more about Explore, check: backcountry.com/explore.
---