Back to News
MOTO: AXO America Posts Over a Quarter of a Million Dollars in Supercross and Arenacross Contingency
October 31, 2013
AXO America Posts Over a Quarter of a Million Dollars in Supercross and Arenacross Contingency
Press Release from AXO America
AXO America, Inc. is proud to announce contingency programs for the 2014 Monster Energy AMA Supercross series and the 2014 Amsoil Arenacross series. AXO's contingency program is the product of our idea of giving back to our riders for their unparalleled work and support to us not only as a brand, but as a community. In order to fulfill this opportunity, we will give our full attention and support to our Supercross and Arenacross riders including both professionals and amateurs. Racers of any age or class will be able to qualify for our contingency program.
The Monster Energy Supercross contingency program will pay out cash to all those riders that make the main event. There will also be significant championship bonuses for first through tenth place. In order to qualify for Supercross contingency racers must minimally wear AXO jersey and pants.
The Amsoil Arenacross contingency program will pay out AXO credits and additional product discounts. The AX and AX Lites classes will receive AXO credit and all of the amateur classes will receive additional AXO product discounts. In order to qualify for the AX and AX Lites classes contingency racers must minimally wear AXO jersey and pants and/or AXO boots. To qualify for the discounts in all amateur classes riders do not need to be wearing AXO, although it is encouraged. The additional discounts are provided to help those racers get into top of the line, high quality gear at little to no price.
"I am really excited to kick off this new program for 2014 season. I want to show riders that AXO is committed and dedicated to helping them reach their racing goals and these new contingency programs are going to do just that." said Vicki Mitchell, AXO Rider Rep.
AXO is still accepting resumes for 2014 sponsorship, which will help riders become a part of this great new program. To apply for sponsorship please send a resume to [email protected]. If you have any further questions about the contingency programs or AXO's rider support program please email [email protected] or give us a call at (661) 257-0916. Both contingency programs will be run through Feld Motorsports and additional information will be available to riders from Feld.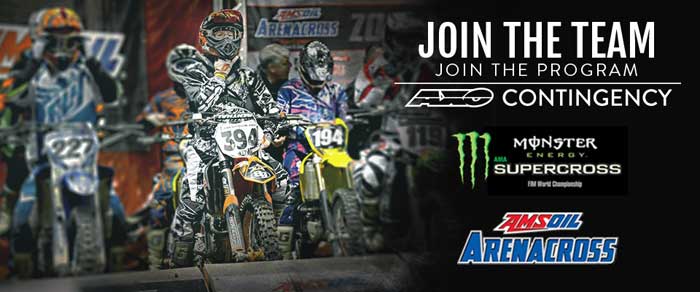 ---