Back to News
GEAR: The Wade Collection for Stance
November 1, 2013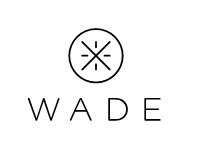 NBA Miami HEAT Champion Dwyane Wade Teams Up With Stance to Launch The Wade Collection of Casual and Gentlemen Socks
Press Release from Stance
SAN CLEMENTE, California – Stance, the leaders in the sock market and innovators in the category, continue to redefine the way we think of socks. Today the brand launches The Wade Collection in partnership with NBA Miami HEAT Champion and style icon, Dwyane Wade. The Wade Collection showcases casual and gentlemen socks designed and developed by Wade himself and includes 13 different styles that will be available at Champs stores and select boutique retailers nationwide.
Dwyane is the first NBA player tostep into the sock game. As one of the NBA's leading men, Wade is consistently recognized as one of the best-dressed players off the court and frequently highlighted for his style. With Stance, Wade was able to weave his impeccable sense of fashion, personal style, and passion for design into his collection and bringtogether all aspects of the collaboration process.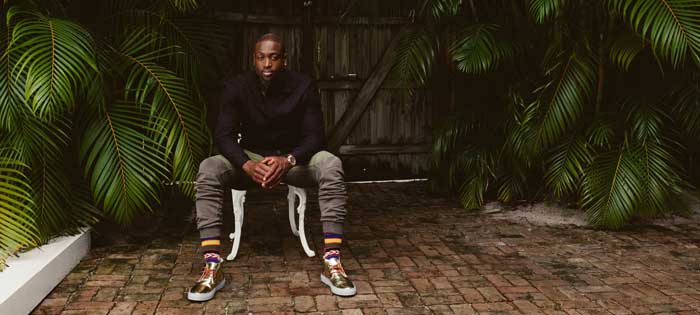 "We're very excited to unveil the Wade Collection," said Jeff Kearl, CEO of Stance. "Dwyane has had an undeniable influence on the NBA and on fashion, and we are thrilled to collaborate with someone that is so passionate about everything that he is involved in. This is one collection that really speaks for itself."
The Wade Collection features both casual and gentlemen sock collections—gathering inspiration from Dwyane's style on and off the court. In designing the collection, Wade collaborated with Calyann Barnett, Creative Directorof Brand Wade, to develop designsthat are inspired and influenced by his personal life experiences.

"Style has always been a personal interest of mine, and I'm excited to be able to express some of my own influences through my collection for Stance," said Dwyane Wade. "Socks are often overlooked in fashion, but socks have the amazing ability to transform any ensemble into a bold fashion statement that reflects your personality and mood."
The Wade Collection is now available at select Champs stores and select boutique retailers nationwide including Premium Goods, Shoe Gallery, Unknwn, Sole Fly and more. For more information visit: http://www.stance.com/collection/dwade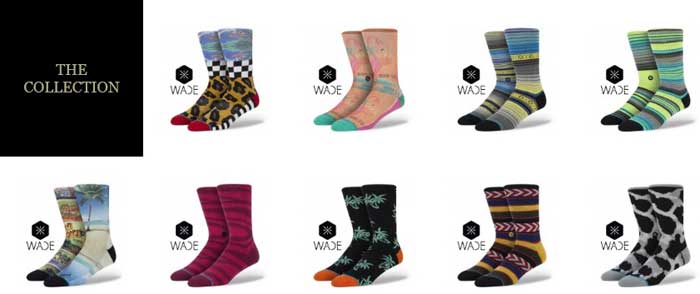 ABOUT STANCE
Founded in 2010, STANCE unravels the spool of convention to create anoriginal canvas worthy of the art it is paired with. A commune of creativity, STANCE is dedicated to the spirit of individuality. Celebrate bold expression with free-thinking fabric that becomes thread poetry in motion. Send a crystal clear mixed message that's silently loud and quietly bold. Designed in San Clemente, worn everywhere. For more info on Stance and its Punks & Poets, please visit stance.com

ABOUT DWYANE WADE
Dwyane Wade is a three-time NBA Champion (2006, 2012, 2013) and nine-time All-Star selection with the Miami HEAT. In 2006, three years after first joining the HEAT as the No. 5 overall Draft pick, he led the team to Miami's first-ever NBA Championship and was named MVP of the Finals. In 2012 and 2013, Dwyane won his second and third NBA Championships.
In 2004, he created the Wade's World Foundation, which provides support to various educational, health and family service programs, in particular those that benefit underserved communities in Miami and his hometown of Chicago.
In 2011, Wade was appointed to President Obama's fatherhood task force. In March 2011, he became the first NBA player to be awarded sole custody of his children. In September 2012, he became a New York Times Best-Selling author, with the release of his first book, A FATHER FIRST: How My Life Became Bigger than Basketball.
MEDIA CONTACTS
For Stance:
Leland Drummond
Azione PR
[email protected]
(646) 490-2945
For Dwyane Wade:
Amy Jacobs
Rubenstein Communications
[email protected]
(212) 843-8077
---