BACK TO NEWS
B$Z: Shaper Studios Makes New Home in North Park: Grand Opening Friday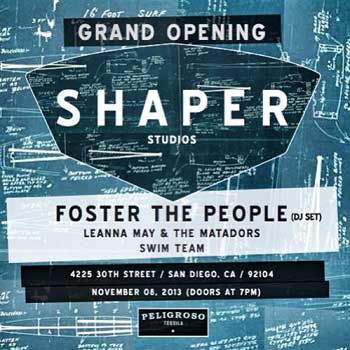 Local surfboard workshop celebrates with live music, promotions and surfboard shaping Friday, November 8
Press Release from Shaper Studios
SAN DIEGO – California's premiere surfboard shaping workshop, Shaper Studios, celebrates the grand opening of its highly anticipated headquarters on Friday, November 8, 2013. The only surf shop in San Diego where you can shape your own surfboard, Shaper Studios brings its one-of-a-kind flavor to the already eclectic North Park.
The local surfboard shaping workshop, home to any and everyone interested in the art of hand shaping and riding custom surfing boards, has been entirely made over from its previous location on the outskirts of Mission Valley. The innovative enhancements include three bays for simultaneous shaping lessons, in-house glassing, surf accessories and expanded merchandise from local brands Matuse, MOVMT, Raen Optics, Keep-A-Breast, Seea, Burkhart, Kid Creature and more.
"We want surfers of all ability levels to feel welcome and inspired to create," says CEO Chris Clark. "Shaper Studios is all about experiencing surfing in a hands on way. We are thrilled to be in North Park where community and creativity is a such a large part of the culture."
The November 8 grand opening unveils Shaper Studios as the future for the art of surfing in San Diego, Southern California and the country. Friends, family, neighbors and everyone in between are welcome for an unforgettable evening of surfboard shaping demonstrations, live band performances, surprise guest DJs, art, special promotions, new member discounts, raffles and contagious celebratory stoke at the new headquarters—4225 30th Street, San Diego, California, 92104.
A detailed timeline of events is as follows:
4 - 6 p.m. - VIP SOFT OPENING for press / industry / VIP / family
6 - 7 p.m. - Members Only Reception
7 - 8 p.m. - GRAND OPENING Doors / Guest DJ / Live Shaping / Live Art
8 p.m. - First Band
9 p.m. - Second Band
10 p.m. - Surprise Guest DJ
For more information on Shaper Studios and the new headquarters, please visit www.shaperstudios.com.
ABOUT SHAPER STUDIOS
The world's first public surfboard workshop and custom design center, Shaper Studios gives surfers a home outside the water. With a professional staff of friendly surfboard builders and a contagious passion for sharing the art of custom surfboard design, Shapers puts the art of surfboard creation in the hands of those that cherish it most- the surfers. For more information, visit www.shaperstudios.com or find them on Facebook.
---