BACK TO NEWS
MOTO: Brian White Racing Announces 2014 AMSOIL Arenacross Lineup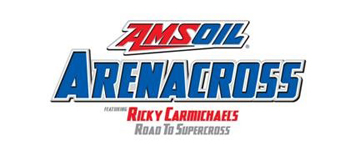 Brian White Racing Announces 2014 AMSOIL Arenacross Lineup
Press Release from Arenacross Media
AURORA, Ill. (November 12, 2013) – Brian White Racing has revealed its five-rider lineup for the 2014 season of AMSOIL Arenacross, featuring Ricky Carmichael's Road to Supercross. The BWRengines.com/SSI Decals/Fly Racing Honda squad will consist of returning riders Maxx Malatia and Kyle White along with a trio of talented up-and-comers in Brandon Marley, Malachi Messenger, and Logan Skaggs.
"Last year was by far our most successful season to date and with the talent and work ethic I am seeing from our new and returning riders, I expect 2014 to once again surpass our previous seasons," said Brian White. "As the engine and suspension tech for the team I really wanted to get a head start and begin testing as soon as possible. We built a pre-production version of the new Honda back in August and have been working alongside Adrian at Ride Engineering to develop the new bike to work exactly how we need for arenacross. We have brought aboard a few great new relationships including SSI Decals and Fly Racing so overall I am very excited going into our third season as a full time AMSOIL Arenacross team and I am looking forward to many more to come."
Malatia brings championship experience to the BWR effort on the heels of his first career professional title last season. Malatia was part of a spirited battle for the Western Regional Arenacross Lites Class crown alongside his teammate White, gaining momentum in the later part of the season and emerging victorious. The title fight played a key role in Malatia's development in the arenacross discipline and is ultimately a driving force towards his goals in the premier Arenacross Class for the 2014 season.
"I came into [last season] a little under prepared and struggled in the beginning, but I was able to get things together and came on really strong for the second half of the season," said Malatia. "I was able to claim the [Western Regional Arenacross Lites] championship as well as an 18th place at the Monster Energy Supercross race in Minneapolis. I really want to come into the 2014 season where I left off in 2013 and put myself inside the top 10 [in points] before the Race to the Championship in the Arenacross Class."
While the chance to battle with his teammate for the title was memorable, White looks at the 2013 campaign as one of heartbreak. Entering the final night of competition last season, White sat just a handful of points from Malatia in the championship but suffered a broken leg during a crash in the Main Event, ending any hopes of claiming his first career pro title. Since then, the Illinois native has had his sights set on a return to action in 2014 with a sole focus on being faster and stronger than ever.
"My goals [last season] were to [finish] either inside of the top 10 in the Arenacross Class or win the Arenacross Lites championship," said Kyle White. "Although I found myself with 14 podiums in 16 nights of racing and a highlight 3rd place in the Arenacross Class in Grand Rapids, when the lights went out in Denver to mark the end of the season I found myself lying in a hospital bed with a broken femur, an 11th place in the Arenacross class, and a 2nd-place [finish] behind teammate Maxx Malatia in the Arenacross Lites [Western Regional] Championship. From that moment on I had my sights set on the 2014 season. I was blessed with a very quick recovery and returned to training on my mountain bike and rowing machine 11 days after the femur surgery with high hopes and determination to make 2014 even more successful than 2013."
Brandon Marley took a break from competition for 2013 in an effort to enhance his skills in the highly technical arenacross discipline and come into 2014 with his sights set on challenging for a title with a new team. While his preparations for the upcoming season came to a halt following a broken collarbone from a training crash, Marley has continued to focus on entering the season healthy and ready to do battle in the Arenacross Lites Class. He's back on the bike and logging laps, ready to make his presence felt in the highly competitive field.
"After taking the 2013 season off I am looking to take my experience from the previous two years and put things together to really make an impact for the 2014 season," explained Marley. "I began training for arenacross in July but suffered a broken collarbone resulting in surgery and a tough recovery. Currently, I have moved in with our team owner and head mechanic Brian White and I am working on getting comfortable on the new bike, with the new team, and preparing myself physically to come out swinging to my full potential. My goal for this year is to end the season in the top five in the Arenacross Lites Class and gain some more experience in the Arenacross Class."
In addition to being one of the newest members of the BWR team, Malachi Messenger is also one of the newest faces in AMSOIL Arenacross. The 18-year-old rider is one of several competitors who will be making their professional debut in 2014, taking advantage of the Ricky Carmichael Road to Supercross program to develop his career path. While he holds modest aspirations for his rookie season, Messenger is excited to go bar-to-bar with some of the best in the world.
"Friday night in Worcester [on January 3rd] will be the first professional race [of my career]," said Messenger. "I am coming into the season with hopes of making some night shows and Main Events throughout the Arenacross Lites Class. I am excited to debut my talent as a rookie. I have been given a great opportunity by the BWR team to live with Brian, which allows for testing and training with the team and the new bike."
Like Messenger, Logan Skaggs is another one of the promising new faces of AMSOIL Arenacross. In 2012, Skaggs became a familiar name in the discipline by capturing the amateur 85cc title, instantly establishing himself as one of the most promising young riders in AMSOIL Arenacross. Following a year hiatus to focus on his physical conditioning and well being, Skaggs will embark on his rookie season with BWR in 2014 and is eagerly awaiting his chance to battle his teammates and the rest of the Arenacross Lites Class field.
"Ending the 2012 season with the title in the 85cc Class, I took the 2013 season off to focus on my health and strength to be fully prepared for my pro debut in AMSOIL Arenacross," explained Skaggs. "In preparation for this season, I have been hitting the gym and riding at local tracks on a daily basis. My goals for 2014 are to stay healthy all season and place inside the top 10 in the Arenacross Lites Class."
The 2014 AMSOIL Arenacross season kicks off with two nights of action on January 3rd and 4th from the DCU Center in Worcester, Mass.
Live timing and scoring from each round of the AMSOIL Arenacross season returns for the 2014 season! To follow the intense racing action live, log onto www.Arenacross.com.
For more information on the 2014 AMSOIL Arenacross season, and to purchase tickets, log on to www.Arenacross.com. For all media requests, please contact Brandon Short brandon@nextlevelsportsinc.com or 949-365-5750.
Never miss out on the latest news! For more information on AMSOIL Arenacross, please log on to www.Arenacross.com. To follow AMSOIL Arenacross on Facebook, Twitter and Instagram, long on to www.facebook/com/AMAarenacross, www.twitter.com/Arenacross and www.instagram.com/Arenacross. Subscribe to our YouTube Channel at www.youtube.com/ArenacrossLive.
About Feld Motor Sports®
Feld Motor Sports, Inc. is the world leader in specialized arena and stadium-based motor sports entertainment. Feld Motor Sports productions include Advance Auto Parts Monster Jam®, Monster Energy Supercross, AMSOIL Arenacross and Nuclear Cowboyz®. Feld Motor Sports is a division of Feld Entertainment, the world's largest producer of live family entertainment. For more information on Feld Entertainment, visit www.feldentertainment.com.
About AMSOIL®
AMSOIL® manufactures premium synthetic lubricants for all automotive, diesel and power sports applications. AMSOIL is formulated specifically for equipment life, maximum power and optimal all\-weather performance and have been tested and proven for over 40 years and billions of miles of service. For more information on AMSOIL, visit www.amsoil.com or www.amsoilracing.com.
About the American Motorcyclist Association
Since 1924, the AMA has protected the future of motorcycling and promoted the motorcycle lifestyle. AMA members come from all walks of life, and they navigate many different routes on their journey to the same destination: freedom on two wheels. As the world's largest motorcycling rights organization, through member clubs, promoters and partners, the AMA sanctions more motorsports competition and motorcycle recreational events than any other organization in the world. AMA advocates for motorcyclists' interests in the halls of local, state and federal government, the committees of international governing organizations, and the court of public opinion. AMA members receive money-saving discounts from dozens of well-known suppliers of motorcycle services, gear and apparel, bike rental, transport, hotel stays and more. Through the AMA Motorcycle Hall of Fame, the AMA honors the heroes and the heritage of motorcycling for future generations. For more information, please visit www.americanmotorcyclist.com.
---