Back to News
B$Z: US Blanks Partners with Eric Arakawa and Pat Rawson to Introduce the 10'8"BG Surfboard Blank
November 19, 2013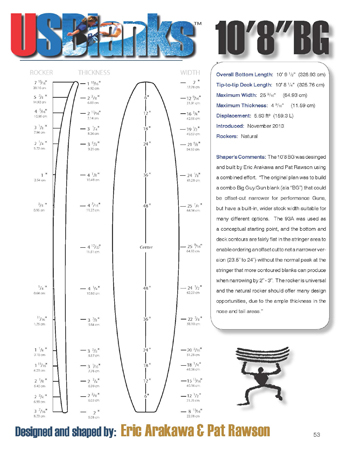 US Blanks Partners with Eric Arakawa and Pat Rawson to Introduce the 10'8"BG Surfboard Blank
Press Release from US Blanks
US Blanks would like to announce the release of the 10'8" BG blank, made possible through a partnership with famed Hawaiian surfboard shapers Eric Arakawa and Pat Rawson.
Eric Arakawa is the renowned head shaper for Hawaiian Island Creations (HIC) where he shaped boards for 3-time World Champion Andy Irons. Rawson helped start Local Motion surfboards in 1978 and has built boards for such notable surfers as Sunny Garcia, Mason Ho, and Jeremy Flores, among many others. Arakawa and Rawson have advised one another throughout their impressive careers, but the 10'8"BG marks their first design collaboration on a surfboard blank.

"There wasn't a previous need for a blank this size, but we've seen a huge renaissance in big wave paddle-in surfing. A few years ago we were doing a lot more tow boards, but now the demand is mostly for paddle-in boards. The size waves that people are paddling into now are much bigger, so a normal 9'6" Waimea gun won't do. We needed a bigger blank." Eric Arakawa
"He's so advanced with the computer and he has an incredible machine that can cut such large blanks. It's allowed us to achieve a more sophisticated design and to fine tune the design virtually, rather than through trial and error." Pat Rawson
The 10'8"BG is just one of two blanks that Arakwa and Rawson are designing. An even larger, 11'8"BG is due for release in early 2014. This 10'8"BG is the most recent addition to US Blanks portfolio of 85 blank offerings. It is made from polyurethane foam and is available in 2 densities, with any desired variety of stringer configuration.
Made entirely in the USA, US Blanks has warehouses in California and Florida and distributions partners worldwide.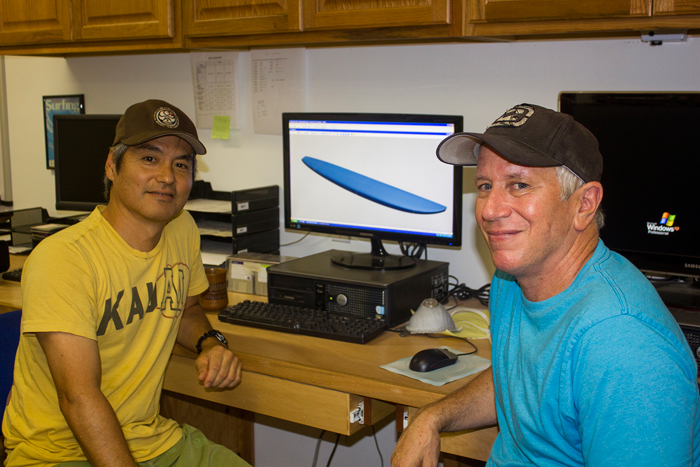 Contact [email protected] with additional questions.
---