Back to News
B$Z: Giro Sport Design Partnering with Jackson Hole and Mammoth Mountain Unbound Terrain Park
December 2, 2013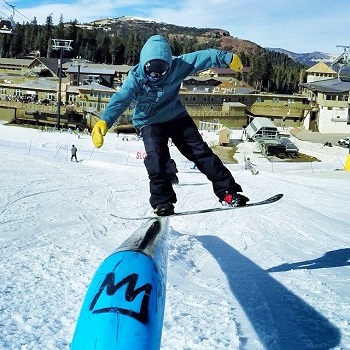 Giro Signs on as Official Helmet Supplier of Jackson Hole Mountain Resort and Mammoth Mountain Unbound Terrain Parks, New Partnerships Expands Giro's Support of Progressive Riders
Press Release from Giro Sport Design
December 2: Santa Cruz, California - Giro Sport Design, the industry leader in progressivesnow helmet and optics technologies, has announcedtwo separate resort sponsorship partnerships with Jackson Hole Mountain Resort and Mammoth Mountain's Unbound Terrain Parks as their official helmet brands for the 2013/14 season.
"These localesdefine the very notion of progression and showcase the capabilities of Giro's products," said Brendan Murphey, Giro Brand Manager. "From epic big mountain freeriding to next-level terrain park action, Jackson Hole and Mammoth's Unbound Terrain Parks embody the heritage and attitude of evolving our sport in the same way we do at Giro, and we're beyond excited to partner with them to help grow the next generation of skiers and snowboarders."
Terrain like Jackson Hole and Mammoth is where Giro develops new products like theEdit andCombyn, the flagship Soft Shell helmet inspired by park and pipe riding where repeated impacts are the inevitable price of progression, and the Blok goggle, a versatile goggle designed with team rider input which superior technology and function with classic style. These continued relationships bring Giro together with organizations committed to lowering the instances of injury in their customers by participating in programs like Jackson Hole's Kids Passport Program and inclusion in Mammoth Mountain's Safety Week. Resort visitors will see an increased Giro brand presence on the entire mountain, with staff and coaches in Giro helmets like the Edit (at Jackson Hole) and the Combyn (at Mammoth Unbound), in ski/snowboard camps, during special events and demo days, as well asin marketing collateral and social media.
"As the #1 helmet brand in Jackson Hole, Giro gives us the confidence that our guests and employees have access to the best head protection available on the market." said Doug Lowham of Jackson Hole Mountain Resort."Our employees always wear helmets when working on the mountain, whether it's ski patrol or ski and snowboard school, we know Giro has their head."
"Mammoth has always been on the cutting edge of innovation in the ski and snowboard industry. As a leader in helmet technology, a partnership with Giro is a natural fit for Mammoth."said TJ Dawoud, Mammoth Unbound Terrain Park Manager. "Their superior product will allow us to remain dedicated to keeping our guests and employees safe in the parks."
Giro Sport Design
Founded in Santa Cruz, California in 1985, Giro Sport Design develops new ideas to enhance the ride. Since creating the first lightweight, high-performance helmets for cycling and snowsports, we have maintained a strong focus on products that enhance the feeling of freedom and independence that riding brings to life. As the leader in the design, fit and engineering of products that complement the body, Giro is the first choice of riders worldwide.
---