Back to News
B$Z: Americans Gobbled Up Retailers' Thanksgiving Weekend Deals, According to NRF
December 2, 2013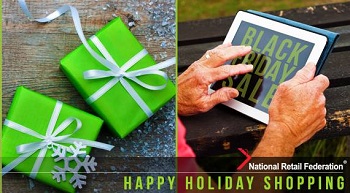 Americans Gobbled Up Retailers' Thanksgiving Weekend Deals, According to NRF
Press Release from NRF
More than 141 million* unique shoppers have already or will have shopped by the end of the big Thanksgiving weekend, up from 139 million over the same time frame last year. For those who shopped multiple times over the weekend, the survey found more than 248 million** waited in line, took advantage of big discounts offered throughout the mall and shopped on retailers websites, up from 247 million shoppers last year. According to a National Retail Federation survey conducted by Prosper Insights & Analytics over the weekend, traffic on Thanksgiving Day itself grew 27 percent as nearly 45 million shoppers, or 31.8 percent of holiday shoppers, took advantage of special "turkey day" savings offers, up from 35 million in 2012. Black Friday was the biggest day: more than 92 million people shopped (65.2%) for apparel, electronics and more, up from nearly 89 million last year.
Low prices and aggressive discounts, and the fact that many holiday shoppers started shopping earlier than ever this year contributed to the slight decline in average spending: according to the survey, shoppers spent an average of $407.02 from Thursday through Sunday (planned), down from $423.55 last year. Total spending is estimated to reach $57.4 billion.* NRF is still expecting total holiday sales to increase 3.9 percent to $602 billion.
"Cold weather, unique promotions and unbeatable prices put millions of Americans in the mood to shop for holiday gifts this weekend," said NRF President and CEO Matthew Shay. "Retailers' late night and early morning promotions struck just the right chord for those hoping to kick off the holiday shopping season with friends and family. With only a few weeks until the big day, retailers will continue to aggressively promote their in-store and online offerings, looking to entice today's very budget-conscious and value-focused shopper."
Thanksgiving weekend deals are especially enticing to young people. More than three-quarters (76.2%) of 18 – 34 year olds shopped or planned to shop over the holiday weekend – higher than any other age group – with Black Friday being the most popular day (70.9%).
Shoppers Visited Stores Earlier
Eager to kick off the holiday shopping season, one-quarter (25.4%) of holiday shoppers say they were at stores by 8 p.m. on Thanksgiving night; nearly four in 10 (37.3%) were at stores by midnight, up from 28.0 percent last year. Early hours aren't for everyone however; more than one-third (35.8%) didn't arrive at stores until 10 a.m. or later.
Online Promotions Excite Holiday Shoppers
The weekend shopping excitement wasn't limited to stores; consumers also spent more of their holiday budgets online. According to the survey, four in 10 (42.1%) indicated they shopped online over the weekend, or approximately 59 million shoppers.
Of those, the average person spent $177.67 online over the weekend, or approximately 43.7 of their total weekend spending, up from 40.7 percent last year. NRF also asked shoppers which days they shopped online – more than one-quarter (26.5%) of holiday shoppers said they shopped online on Thanksgiving Day, and nearly half (47.1%) shopped online on Black Friday. Additionally, 35.7 percent shopped online on Saturday and 24.5 percent have shopped or will shop online on Sunday.
"Online shopping over the Thanksgiving weekend continues to be more popular as retailers tout special holiday savings through their mobile apps and websites," said Prosper's Consumer Insights Director Pam Goodfellow. "With limited budgets this year, holiday shoppers will continue to make very thoughtful decisions about when and where they shop the remainder of the season, making sure to compare prices and keep up with retailers' advertisements for special sales."
Clothes, Electronics Popular With Shoppers; Discount, Online, Department Stores See Heavy Traffic
Clothes, electronics, and books, DVDs and video games were among the popular items purchased over the weekend. Nearly six in 10 (57.5%) bought clothing and clothing accessories, 37.7 percent bought electronics, 34.5 percent bought toys, and 36.1 percent bought books, CDs, DVDs and video games. Additionally, 29.6 percent bought gift cards and 16.9 percent purchased jewelry items.
More than 76 million (54.2%) shoppers visited their favorite department store over the weekend, and nearly 55 million (38.9%) visited discount stores. Additionally, 32.2 percent (45 million) shopped at electronics stores and 28.7 percent, or 40 million, went to clothing or accessories stores for gifts.
Additionally, slightly fewer people (76.4% vs. 79.6%) this year said they took advantage of retailers' online and in-store promotions to buy non-gift items.
Advertising Circulars, Retailers' Emails Helped Shoppers Find Bargains
According to the survey, almost half (49.2%) of holiday shoppers over the weekend sought out information about promotions and sales via advertising circulars, and one-third (33.0%) conducted online searches to find the best deals. Additionally, 36.8 percent made sure to keep track of emails from retailers, 16.4 percent reviewed retail companies' Facebook accounts for information, and 12.2 percent browsed stores to find bargains and sales.
Download complete Black Friday and Cyber Monday survey results.
View sample charts and historical Black Friday information in NRF's Retail Insight Center
About the Survey
The survey, conducted November 29 - 30 by Prosper Insights & Analytics for NRF, polled 4,464 consumers and has a margin of error of plus or minus 1.5%.
Prosper Insights and Analytics delivers executives timely, consumer-centric insights from multiple sources. As a comprehensive resource of information, Prosper represents the voice of the consumer and provides knowledge to marketers regarding consumer views on the economy, personal finance, retail, lifestyle, media and domestic and world issues. www.ProsperDiscovery.com
NRF is the world's largest retail trade association, representing discount and department stores, home goods and specialty stores, Main Street merchants, grocers, wholesalers, chain restaurants and Internet retailers from the United States and more than 45 countries. Retail is the nation's largest private sector employer, supporting one in four U.S. jobs – 42 million working Americans. Contributing $2.5 trillion to annual GDP, retail is a daily barometer for the nation's economy. NRF's This is Retail campaign highlights the industry's opportunities for life-long careers, how retailers strengthen communities, and the critical role that retail plays in driving innovation. www.nrf.com.
* The estimated # of unique consumers shopping in-store or online is 141.1 million adults shopping multiple days over the 4 day weekend.
** Estimated # of shoppers Thursday through Sunday – 248 million – includes individual consumers shopping on multiple days.

---