Back to News
studioFAR Q&A with Director Fernando Robert
December 4, 2013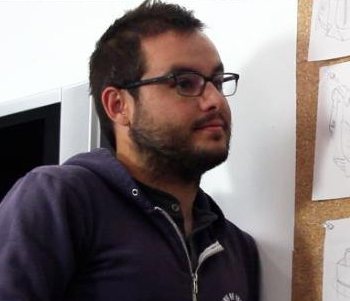 studioFAR Q&A with Director Fernando Robert
studioFAR is a small industrial design studio founded by Fernando Robert in 2009 that specializes in soft goods & footwear while featuring a portfolio that is spread out nicely with travel gear, backpacks, instrument cases and more. As sole owner of studioFAR, Fernando works with an intern and brings in outside help as needed and has worked with clients like Chrome Bags, Aether Apparel and Pelican Cases.
Fernando is the Founder and Director of studioFAR and has been working professionally as a designer for over 10 years. He started his career designing luggage and backpacks for Wenger Swiss Army but has been working independently for the past six years after moving from New England to the West Coast.
The studio is currently working on projects for ski bags, excercise equipment and a Sneakerhead specific backpack that was launched on Kickstarter as side project for shinerack.com. This on the back of studioFAR being awarded the contract to work with Pelican cases on guiding them into a new space with their ProGear line of backpacks, which recently launched. After winning a nationwide search to design and develop the first line of backpacks to hit the market, studioFAR was able to help translate the features and attributes from Pelican's well-known protective cases into functional and fashionable travel goods.
We interviewed Fernando Robert, the Director of studioFAR, to get the scoop on how he started his own design studio, to find out what's new and exciting for studioFAR, and we asked him how he has managed to score such an amazing roster of clients in only a few years working independently.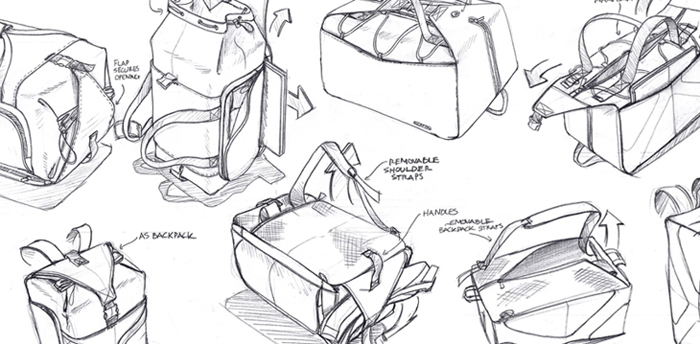 How long has studioFAR been around and how long have you been utilizing Malakye's B2B services?
We've been around four years now, however I have over 10 years of experience as a working industrial designer. We've been using the B2B service for about six months or so. Being a vendor on the Malakye site has helped connect us with new clients and slowly transition into the action sports industry which we are really passionate about.
What are the pros and cons of being based in San Francisco?
We surf in the morning, snowboard and ski in the winter, bike to work and around town. The Mission district where our office is located has many small and up-and-coming companies and vendors specializing in design work. We work in an office sharing space with graphic and sound designers, artists and other talented creatives. As a city, San Francisco really stands out for its unique way of thinking. It's filled with talent, passion, and authenticity. It's a great place to establish a brand; there's creative freedom and empowerment like nowhere else. I don't think there is any other place in the world like it. I can't even think of a con, oh wait; rent is a little is pricey.
How have you managed to secure a variety of clients in producing such a diverse portfolio?
We really hustled to get work when we first started. We were lucky enough to land work with Chrome Bags early on. After that our work has really spoke for itself; and we kept landing one great client after another. The growth has been exciting, a designer's dream.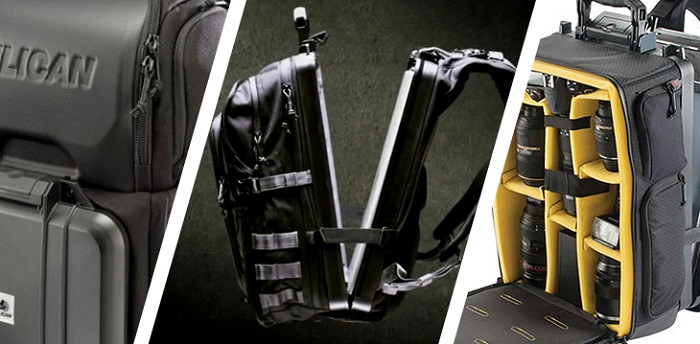 What have been some of the more popular products to come from studioFAR?
The Pelican ProGear line of backpacks (which released earlier this year) has been the most high-profile designs we've worked on to date, particularly the Pelican U100 laptop backpack. There are no other backpacks like it in the world. They're bombproof. Pelican followed those up with two camera backpacks the U160 and S115, just recently launched. We worked on those as well.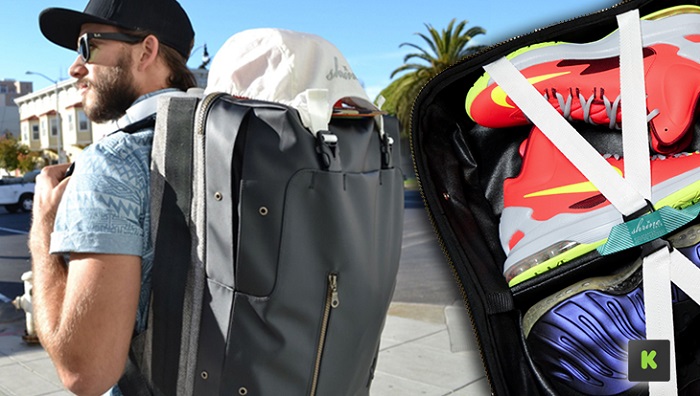 We like to step out of our normal routine every now and then to work on something different. The Shrine Rack brand started as a side project, but has been very well received. It's a way to showcase footwear that collectors and Sneakerheads have really been digging. To tie into that line, we have a new weekend travel backpack, the Shrine Sneaker Pack that has just launched on Kickstarter.
How did you land the contract to design Pelican's first line of backpacks to hit the market?
The marketing director at Pelican found our work online and it sparked the conversation. Pelican did a nationwide search for designers, after an early ideation phase with a few of them; they selected us to continue forward.
Can you explain your studio's role as consultant with Pelican and how the process of translating the company's well-known protective cases into travel goods went?
We worked closely with the marketing director to understand the attributes of their existing products and their user needs. We visited the headquarters in Torrance, California and toured their manufacturing facilities. They're injection molding cases right here in the U.S., its great. We also got a little history lesson on the company and their plans moving forward. Once we clearly understood the objectives of the project, there was an extensive prototyping phase to see how a person could comfortably wear a hard plastic case on their back. There was also research and testing done to determine how to marry the hard shell with soft fabric for a durable, long lasting finish. It was challenging, but we think the final product speaks for itself!
How did you get involved with working with Chrome Bags?
We reached out to them and started that conversation. Working with Chrome was a great experience.

What is studioFAR's relationship with shrinerack.com? Will upcoming releases from the Shrine Rack brand be designed by studioFAR?
As the founder of studioFAR, I spend a portion of my time building the Shrine Rack brand. It was a way for us to design an entire brand experience, from product to web based commerce to marketing and brand identity. We wanted to take something all the way from initial idea to production. Shrine Rack currently has four existing products we developed and the travel bag line could be really amazing if funded. The great thing about Shrine Rack being a part of studioFAR is that the entire line can be developed in-house.
Where do you see room for growth within this industrial design studio?
We want to leverage the Shrine Sneaker Pack Kickstarter campaign to launch Shrine into a travel goods line that will continue to grow with further products for the enthusiast. Would love to see a wheeled luggage line created specifically for Sneakerheads. In the meantime we continue to provide design services for our existing clients. We look to expand that base through sites like Malakye where we hope to connect with exciting companies that will further our brand into more action sports.We're currently working with Kulkea and watch out for some really exciting products from them.
What have been the challenges for studioFAR?
Some of the logistics of running a small studio and keeping it slim in down times, but staffing up when we have big deadlines can be tricky. Business development, accounting, marketing, and all the small business stuff is always necessary to keep things organized. And of course the design aspect; there is a lot going on at all times. It can be difficult for sure, but we wouldn't have it any other way.
What has been the biggest reward of launching studioFAR as an independent design house?
There are lots of rewards, but I love seeing an idea go all the way to market. Then guiding that brand and crafting its next product, and the one after, that is my favorite part. Also, since we are independent, we decide the projects we take on and what brands we associate ourselves withto build long-term, meaningful relationships.
Care to add any last words?
If you're ever in the Mission neighborhood, feel free to stop by and chat. We love to meet new people and discuss their ideas! If nothing else, we can recommend a place for great coffee or a few restaurant suggestions.

Want to get in touch with Fernando Robert and studioFAR? You can find him on LinkedIn and at studiofar.com!
---