Back to News
B$Z: AGENDA and FLEXFIT Announce 3-Year Collaboration
December 11, 2013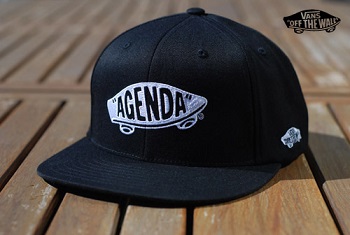 AGENDA and FLEXFIT Announce 3-Year Collaboration
Press Release from Agenda
LOS ANGELES – AGENDA, the leading forum for the action sports, surf, streetwear, lifestyle and footwear industries, is proud to enter into a strategic partnership with FLEXFIT—one of the world's largest vendors of custom, private label headwear—as its exclusive headwear sponsor for an upcoming three-year run.
AGENDA and FLEXFIT have previously released collaboration hats with artists and streetwear powerhouses such as Huf, SSUR, Poler, Girl Skateboards, Vans, Stussy and Staple. Now, entering into a landmark three-year deal, AGENDA and FLEXFIT are creating limited edition hats each season with various brands and artists, as well as live installations on-site. FLEXFIT's arts and creativity initiative, Basecamp, debuted at Agenda and will continue this tradition at the AGENDA show in Long Beach on January 7th and 8th.
"We have built AGENDA from the ground up, making sure that we keep surprising and inspiring our brands and retailers," says Aaron Levant, founder of AGENDA. "Our relationship with FLEXFIT and being able to tap into each others resources will support our vision and keep the show fresh. This is only the beginning for AGENDA and FLEXFIT, and we're excited to see the amazing collaborations to come."
The AGENDA/FLEXFIT alliance will include limited edition headwear collaborations stemming from artist and like-minded brands, produced by premiere manufacturers, in addition to generating amazing live interactive art installations at AGENDA shows.
"The AGENDA trade show is one of the rare congregations in life that gathers creative talent across diverse mediums" says Thomas Cho, President of FLEXFIT LLC. "We are quite blessed to meet such talented individuals that become cultural tastemakers and grateful to be exposed to their wild imaginations. Therefore, in order to support this cultural appreciation for creativity, FLEXFIT will continue its "Basecamp" arts initiative at the AGENDA Show. Not only are the brands at AGENDA appreciative of quality headwear craftsmanship, everyone involved with AGENDA recognizes that creativity and innovation are the fundamental elements to the betterment of mankind. We are grateful and humbled to be chosen as a long-term sponsorship partner to for the AGENDA Show."
AGENDA Long Beach will take place on January 7th and 8th at the Long Beach Convention Center.
About FLEXFIT
FLEXFIT, LLC (the US subsidiary of Yupoong INC.) is one of the world's largest vendors of custom, private label headwear. The company manufactures custom hats and caps for some of the most reputable global brands in the sports, streetwear, urban, action sports and outdoor markets. Being a level above is the driving force of this enterprise and it will never forget how it got here: being cognizant of its position in the marketplace, staying humble and having an internal focus on product, quality and service.
About AGENDA
The AGENDA Trade Show is a forum for the most inspired in the streetwear and action sports industries to unite. Lines speak for themselves and buyers are not intimidated by the usual overwhelming tradeshow experience. From the garage-run lines on the verge of explosion, to the well-established elite, AGENDA caters to the needs of buyers and brands that exist on a higher level of design and aesthetic. With a strong emphasis in style, art, music and culture, the AGENDA experience is as much a lesson as it is a tool.
About Reed Exhibitions
Reed Exhibitions is the world's leading events organizer, with over 500 events in 41 countries. In 2012 Reed brought together seven million active event participants from around the world generating billions of dollars in business. Today Reed events are held throughout the Americas, Europe, the Middle East, Asia Pacific and Africa and organized by 34 fully staffed offices. Reed Exhibitions serves 44 industry sectors with trade and consumer events and is part of the Reed Elsevier Group, a world leading provider of professional information solutions. www.reedexpo.com
---