Back to News
SNOW: Smith Optics' Athletes Sweep the 14th Annual Powder Awards
December 12, 2013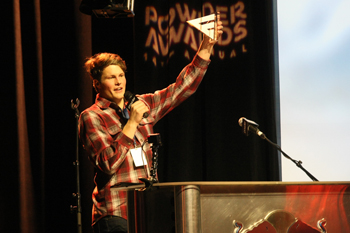 Smith Optics' Athletes Sweep the 14th Annual Powder Awards
Press Release from Smith Optics
KETCHUM, Idaho (December 11, 2013) – The top skiers, cinematographers, and photographers were honored last weekend at the 14th Annual Powder Awards with many of the top accolades going to a bevy of Smith Optics' athletes. The Sun Valley-based brand celebrated big wins alongside its team of exceptional skiers during the live show and the following day on-mountain at Snowbird Ski and Summer Resort.
Tim Durtschi took home two awards for the night, capturing the title for Best Natural Air for his rodeo 7 in Field Productions' Supervention and for Best Male Performance for his segment in Way Of Life from Teton Gravity Research. Dylan Hood, Sage Cattabriga-Alosa, and Colter Hinchcliffe were also featured in Way of Life, winning the award for Best Powder. Iconic female skier, Wendy Fisher, was honored with Switchback Entertainment for her film, Super Mom, with the award for Best Short.
Awards were also handed out for the Powder Poll, a collection of top athletes as voted on by readers and subscribers, with even more Smith athletes receiving decoration for their contribution to skiing: Sage Cattabriga-Alosa, Eric Hjorleifson and Mark Abma claiming space in the top ten for men and Angel Collinson taking 3rd for the women's category.
For more information on Smith athletes throughout the season, please visit www.smithoptics.com.
ABOUT SMITH
Based in Sun Valley, Idaho, Smith Optics, Inc. was founded in 1965 with the creation of the first goggle featuring a sealed thermal lens and breathable vent foam. Today, Smith is known for its diverse line of sunglasses, snow and motorsports goggles, snow helmets, premium protective eyewear and ophthalmic eyewear. Smith's devotion to excellence, innovation, performance and style has made Smith the choice of action-sport athletes worldwide. Smith products are sold in more than 50 countries through sporting goods and specialty stores. For more information, check out smithoptics.com. Integrate Performance and Style.
---