Back to News
GEAR: K2 Snowboarding Collects 8 Awards for 2014 Gear
December 12, 2013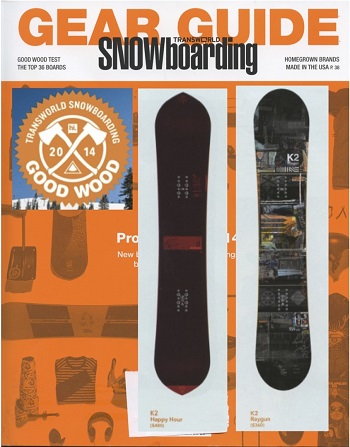 From endemic to non-endemic media outlets, new K2 product shines as season hits.
Press Release from Verde PR
SEATTLE, Wash. (Dec. 12, 2013) – Four different snowboards, three boots, and a pair of bindings from K2 Snowboarding's new 2014 line have been selected by numerous media outlets as the best gear for the season. Recognized by Backcountry magazine, TransWorld Snowboarding, Snowboarder, Outside magazine, and Splitboardmag.com, K2's innovative and design-driven product illustrates their leadership in the industry and high-performance on snow.
"Each year we push the envelop of what is possible in snowboard gear while staying true to our roots, and we're honored to be recognized by some of the most influential publications in snowboard and outdoor media for it," said Hunter Waldron, K2 Snowboarding's Global Marketing Director.
As leaders in pushing the progression of women's snowboarding, K2 received an "Editors' Choice" award from Backcountry magazine for their Northern Lite women's-specific splitboard. Featuring women's-focused flex patterns and waist width, as well as K2's Split Track mounting system and Ultra Tech molded edge, the Northern Lite is a women's best friend in the backcountry. "Great tip-to-tail flex for popping off rollers or dropping ledges into soft snow. And a brilliant skin interface; the best one out there for sure," commented one tester.
For the second year in a row, TransWorld Snowboarding dished out "Good Wood" awards for the Happy Hour and Raygun snowboards for best men's park and all-mountain boards, respectively. "A fun, surfy feel. Super responsive. Good pop, rallies turns. Holds up going fast," said one tester of the Happy Hour. Complete with all new Lifted Baseline™ technology and carbon Ollie Bar™, the Happy Hour doesn't disappoint in the park. The Raygun features K2's All-Terrain Rocker® technology and Hybritech™ Construction, providing a smooth ride for all types of riding. "The Raygun is great for big carves, but super fun to jib and butter with and still has good pop," wrote one tester.
In Snowboarder's 2014 Buyer's Guide, the Darko and Contour boots and the Tryst binding racked up "Best of Test" awards. Both boots Boa® technology and test-proven performance and comfort reigned supreme over competitors, and the Tryst's women's-specific sizing and Cinch technology made it one of the best bindings tested. "What can I say? This is the best-designed boot ever. Lace outer with Boa® inner? BOOM," said one tester of the Darko.
In its bi-annual Buyer's Guide, Outside magazine touted the T1 boot as one of the season's "six best snowboard boots." Outside's more aggressive big-mountain testers were impressed with the T1's stiffness in choppy snow and Vibram soles for traction during icy boot-packs. The Boa®Conda™ liner lacing and Harshmellow™ damping eliminates heal lift and keeps riders comfortable from first to last chair.
The K2 UltraSplit won Splitboardmag.com's "most innovative board" for 2014. Complete with the Kwicker™ system, Bambooyah™ core strength, and patented tip and tail skin attachment and unlimited Split Track stance options, the UltraSplit is the lightest splitboard in the world. "Lively and reactive when turning fast on steeps," commented one tester. "Very solid on the edge, it carves smoothly and offers a good balance between flex and torsion," said another.
To check out K2's 2014 collection, visit: k2snowboarding.com.
Media Contact: Keith Cozzens | Verde PR | [email protected] | 970.259.3555 x122.
---