BACK TO NEWS
GEAR: GoldCoast Skateboards Releases New Serpentagram Board
GoldCoast Skateboards Releases New Serpentagram Board with a Drop Through Design and Symbolic Meaning, Slip the Scales with the Serpentagram
Press Release from Master Plan Communications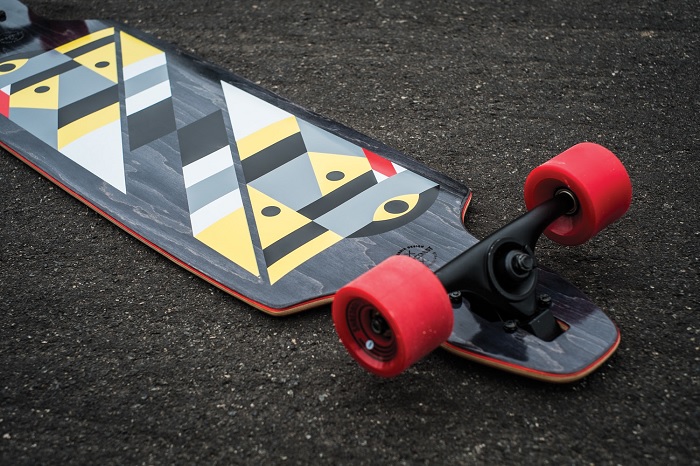 December 12, 2013 (Salt Lake City, Utah) – Quality crafted and designed with a greater meaning, GoldCoast Skateboards released its new Serpentagram board. The board's graphic displays geometric shapes showcasing the Ouroboros, an ancient symbol of a serpent eating its own tail, representing the idea of re-creation and eternal unity with no end. Created to powerslide, the Serpentagram is built for controlled slipping and sliding.
GoldCoast's Design Director, Dustin Ortiz says, "The graphic behind this board was inspired by the Ouroboros to symbolize the twin shape of the board and for GoldCoast to honor the history of skateboarding, while pushing the sport forward."
The Serpentagram board was crafted and designed with the tried and true subject of the snake skateboard graphic and it sheds the skin of complexity. Crafted with 7-Ply Canadian Maple, the 40" long and 10" wide drop through board provides a smooth ride with Century 177mm reverse pivot trucks, 70 mm and 85a Shred Boots wheels and custom GoldCoast ABEC 7 bearings. This complete that comes in black and yellow is now available for sale at finer retailers and on the skategoldcoast.com store.
For the latest details on GoldCoast, check out skategoldcoast.com and connect with the brand on Facebook, Instagram and Twitter.
About GoldCoast
GoldCoast's founders, Brock Harris, Chris Brunstetter, Dustin Ortiz and Nate Coen, describe the ethos of the brand here: "Skateboarding and design are at the core of GoldCoast. These two things touch nearly every part of our lives. Design is the language of our creativity; it is the starting point for all our products. We appreciate awareness of little details in our surroundings, our products, and our designs. Our enthusiasm cannot be contained. We want to share stories, ideas, sessions and trips with our peers, and want them to do the same with us. The end goal is to have fun. We don't do what we do for trophies, fame, or titles – we take it easy. Seriously."
For press and sample inquires, contact:
Ashton Maxfield
Master Plan Communications
949.289.6493 or Ashton@masterplanpr.com
or
Deborah Choi
Master Plan Communications
714.310.9651 or Deborah@masterplanpr.com

---