BACK TO NEWS
EVENT: "Agenda Emerge" Branding Conference Series Sets to Inspire the New Generation at AGENDA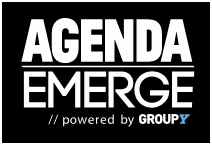 "Agenda Emerge" Branding Conference Series Sets to Inspire the New Generation at AGENDA
Press Release from Azione PR
NEW YORK (December 16th, 2013) – AGENDA, the leading forum for action sports, surf, streetwear, lifestyle and sneaker industries, is hosting its second installment of AGENDA Emerge—the highly curated creative and brand building conference featuring some of today's most iconic creative directors, innovators and industry leaders in street culture, sharing firsthand their industry insights and business intricacies.
In July of 2013, AGENDA Emerge made its debut at the prestigious AGENDA show filling the entire amphitheater to capacity with industry heads, emerging brands and media. Coming back for its second installment with bicoastal locations, AGENDA Emerge will hold two events this Winter 2014. The first event will be held at AGENDA Long Beach on January 8th in the Center Theater at the Long Beach Convention and Entertainment Center. Featuring a new talented panel from founders of Zumiez, Karmaloop and HUF.
One of the industry veterans speaking will be Tom Campion, co-founder of Zumiez as well as the Campion Foundation, also serving on the board of Alaska Wilderness League and Conservation Northwest, and is a producer of To The Arctic with MacGillivray Freeman Films.
Also speaking are Greg Selkoe, CEO and owner of the largest global streetwear retailer Karmaloop and and most recently, awarded the Ernst & Young Entrepreneur of the Year Award, and Keith Hufnagel, influential skate/streetwear leader and founder of leading skate-lifestyle label HUF.
AGENDA Emerge heads to New York for the second event, held at the Jack H. Skirball Center for the Performing Arts, the premier venue for the presentation of cultural and performing arts events for New York University and lower Manhattan on January 23rd. Back by overwhelming demand, the inaugural line-up heads to the East Coast for an encore performance. Featuring notable streetwear brand founders, Marc Eckô of Eckô, Bobby Kim of the Hundreds, Jeff Ng of Staple Designs and Johnny Earle, aka Johnny Cupcakes, both AGENDA Emerge events will be hosted by Jon Buscemi.
"The importance of bringing an educational platform like AGENDA Emerge to the public serves as a tool to foster growth for the next generation of our industry's creatives and entrepreneurs," said AGENDA Founder Aaron Levant. "Going head to head with the largest and well-established fashion industry shows and watching these brands reach success, knowing that we had a hand in it, has been a humbling journey. This is a great opportunity for the new generation of designers to learn from seasoned experts who have turned their brands into household names."
The event is powered by Group Y.
Registration is now open. For more information visit www.AgendaEmerge.com.
About AGENDA
The AGENDA Trade Show is a forum for the most inspired in the streetwear and action sports industries to unite. Lines speak for themselves and buyers are not intimidated by the usual overwhelming tradeshow experience. From the garage-run lines on the verge of explosion, to the well-established elite, AGENDA caters to the needs of buyers and brands that exist on a higher level of design and aesthetic. With a strong emphasis in style, art, music and culture, the AGENDA experience is as much a lesson as it is a tool.
About Reed Exhibitions
Reed Exhibitions is the world's leading event organizer, with over 460 events in 36 countries. In 2011 Reed brought together over six million active event participants from around the world, generating billions of dollars in business. Today Reed events are held throughout the Americas, Europe, the Middle East and Asia Pacific, and are organized by 34 fully staffed offices. Reed organizes a wide range of events, including trade and consumer exhibitions, conferences and meetings. Its portfolio of over 460 events serves 44 industry sectors.
About Group Y
GROUP Y is the original and leading collective of professionals focused on youth marketing, action sports, entertainment and other progressive and expressive cultures. Its mission is to share insights across industries and ignite ideas that inspire the current and next generation leaders and decision makers. Using events, outreach, content and consultation, Group Y takes the work out of networking and strengthens the areas where industries overlap. www.GroupYnetwork.com
About NYU Skirball Center
The Jack H. Skirball Center for the Performing Arts is the premier venue for the presentation of cultural and performing arts events for New York University and lower Manhattan. Led by executive producer Jay Oliva (President Emeritus, NYU) and senior director Michael Harrington, the programs of the Skirball Center reflect NYU's mission as an international center of scholarship, defined by excellence and innovation and shaped by an intellectually rich and diverse environment. A vital aspect of the Center's mission is to build young adult audiences for the future of live performance. www.nyuskirball.org
---