Back to News
SURF: ISA Announces Inaugural President's Award and 2013 Recipient
December 20, 2013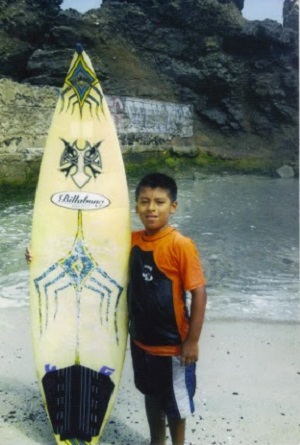 Nine-Year-Old Peruvian Surfer Gonzalo Torres Ramos Receives $1,000 for Being an "Extraordinary and Inspiring Surfer"
Press Release from the ISA
La Jolla, California - The ISA is proud to announce the inaugural ISA President's Award. Created by the ISA President to award an "especially inspiring and extraordinary surfer," the award was inspired by first-time recipient nine-year-old Peruvian Surfer Gonzalo ("Gonzalito") Torres Ramos. Despite having a physical disability that has caused one of Gonzalo's legs to be shorter than the other, making it difficult to balance on a surfboard, Gonzalo has become a competitive surfer in his local town, and an inspiration in his local surfing community.
"It's an honor to create a new award that we could give this year to such a special and inspiring surfer," said ISA President Fernando Aguerre. "Despite having limitations, Gonzalo Torres Ramos continues to surf every chance he gets, participates in his school competitions, and always does it with a smile. He exemplifies the true spirit of surfing, and most of all, has become an inspirational member of his local community. I'm proud the ISA is able to help and create more opportunities for Gonzalo and others surfers like him."
The $1,000 award will be given to help Gonzalo with a surgery for his femur, and allow him to continue to pursue surfing, a sport that has literally helped change his life. "I am so thankful to receive this award from the ISA," said Gonzalo. "I am where I am today because of surfing and the surf classes that were given at the beaches thanks to Mayor Silvana Prado, and my Teacher, Mr. Gomez," he added, referring to the program created by the local Punta Negra Municipality in Peru that allows students with limited resources a chance to learn how to and compete in StandUp Paddling and Surfing, as part of a free Physical Education program.
"To be blessed to get this amazing international scholarship award will allow Gonzalito to be an example and inspiration for many children of Peru," said Gonzalo's coach, Jose "Jarita" Gomez, who has been working with the local Municipality of Punta Negra to encourage StandUp Paddling and Surfing for underprivileged children near Gonzalo's hometown. "I've seen kids like Gonzalito's grades and behavior improve, since they have learned to surf. They stay out of trouble and they have more opportunities in their life."
Besides Gonzalo and his Coach, the Peruvian Surfing Federation was also thrilled to receive the news of the new ISA President's Award. Karin Sierralta, Executive Director of the Peruvian Surfing Federation (FENTA), said "While the ISA has been granting scholarships for eight years now, the goal has always been to support kids with surfing talents and good school grades, but mainly with economic disadvantages. Thanks to this special award from ISA President Aguerre, the ISA will also help a young surfer with a physical disability, and it will surely have a life-changing effect on Gonzalito's life, not only building his confidence, but also creating more opportunity for him in our society. Gonzalito is a great symbol for this award."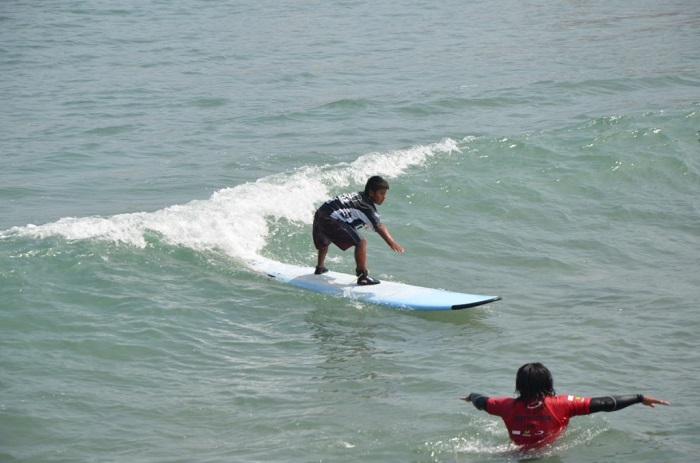 About the International Surfing Association
The International Surfing Association (ISA), founded in 1964, is recognized by the International Olympic Committee as the World Governing Authority for Surfing, StandUp Paddle (SUP) Racing and Surfing, Bodysurfing, Wakesurfing, and all other wave riding activities on any type of waves, and on flat water using wave riding equipment. The ISA crowned its first Men's and Women's World Champions in 1964. It crowned the first Big Wave World Champion in 1965; World Junior Champion in 1980; World Kneeboard Champions in 1982; World Longboard Surfing and World Bodyboard Champions in 1988; World Tandem Surfing Champions in 2006; World Masters Champions in 2007; World StandUp Paddle (SUP) and Paddleboard Champions in 2012; and will crown its first World Skimboard Champions in 2014.
ISA membership includes the surfing National Federations of 78 countries in five continents. It's headquartered in La Jolla, California and is presided over by Fernando Aguerre (Argentina), first elected President in 1994 in Rio de Janeiro and re-elected seven times since. The ISA's four Vice-Presidents are Alan Atkins (AUS), Karín Sierralta (PER), Debbie Beacham (USA) and Layne Beachley (AUS).

---