BACK TO NEWS
B$Z: Pukka Sets Pace for 2014 with New Product Releases at Upcoming Surf Expo Show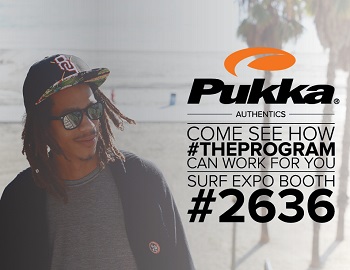 Pukka Sets Pace for 2014 with New Product Releases at Upcoming Surf Expo Show
Press Release from Pukka
Irvine, California/Findlay, Ohio– Pukka Inc., brand/manufacturer of premium Action Sports Headwear and Custom Mobile Cases, will introduce its new 2014 custom headwear and mobile cases collection at Surf Expo, January 9-11th in Orlando, FL. Attendees can view the new products at booth #2636.
Pukka's new seasonal headwear collection features more than 60 popular looks designed around the latest industry trends and yet still offer retailers the ability to add their personal touches to each look by changing fabrics, colors, and applying personalization options. For those customers who prefer to be involved in the full creative process, they have the freedom of creating caps from scratch using #theprogram. It's as simple as choosing their preferred style and silhouette, applying fabric/color combinations, selecting from various levels of embellishment options and finishing off the design process using any or all of the available Free contrast trim options.
In addition to its new headwear collection, Pukka will introduce the latest updates to its custom mobile case program with the addition of case options for the Samsung Galaxy S4 and the IPhone 5c. Like any of its other case options, retailers can add these styles six per style/case fit to meet the overall 24-piece minimum order requirement.
As part of the tradeshow experience, attendees are encouraged to visit Pukka during Surf Expo and schedule an on-site design appointment and take advantage of building their orders with a designer live on the show floor. The appointments are first-come, first-serve.
"Surf Expo is the premier industry tradeshow and the best opportunity of the year to introduce our new products and meet with industry partners. September's Surf Expo Show was better than expected and set the pace for us going into 2014. Retailers and brands are attracted to our design flexibility, low 48-piece minimums, 30-day production and free shipping. The industry never really had access to a program like ours before we introduced it into the action sports market at last year's January Show " says Dave Root, Director of Sales for Pukka.
Pukka Inc. is a designer, manufacturer and marketer of premium custom headwear and mobile case accessories in the Action Sports, Golf, and Team markets. Pukka stands for "original, first class, quality," which is displayed by unrivaled fits, premium materials, and superior quality. For more information, please visit www.pukkainc.com/authentics or call 877-345-5110 to speak to a customer service representative.
Media Contact Information:
Pukka: Ryan Zies, Authentics Division Media Contact 419.429.7808, Ext. 1309, rzies@pukkainc.com

---