BACK TO NEWS
EMP: olloclip CEO Patrick O'Neill Named Entrepreneur of 2013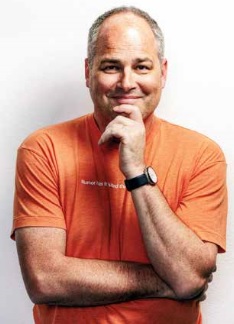 olloclip CEO Patrick O'Neill Named Entrepreneur Magazine's Entrepreneur of 2013 Presented by the UPS Store
Press Release from olloclip
Huntington Beach, Calif. -- (EMBARGOED UNTIL DECEMBER 24, 2013 - 6:00 AM EST) -- Patrick O'Neill, CEO and founder of olloclip®, has been named Entrepreneur magazine's Established Entrepreneur of 2013 in the annual contest sponsored by The UPS Store® honoring small-business owners. It is the most prestigious award bestowed upon entrepreneurs today, and Mr. O'Neill is being recognized for his successful entrepreneurial pursuits with olloclip, a company that creates innovative mobile photography products. http://www.entrepreneur.com/video/230544"
Patrick O'Neill's passion is astounding. He embodies the true entrepreneurial spirit and that's why he's Entrepreneur magazine's Entrepreneur of 2013," said Amy Cosper, VP/editor in chief at Entrepreneur. "He capitalized on the popularity of an existing tech product, and enhanced it for a target audience he deeply cares about. Photographers — and anyone who wants to be one — are crazy about the olloclip, and we can't help but share in the excitement of a good entrepreneurial success story."
Winners were selected by the small-business community and a panel of judges from The UPS Store® and Entrepreneur. Each finalist received a percentage of points based on the number of online votes they garnered from their videos, which together with voting points allocated to each of the panel of judges determined the final winners."
This is an honor and a major milestone for what has been an unbelievable journey," said Mr. O'Neill. "I am extremely grateful to have been recognized for the effort in taking a kitchen startup on Kickstarter to a leading mobile photography company. We hope it will help shine a light on mobile photography and inspire people to create great photos and videos."
olloclip products are simple and fun to use and expand what is possible in mobile photography. The company's flagship product, the olloclip 4-IN-1 Lens System, features four lenses (fisheye, wide-angle and two macros) in one small, convenient package that connects to the iPhone in seconds. olloclip products offer a wealth of creative options for mobile devices that allow users to take and share great-looking photos and video, anytime and anywhere. See olloclip's Entrepreneur video here http://youtu.be/d_-p_oMjK-U.
Mr. O'Neill is profiled in the January issue of the magazine, which is on newsstands now. Winners from each category will be honored at the upcoming 2014 Growth Conference on January 22, 2014 in New Orleans.
About olloclip
The olloclip® brand is synonymous with creativity in your pocket . olloclip products give amateur and professional photographers alike the ability to use the iPhone to capture and share what was previously impossible — easily, spontaneously and artistically. With olloclip, one's mobile phone becomes a window to the world, and mobile photography/videography enters a whole new realm of possibility. For more information about olloclip, visit olloclip.com.
olloclip® is a registered trademark. © 2013 olloclip. All rights reserved. Featured photography and the content within are the property of respective owners. olloclip Registered Community Design Numbers 001312359-0001, 001312359-0002, 001312359-0003, 001312359-0004, 002199992-0001, 002199992-0005. U.S. Patent No. 8,279,544 and D678379. U.S. and foreign patents pending. iPhone and iPod are trademarks of Apple Inc.
Connect with olloclip
• @olloclip and #olloclip
• Instagram - http://instagram.com/olloclip - @olloclip
• Flickr - http://www.flickr.com/groups/olloclip/
• Facebook - www.facebook.com/olloclip
• Twitter - http://twitter.com/olloclip
• YouTube - http://www.youtube.com/user/olloclip
DISCLAIMER: The information provided in this press release is deemed to be true at the time of release.

---