Back to News
GEAR: Goooooaaal! GoldCoast Skateboards Scores with its New Goal Collection
January 7, 2014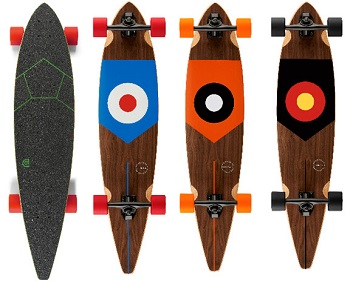 Goooooaaal! GoldCoast Skateboards Scores with its New Goal Collection
Press Release from Master Plan Communications
January 7, 2014 (Long Beach, Calif.) – GoldCoast Skateboards is proud to reveal its Goal Collection today at the Agenda tradeshow in Long Beach. This year all eyes will be on Brazil as the world unites under a banner of camaraderie and celebration of a certain foot-centric "sport" to find a world champion. With 12 countries featured in the Goal Collection, GoldCoast Skateboards pushes its boundaries to show that skateboarding goes beyond individual countries and unites the world.
GoldCoast Skateboards' Sales and Marketing Director, Chris Brunstetter says, "All of us at GoldCoast feel that skateboarding unites people around the world every day. When it comes down to it, we want the world to experience the joy and freedom of skateboarding, that's our goal!"
With an estimated 715 million people tuning in, the World Cup is one of the greatest spectator events in the world. The 2014 World Cup will be held in Brazil from Thursday, June 12 to Sunday, July 13 with 32 countries participating from five confederations.
The Goal Series celebrates these fifteen countries where GoldCoast skateboards can be found: Australia, Brazil, Canada, Czech Republic, Germany, Italy, Japan, Mexico, Netherlands, Poland, Russia, South Korea, Spain, United Kingdom and the United States.
For the latest details on GoldCoast, check out skategoldcoast.com and connect with the brand on Facebook, Instagram and Twitter.
About GoldCoast
GoldCoast's founders, Brock Harris, Chris Brunstetter, Dustin Ortiz and Nate Coan, describe the ethos of the brand here: "Skateboarding and design are at the core of GoldCoast. These two things touch nearly every part of our lives. Design is the language of our creativity; it is the starting point for all our products. We appreciate awareness of little details in our surroundings, our products, and our designs. Our enthusiasm cannot be contained. We want to share stories, ideas, sessions and trips with our peers, and want them to do the same with us. The end goal is to have fun. We don't do what we do for trophies, fame, or titles – we take it easy. Seriously."
For press and sample inquires, contact:
Ashton Maxfield
Master Plan Communications
949.289.6493 or [email protected]
or
Deborah Choi
Master Plan Communications
714.310.9651 or [email protected]
---