BACK TO NEWS
EMP: Deckers Outdoor Corporation Announces New Senior Management Positions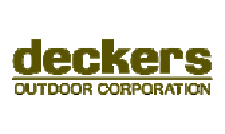 Deckers Establishes New Omni-Channel President, President of Brands and Group President - Fashion & Lifestyle Brands
Press Release from Deckers
GOLETA, Calif., Jan. 28, 2014 /PRNewswire/ -- Deckers Outdoor Corporation (NASDAQ: DECK), a global leader in designing, marketing, and distributing innovative footwear, apparel and accessories, today announced three new senior management positions, reflecting the growth and diversification of the Company's global business.
Dave Powers, currently President, Global Direct-to-Consumer (DTC), has been promoted to President of Omni-Channel, reporting to the CEO. In addition to continuing to oversee Deckers' domestic DTC operations, he will also oversee all wholesale, distributor, retail and E-Commerce channels in Deckers' international regions. The new role will allow the Company to coordinate and tailor growth, distribution, marketing, and business development strategies in each market, by keeping the consumer at the center of all decision-making and expand Deckers' distribution footprint by providing consumers with an enhanced and seamless experience regardless of which channel they chose to directly engage with the Company's brands.
As part of the Company's strategic focus to strengthen consumer relationships, the Company has also initiated an executive search for a President of Brands. Reporting to the CEO, the position will entail oversight of Deckers' multi-brand portfolio, including working directly with each of the Company's brand presidents to drive best practices in merchandising, design and development, as well as effective global brand marketing across all channels, to grow global market share and increase profitability.
The Company also announced the promotion of Constance X. Rishwain, President, UGG Australia to the additional role of Group President – Fashion & Lifestyle Brands. Expanding on her previous responsibilities, her new role will focus on continuing to build the $1 billion+ UGG Australia brand, further evolve the Tsubo brand, and oversee any fashion and lifestyle brands the Company potentially adds to its portfolio in the future.
"The addition of these new senior management positions reflects the global expansion of our organization, the strength of our multi-brand portfolio and our transformation into a more consumer-centric organization emboldened by our evolving Omni-Channel strategy," stated Angel Martinez, President, Chief Executive Officer and Chair of the Board of Directors. "Under the direction of Dave Powers, we have significantly increased the level of execution and sophistication of our DTC efforts and operations, which now represent one-third of our business, up from approximately 20 percent only three years ago. In addition, Connie Rishwain has been an invaluable member of our organization, leading the tremendous growth and success of our UGG Australia brand."
"To drive increased productivity and market share gains, we are focused on fostering the same level of innovation, collaboration and vision that we bring to brand development to our selling, marketing and logistics capabilities. By further strengthening our management team and more closely aligning our resources with our long-term vision, we will enhance our ability to grow our overall business through thoughtful investments in those areas that represent the best opportunities to fully capitalize on our brands and maximize shareholder returns."
About the Company
Deckers Outdoor Corporation is a global leader in designing, marketing and distributing innovative footwear, apparel and accessories developed for both everyday casual lifestyle use and high performance activities. The Company's portfolio of brands includes UGG® Australia, Teva®, Sanuk®, TSUBO®, Ahnu®, MOZO®, and HOKA ONE ONE®. Deckers Outdoor products are sold in more than 50 countries and territories through select department and specialty stores, 117 Company-owned and operated retail stores, and select online stores, including Company-owned websites. Celebrating the 40th anniversary of its founding in 2013, Deckers Outdoor has a history of building niche footwear brands into lifestyle market leaders attracting millions of loyal consumers globally. For more information, please visit www.deckers.com.
Forward-Looking Statements
All statements in this press release that are not historical facts are forward-looking statements, including the Company's expectations for future growth, investment opportunities and development of the Company's selling, marketing and logistics capabilities. These forward-looking statements are inherently uncertain and are based on the Company's expectations as of today, January 28, 2014. In addition, such forward-looking statements involve known and unknown risks, uncertainties and other factors that may cause the actual results to differ materially from those expressed or implied by such forward-looking statements. Many of the risks, uncertainties and other factors are discussed in detail in the Company's Annual Report on Form 10-K for the fiscal year ended December 31, 2012. Among these risks and uncertainties are conditions in the general economy and in the retail environment, the effect of consumer preferences, the availability of key personnel and other factors discussed in the Company's filings made with the Securities and Exchange Commission. The Company disclaims any obligation to update or revise any of the forward-looking statements in this news release.
Contacts
Linda Pazin
Vice President, Investor Relations & Communications
(805) 967-7611
Brendon Frey
ICR
(203) 682-8200
---