Back to News
GEAR: Volcom x Baker Collection
February 3, 2014
Volcom x Baker Collection
Press Release from Volcom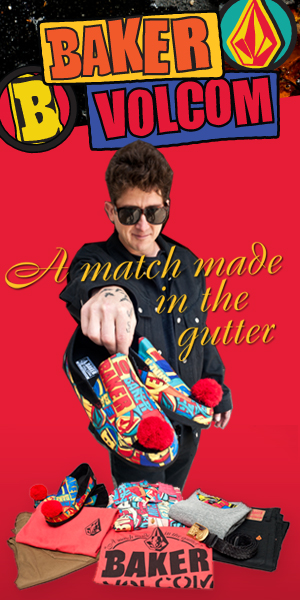 Two action sports industry powerhouses have joined forces. Leading lifestyle apparel brand, Volcom today announces its "A Match Made in the Gutter" collection with legendary skateboard company, Baker. In delivering a collab collection, Volcom and Baker have created two t-shirts, an button-up shirt, belt, two twill pants and Baker x Volcom shoe. The oxford shirt and Baker x Volcom shoe boastfully showcase Baker's signature font as a loud, colorful pattern.
The designers at Volcom and Baker worked with mutual team rider, Dustin Dollin, to come up with a progressive and eye-popping line that represents both Volcom and Baker's unique perspective on design and skateboarding.
Dollin was the perfect choice to help curate this collection as he is known for leading a fearless approach to skating, off board antics and fashion.
Available on 2/3 at www.volcom.com/baker & hitting stores March 2014
Baker Skateboardsis a leader in the skate industry that is known for making some of the most iconic skate films of all time, such as Baker2g and Baker3. They have a cult following and appeal to skateboarders all over the world who identify with their diverse roster of team riders. Baker was founded in 1999 by Andrew Reynolds. Andrew was Thrasher Magazine's Skater of the Year in 1998 and is still one of the most relevant professionals in skateboarding today.
Volcom was founded in 1991 on the premise of Youth Against Establishment. It is a company that puts creativity and boardriding above all else. Volcom is known for its super star skate team and releasing classic skate films such as Freedom Wig, Chichagof and Let's Live.
Dustin Dollin is an industry icon that has cemented himself into the skateboarding history books for his fearless approach to skating, his off board antics and for being a leader on the fashion front. He has influenced countless up and coming skaters over the years who continue to watch and learn from his influential video parts such as Baker's Baker 2G, Transworld's Site Unseen and Volcom's Let's Live. He was featured as an animated character on 3 different editions of Tony Hawk's Pro Skater Video game as well. For a glimpse into Dustin's skating, check out a compilation of his video parts in his "Raw" edit from his 7 Day Weekend Series. Follow him on Instagram @therealdustindollin
---