BACK TO NEWS
TEAM: OluKai Announces Archie Kalepa, Ocean Sport Pioneer as Full-Time Konohiki (Caretaker)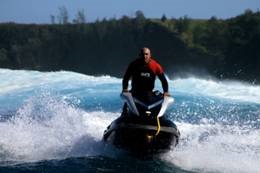 OluKai Announces Archie Kalepa, Ocean Sport Pioneer as Full-Time Konohiki (Caretaker)
Big Wave Surfer and Maui Captain of Ocean Safety Retires after 30+ years and Joins OluKai Marketing
Press Release from Olukai
February 3, 2014, Orange County, CA – Ultra-luxury lifestyle brand, OluKai, is pleased to announce Archie Kalepa, one of Hawaii's greatest ocean sports pioneers, Hawaiian Lifeguard, and Director of Maui County Ocean Safety Division retires and joins the OluKai marketing team full-time as the Konohiki (caretaker).
As the Konohiki, Kalepa will support and direct the brand in remaining authentic to the ocean lifestyle and respectful of the Hawaiian culture through hands on participation in marketing activation. His main focus will be that of direct liaison between the brand's long-standing partnership with the Hawaiian Lifeguard Association (HLA) and the OluKai product development team to ensure the creation of innovative product concepts. Additional responsibilities include maintaining strong ties to the Hawaiian culture, establishing cultural advisors, and representing the brand at events, trade shows, and through quarterly regional travel.
"Archie is an exceptional human being, bringing a strong sense of Hawaiian culture as well as an ethic of 'taking action'," says Kerry Konrady, director of marketing. "His impact at OluKai has been tremendous through his work with the HLA development program; we look forward to his greater influence as Konohiki."
In line with OluKai's FW14 "Walk Story™" which will promote engaged individuals who embody the spirit of humble action, Kalepa will also be tasked with creating a Konohiki board and identifying a group of caretakers whose mission will be ongoing education of OluKai staff members, those who talk and Walk Story™. With this board in place, Kalepa will oversee the formalization of the Konohiki board and annual review meetings.
With more than 30 years as a Hawaiian Lifeguard, this elite and humble waterman has saved countless lives, revolutionized lifeguarding today as one of the pioneers of personal-water-craft (PWC) and PWC sleds for use in tow-in surfing and ocean rescue, and became the trailblazer in establishing long distance SUP racing. In August of 2012, he was inducted into Outrigger Duke Kahanamoku Foundation's Hawaii Waterman Hall of Fame, the highest honor a waterman can achieve in Hawaii. Following his induction, Kalepa spoke at "OluKai Presents TEDxMaui", sharing his experiences and knowledge of the ocean and passion that surrounds him. In 2013, he was profiled on CNN's "The Next List", a weekly program that profiles innovators, visionaries and agents of change.
"I'm thrilled to begin this next chapter of my life and join the OluKai 'ohana full-time as the Konohiki," says Kalepa. "I'm looking forward to sharing the Hawaiian 'ohana spirit and furthering OluKai's roots in Hawaii and their commitment to preserving our local culture and traditions."
Archie Kalepa lives in Lahaina, Maui with his wife, a former Miss Maui, and two daughters where they contribute greatly to their community.
About OluKai
OluKai is an ultra-luxury lifestyle brand that believes everyone, no matter where they are, can live Aloha. OluKai is one way to unlock its spirit in all of us. It is an inspired brand that whole heartedly believes in creating an emotional connection with the consumer and communicates from an "inside-out perspective." The company is committed to building a unique and better class of products that blend ocean heritage with modern performance while leaving the smallest footprint possible on the planet. Through its Fit by Nature™, Crafted by Hand™ design principle, OluKai builds every pair of footwear with signature anatomically contoured footbeds to deliver the perfect balance of instant comfort and lasting support. Each pair features beautiful, quality materials and handcrafted details inspired by island culture. In every facet of its business, the brand is committed to respecting the people and the environments it touches. Inspired by the strong tradition of giving an offering or tribute in Polynesian culture, OluKai established the 'Ohana Giveback Program to support the efforts of those who continue to give back to preserve local cultures and traditions. For more information visit www.olukai.com.
---