Back to News
Laura Kindregan of Go Ahead PR
January 31, 2014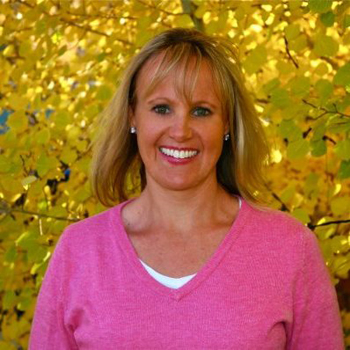 Laura Kindregan of Go Ahead PR
Certain people were born to be athletes, creators, activists, even corporate desk jockeys. Laura Kindregan was born to tell these people's stories...and for over 15 years, that is what she has been doing.
After getting her start in public relations via politics, Laura eventually decided a few years ago to launch Go Ahead PR with partner Daniel, where she is now able to spend time getting to work with clients focused on active lifestyles - brands that she is truly passionate about.
Go Ahead is a lifestyle PR firm based in Denver, Colorado that offers services including event promotion, media relations, public relations strategy, grassroots campaigns and more. The firm's client list includes USA Pro Challenge, BikeSource, The Race Across America, and more.
We interviewed Laura to get the scoop on how she made connections within the lifestyle-driven industries to position herself so she could launch her own industry-specific PR firm. We also asked her about her duties operating a pro men's mountain bike race team, and much more!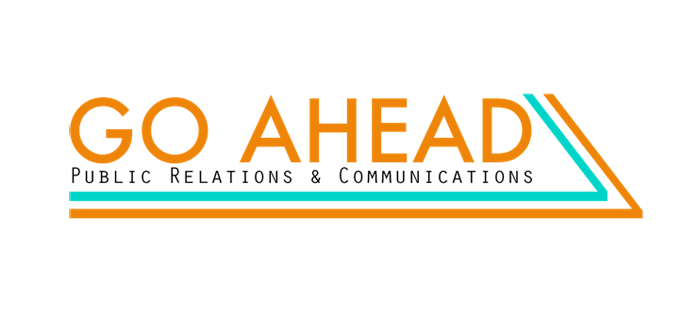 When did you first become interested in public relations?
Public relations has been a love of mine for as long as I can remember. I am a people person, I enjoy connecting others, making things happen and telling a story. In high school I was voted biggest gossiper… Well, I am not sure that's overly flattering, but it might just mean I was destined for a career in PR.
How did you get your start in the industry?
When I graduated college I went in to PR via politics. I lobbied for about two years and made a drastic change, jumping head first into the music industry as a publicist and manager. Through that, I had the opportunity to work with incredible musicians who helped shape my path and my love for giving back, which led to the start of my first PR firm, a focus on the philanthropic community.
Do you have a degree? Do you need one to succeed in public relations?
I have a Bachelors degree in Communication with a focus on PR. Public relations is a career that requires a combination of creativity and vision, writing and people skills. I do believe a degree in communication or marketing is essential in order to work for an agency or apply for a job within a corporation. Second to that would be experience. Companies are looking for someone with actual experience, so I highly encourage those looking to land the perfect job to gain as much experience as possible. Internships are a great way to achieve that and the more the merrier. I worked for several agencies and corporations while I was in college and it gave me the foundation I needed when I graduated.
When did Go Ahead PR come into the picture?
Go Ahead came in to play several years ago with my partner Daniel. As I mentioned, I had a PR firm working with non-profits and felt after a few years I needed a change. During that time, we built a professional mountain bike race team (which I will get into more later), which ultimately led to the re-launching of a new PR firm focused on active lifestyles. Building a firm around what made us happy, companies we believed in, brands we loved and activities we were passionate about was exciting. Leveraging the experience we had in the bike industry through the team, we quickly launched Go Ahead and one of our first clients was The USA Pro Challenge.
From there, it has expanded to include brands, campaigns, films, events and races. We work with small startups to companies that have been around for 20 years and love it!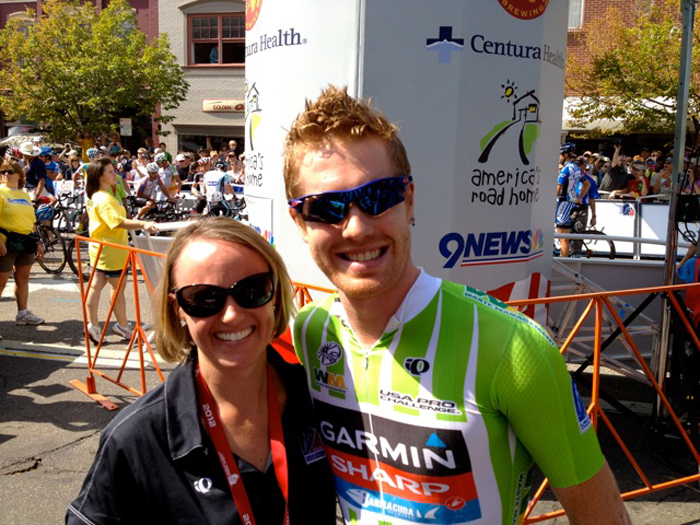 Laura at the USA Pro Challenge in 2012.
What is your official position there and can you describe your duties and responsibilities?
I am a Principle Partner and Co-founder of Go Ahead PR. I work on a daily basis with all of our clients as well as reaching out to prospective clients. My days consist of PR strategy and development to actual implementation such as writing and distributing a press release, event planning and media logistics. PR has changed since I started and I have always believed it is based upon relationships and building a strong foundation. I spend time building relationships with the media and crafting a compelling story that will be well received. I have found it's important to be able to ebb and flow with the landscape of the media and the addition of social media has made it even more integrated and streamlined, yet sometimes even more challenging to capture it all.
What are your strengths?
It can be challenging running your own business, but as I get older and of course wiser (ha!) I fall back on my ability to relate, to make someone feel comfortable, to keep up on the industry and be able to think outside of the box. I continue to say this, but it's so important to build trustworthy relationships and I am proud to say I do that well.
What have been the challenges for you in launching Go Ahead PR?
There are always challenges launching a company. With Go Ahead, it seemed to be easier in that we have more experience, a solid foundation in PR and trusted expertise. Growing your client base is always a challenge, as PR is never a guarantee. We were thankful a few months after we launched to have one of the biggest events in the US as a client and we have continued to build off of that.
What has been the biggest reward for you throughout your professional career?
Without a doubt the people I have met! From professional athletes, musicians, politicians, business owners and people making a difference in the world, I am blessed with a large network. A few of these people have even become great friends, colleagues and mentors.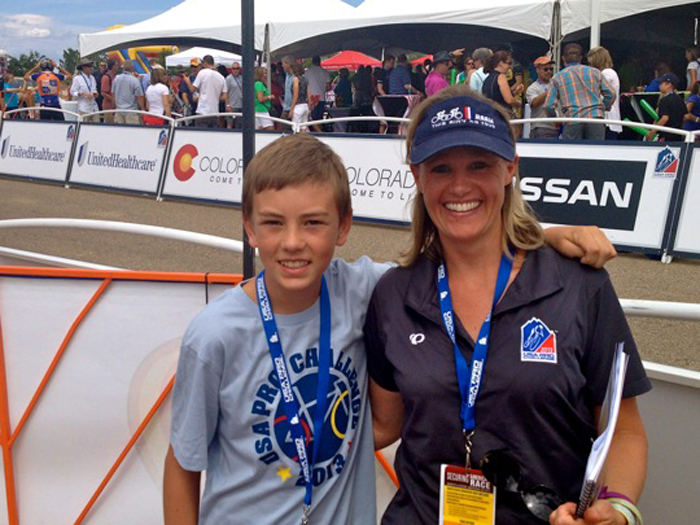 Laura at the USA Pro Challenge in 2013.
Can you speak on your involvement with a professional mountain bike race team? How did that come about and what exactly do you do?
Well, that's a long story! The team is a great example of what happens when you plant a seed and water it a little bit. It's amazing what will grow! Daniel is a professional bike racer and for a long time had felt the days of traditional sponsorship were changing. With the combination of his knowledge in the bike industry and creative marketing ideas, along with my PR skills and ability to implement ideas, we formed our own team. 2014 marks the 5th year of the team and our 3rd year with Colorado-based Tuff Shed, the largest manufacturer of outdoor buildings. We went to them with the idea of building a sports shed for the athlete – somewhere to house all of your sporting goods. The idea was well received by Tuff Shed, we launched the Pro Sports Edition 3 years ago and this year we couldn't be more excited to partner with Giant Bicycles, the world's largest bike manufacturer.
Through our creative approach to cross marketing, relationships in the media and ability to put it all together we have a team that travels the country racing cross country mountain bikes.
On a daily basis, I help operate the team, work on sponsorship, maintain and develop relationships and create content to share. Really though, it's a team effort. We all come together because we have a passion for bikes and love to see how far we've come after planting a seed. Our new website will be launched in the next few weeks www.tuffshedcyclingteam.com.
What does success mean to you?
That's a great question...For me, success means feeling complete; that I have succeeded in doing what I set out to do. I am far from perfect, far from satisfied, I know there is so much more to learn and do, but considering I am only 35 I feel like I have succeeded in ways I could have only hoped.
What advice would you give to someone who is interested in public relations as a career?
Just go for it! PR is a career that will never disappear, it will always be changing, but we will always be needed to keep telling that next story and be the fixers and problem solvers who make it happen.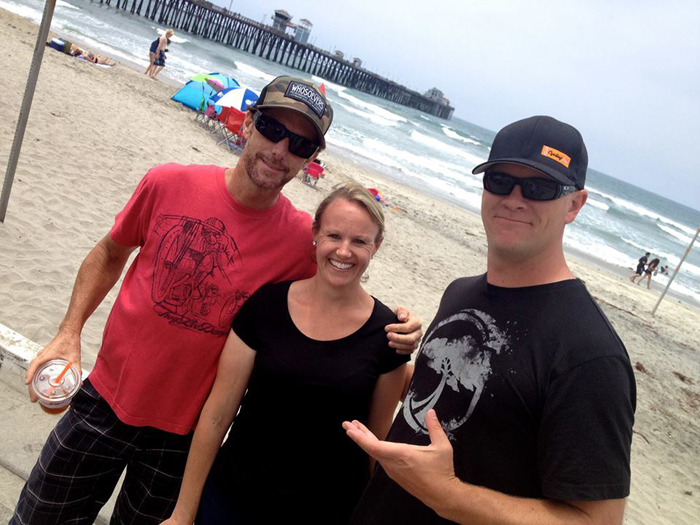 "Thank you for the opportunity to be a part of Malakye and to share a little of my story."
You can visit Laura online at www.goaheadpr.com and follow her on Twitter at @GoAheadPR.
---