BACK TO NEWS
B$Z: TEAM PHUN To Recognize Social Impact Accomplishments with #PHUNFORALL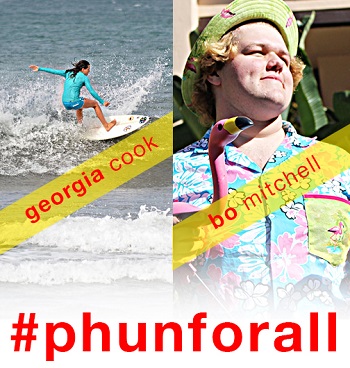 TEAM PHUN™ To Recognize Social Impact Accomplishments By Its Community Members with #PHUNFORALL
Work, Perseverance, Compassion Lead To Recognition For More Than 20 People
Press Release from TEAM PHUN
(San Diego, CA) TEAM PHUN™, a San Diego-based company that makes and markets fun, distinctive, functional apparel and accessories has begun showcasing its community members' social impact achievements.
With a vision to promote a positive lifestyle, TEAM PHUN has assembled a diverse community of accomplished athletes and artists that range from snowboarders to surfers; paragliders to painters; mountainboarders to musicians and more.
According to Jamie Goodwick, #PHUNFORALL "recognizes, sponsors and encourages fellowship among a loose confederation of self-defining and socially-active communities all in the name of having fun."
The most recent addition to the company's community is Georgia Cook, a 13-year old surfer from Tennessee (www.teamphun.com/community/georgiacook.html). In addition to traveling thousands of miles a year to find the perfect wave, Georgia volunteers in her community, maintains a perfect grade point average and will travel to Nairobi in March to deliver goods to those in need and work towards her goal of building a school for girls in one of Africa's largest slums.
Also to be featured is, actor and skateboarder Bo Mitchell (HBO's Eastbound & Down) who created an affordable and accessible indoor skate warehouse in his hometown of Aiken, SC, a valuable asset since the town's skatepark closed this summer. Mitchell and his family run the venture and employ local friends and family to help keep the skate community strong and thriving (http://www.teamphun.com/community/bomitchell.html).
TEAM PHUN will use #PHUNFORALL to invite others to join in on the conversation on how they have fun that promotes positivity in their community. They will also feature different community members each month detailing their endeavors and achievements.
To view more of TEAM PHUN's community members, visit www.teamphun.com/community. For more information about TEAM PHUN, contact Lindsey Goodwick, Public Relations, linz@teamphun.com or call (203) 994 6108.
---