Back to News
B$Z: AGENDA Wraps Up Long Beach & NYC Shows
February 4, 2014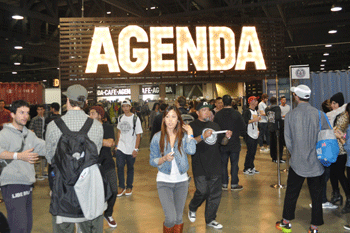 AGENDA Wraps Up Long Beach & NYC Shows with Successful New Expansions and Marketing Activations and is a must-shop destination
AGENDA continues to enhance the true California youth lifestyle capture with new show expansions and peripheral marketing activations
Press Release from Agenda
NEW YORK (February 3rd, 2014) - AGENDA, the leading forum for action sports, surf, streetwear, lifestyle and footwear industries, wrapped up January's Long Beach, CA and NYC shows last month. Marking both shows as the highest attendance in our respective market, AGENDA continues to enhance the true California youth lifestyle capture with new show expansions and peripheral marketing activations including the growth of THE WOODS and AGENDA WMNS, AGENDA WMNS "Babe Wall", continuation of BERRICS AGENDA, GrindMedia's "THE BREAK" media lounge, the TransWorld SKATEboarding Awards, AGENDA Emerge conference, and more.
Continuing the growth by housing new brands, AGENDA welcomed new collections at both shows. "It was a strong writing show for us," downloaded Cross Colour's Cori Cascante, VP of Sales & Marketing. "The activity at our booth was nonstop: retailers, hip hop artists, press. This being the official re-launch of the brand, we consider it a success beyond our wildest dreams. Not only did retailers write, but so many people there came to congratulate us and express their connection to the brand and how much it means to them."
At AGENDA Long Beach, supporting the action sports segment, the second season of GrindMedia's "THE BREAK" media highlighted industry veterans and Founders, including the likes of Quiksilver's Founder Bob Mcknight, Rusty's Founder Rusty Preisendorfer, Element's Founder Johnny Schillereff and a host of other high-level executives. Marking another successful season divulging industry insights.
AGENDA WMNS expanded her reign welcoming a bevy of women's specific collections, along with supporting peripheral marketing activations year-round. Continuing to build the female-centric voice on the show floor, the AGENDA WMNS "Babe Show" art gallery exhibition, curated by talented New York based illustrator and designer Sophia Chang, depicting a tight roster of today's female artistic inspirational creatives.
"As a startup brand, AGENDA has been a pivotal one-stop shop for us to meet with existing vendors, as well as the newest emerging brands in street, surf and active fashion," said Colby Black of Without Walls. "The inception and progression of AGENDA WMNS solidifies this show as a top destination for our buyers to view future seasons. I always appreciate the personal attention and care the staff provides to making this show the best possible experience for the brands and buyers."
AGENDA Emerge (powered by GROUP Y) hosted our two bicoastal editions of the highly-curated creative and brand building conference filling up auditoriums by featuring today's most iconic creative directors, innovators and industry leaders in action sports and street culture, with the likes of Tom Campion, co-founder of Zumiez, Greg Selkoe of Karmaloop, Keith Hufnagel of HUF, Marc Ecko of Complex Media, Bobby Kim of the Hundreds, Jeff Ng of Staple Designs and Johnny Earle, aka Johnny Cupcakes, including a one-on-one conversation between Paul "P-Rod" Rodriguez and Grammy award nominated rapper Nasir "NAS" Jones.
AGENDA:NYC hosted its men's streetwear and lifestyle show for the last time at the 82 Mercer building, expanding to the Jacob K. Javitz center housed at the Javitz North building this Summer. AGENDA:NYC lived up to its East coast reputation with both brands and retailers alike, albeit the less than desirable weather conditions. "AGENDA for me is the perfect show," explains Evan Pinstein of Moose Limited. "The entire experience is executed in a way that makes it incredibly easy as a buyer to handle a large portion of business in just a few shows a year. It allows newcomers face time with some of the biggest brands and taste-makers in the industry and Moose Limited as a whole wouldn't be where we are today without the AGENDA's show and team."
AGENDA continues to curate a three-dimensional experience where attendees experience California lifestyle in its truest form. AGENDA Long Beach is the largest and most diverse offering of all three AGENDA shows, providing a true cross-section representing each genre of California subculture. AGENDA Long Beach is both a national show with retailers hailing from 49 states and globally from 48 countries. With over 31% of the retailers visit from over 1000+ miles away, AGENDA is a truly international event attracting over 15k people. AGENDA Long Beach continues its exponential growth by diversifying show categories and increasing the brand offering catering to our youth lifestyle & street culture.
AGENDA Las Vegas will take place on February 17th - 19th at the Sands Expo.
For additional information visit: http://agendashow.com
About AGENDA
The AGENDA Trade Show is a forum for the most inspired in the streetwear and action sports industries to unite. Lines speak for themselves and buyers are not intimidated by the usual overwhelming tradeshow experience. From the garage-run lines on the verge of explosion, to the well-established elite, AGENDA caters to the needs of buyers and brands that exist on a higher level of design and aesthetic. With a strong emphasis in style, art, music and culture, the AGENDA experience is as much a lesson as it is a tool.
About Reed Exhibitions
Reed Exhibitions is the world's leading event organizer, with over 460 events in 36 countries. In 2011 Reed brought together over six million active event participants from around the world, generating billions of dollars in business. Today Reed events are held throughout the Americas, Europe, the Middle East and Asia Pacific, and are organized by 34 fully staffed offices. Reed organizes a wide range of events, including trade and consumer exhibitions, conferences and meetings. Its portfolio of over 460 events serves 44 industry sectors.
About Group Y
GROUP Y is the original and leading collective of professionals focused on youth marketing, action sports, entertainment and other progressive and expressive cultures. Its mission is to share insights across industries and ignite ideas that inspire the current and next generation leaders and decision makers. Using events, outreach, content and consultation, Group Y takes the work out of networking and strengthens the areas where industries overlap. www.GroupYnetwork.com
---