BACK TO NEWS
Industrial Profile
2/7/2014
Gina Duffy, Founder/Principal of SheShreds.co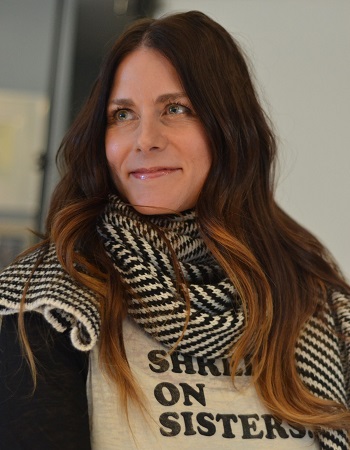 Gina Duffy, Founder/Principal of SheShreds.co
Gina Duffy is the Founder of SheShreds.co, a lifestyle company that provides action/adventure apparel, gear and inspiration for fashionable female athletes. After working for the past fifteen years in marketing for several businesses in the lifestyle-driven industries, Gina decided that she wanted to combine her two passions, for fashion and action sports, to create a cultural and retail experience for surf/skate/snow/moto junkies just like her. As a result, SheShreds.co was launched in 2013 to celebrate and embrace ladies of all ages that are pushing the guys out of the way and "gettin' some" in action sports.
"These sports are so important for girls," said Gina Duffy. "The confidence it gives them is immeasurable. As a woman you don't always appreciate your body...it's 'I have too much of this or not enough of that'. These sports teach you respect and awe of your body when you accomplish hard earned tricks on the water or snow. You can't buy that. It's a state of mind and attitude."
We interviewed Gina to get the scoop on the inspiration for launching SheShreds.co, we asked her about working with industry-leading retailers like DogFunk and Backcountry.com, and we found out from Gina what has been the most rewarding part of launching her own business. Read on!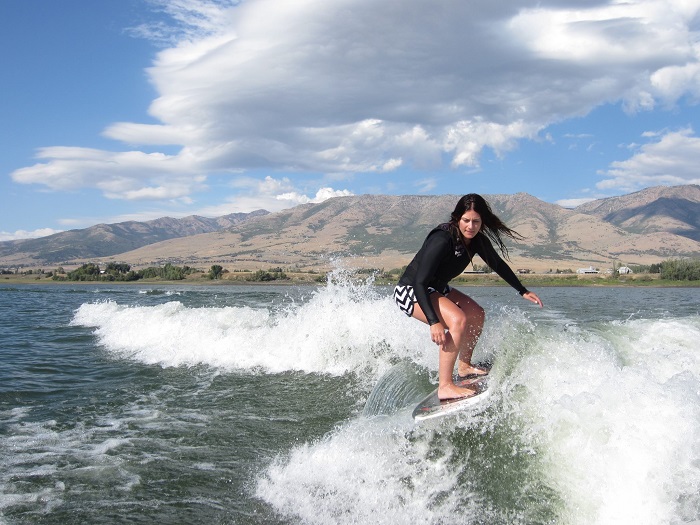 What has been the response from consumers and retailers since launching in late 2013?
The response has been far reaching. We have had girls as far away as Australia contacting us on how they can be a part of SheShreds.co or be one of our team athletes or even just get stickers for their boards. We have had many parents contacting us so excited that there is something like this out there for their daughter who wakeboards or snowboards. We've also had many guys whose girlfriend's wakeboard/snowboard who wants to buy our stuff for their girls. It's been really fun for us so far.
As far as retailers go, they are fully aware that what we are doing is something they have wanted to focus on but just didn't have the resources or the know-how. They are thrilled with our message and how we have put things together. We are their female voice in the market place. Partnering with us makes it so easy for them to find this audience. It's been so great to work with some of the biggest online retailers out there in Snow (DogFunk.com), Wake (Boardco.com) and Adventure (Backcountry.com) because they have the resources; we have the ideas, messages and audience. It's really a perfect mix for us and for them.
What was the initial inspiration in starting SheShreds.co as a cultural and retail experience for female athletes?
I've been riding some kind of board or another since I was 14. Just a huge fan of these sports. I am also a fashion junkie and started reading Vogue at age 12. I've done talent styling on big tours for big brands. I wanted to take my two biggest passions and find a way to marry them. When we moved from many decades of living in downtown Chicago to a pristine mountain valley in Utah and started living and breathing these sports every day I started noticing some big gaps in how brands, retailers and people in general treated or rather, mainly ignored the females. I wanted to create something for girls like myself.
Who is involved and what makes you qualified to operate SheShreds.co?
Myself, with my marketing background, retail and styling experience. My husband, Tony Duffy, who has had his own lifestyle and action sports marketing company for decades, with huge brands under his belt such as CoorsLight, RedBull, Absolut Vodka, etc. Samantha Eaton our amazingly creative daredevil ex BMX racing Web Developer. Eamon Madigan ridiculously talented creative and Wenner Exius copywriter who's worked on some of the biggest non endemic brands out there. We've all been friends and have worked together in some capacity or another for years. When I brought them my idea, everyone jumped on board immediately and worked many long hours to make this project come to life.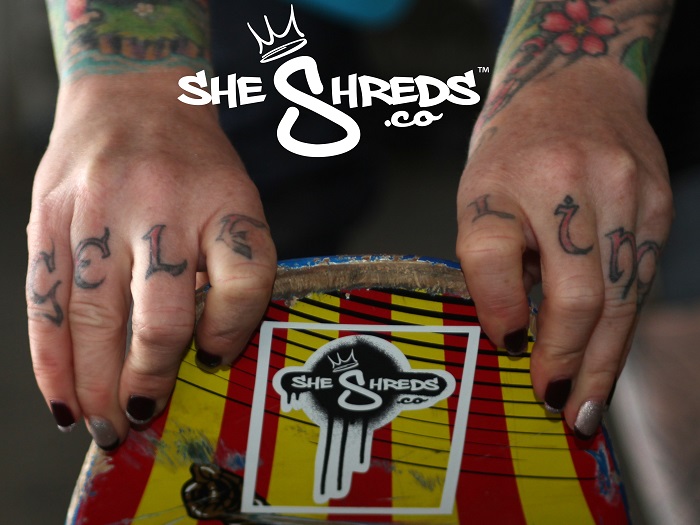 What have been the most popular items from the SheShreds collection?
Everyone loves our "slouchy" shirts that you can wear whenever. They are super soft made of organic cotton and recycled materials. Also our leggings…our models refused to take them off at the photo shoot because they said "these are the most comfortable leggings I have ever put on!" so I had to give them to them! Our knit hats as well have been big sellers. We like to refer to our signature collection as a badge of sisterhood for girls who shred that form the SheShreds.co nation. Girls have been responding to that and want to be a part of something. It gives these individual sports more of a team feeling.
Can you speak on any exciting current collaborations in the works?
We don't have any currently but we just got a tour of the Ramp Ski/Snowboard factory in Park City. All of their stuff is environmentally friendly, made of bamboo, no horrible chemicals. No masks or protective gear needed for the guys who make the boards and skis. The stuff they can do to really customize the boards is really impressive and it got our brains churning on how we could work with them to make some custom SheShreds.co boards for the ladies and make them environmentally friendly. That would be our ideal type of collaboration right now.
SheShreds.co provides access to industry-leading brands thanks to partnerships with BoardCo.com, DogFunk and Backcountry.com – how were those relationships formed?
We were introduced to BoardCo.com from a mutual friend, Jordan McCormick of Sesitec Cable Park Systems. He loved what we were doing and set up a meeting with Mitch Mann VP at BoardCo.com. Mitch is such an innovator and visionary he immediately wanted to get on board to see how we could work together. He said they have been wanting to target and speak to females but as he looked around the room and warehouse, it's a bunch of dudes so who was going to be doing the talking? They weren't' sure how to approach and get access to these girls and we brought them an easy solution to their problem. With DogFunk.com and BackCountry.com they already have an established affiliate program. We just called them up and they said the same thing, that they really wanted to speak to the female riders but haven't had the resources to really go after it. Again we provided an easy solution. They forewent most of their affiliate protocols and signed us right away before we even had our website up which says a lot about our message. They've all also been so great to get us gear for appearances and photo shoots if we need. I look forward to see how we can expand our relationships even more as we grow.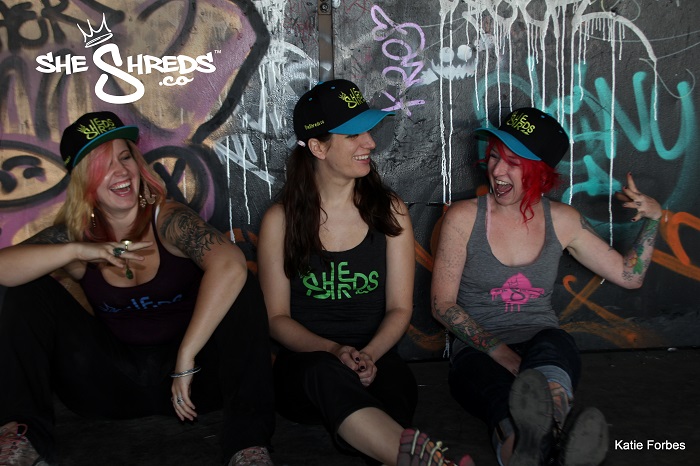 Are there any future projects planned with brands or retailers in the lifestyle-driven industries that you're able to share?
We do plan to work with some of the already established groups out there who are putting together female events and activations such as Shred Sisters in Orlando for wake. Brighton Ski Resort in UT is opening the first ever all female terrain park and we will definitely be doing stuff with them…that is a perfect fit. We are willing and open to work with any brands or retailers on collaborations to help grow these sports for women. I think we are smart enough to find an angle to work with just about any brand or retailer out there.
What have been the challenges thus far?
Gaining consumer, brand and retailers trust. We are definitely new but with our experience we are definitely not new to the game; we just need to prove ourselves. That and just finding enough hours in the day to do everything I want to do AND still ride…it's a really exciting time for us so far.
Where is there room for growth?
In every aspect of our business. We built it to leave room for organic growth. We would love to work with some of the bigger brands and our team athletes to do some collaborations on apparel and gear. We want to put on our own female driven events on wake and snow, adventure and beyond.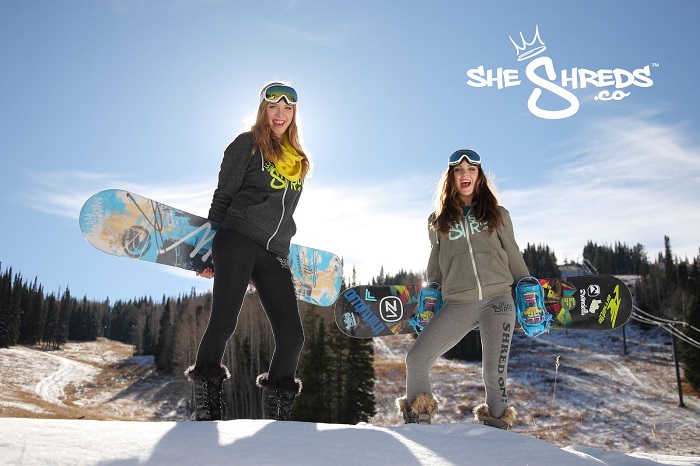 Where do you see SheShreds.co this time next year?
We would love to work with some designers to have our own outerwear collection for snow season. Growing our own brand and working with bigger brands to push them to spend more dollars on the female gear R&D.
What has been the most rewarding aspect of launching SheShreds.co?
The outpouring of excitement from the little girls who are just getting into these sports. They are so excited to have a brand to call their own. We are like a "big sister" to them and it's been so fun. They send us pics of themselves shredding in their SheShreds.co gear. They feel like they are on a team. Originally I hadn't even thought of doing little girls gear, but I had so many little girls messaging us about where to get our promo hats and tanks (that we weren't even selling) because they wakeboard or snowboard I had to do something and I definitely want to do much more next season for the little ones.
Any last words?
I'm just out here doing the things I'm most passionate about. I am the voice of every girl who rides and not afraid to say what we want. I want other females to be inspired by their passions. I want them to know we are here cheering them on…we're out there doing the same stuff they are and we know sometimes these sports cause pain and frustration but the rewards are so worth it and to them we say, 'Shred on sister. Shred on'!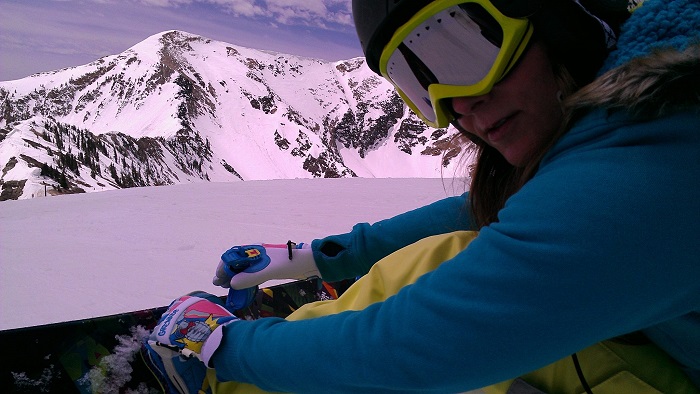 Check out SheShreds.co for the latest apparel, gear, and inspiration for fashionable female athletes. And make sure to hit them up on Facebook, Twitter and Instagram.
---