Back to News
B$Z: Cascade Designs Names West Bay Trading Company Its Sales Agency of the Year
February 13, 2014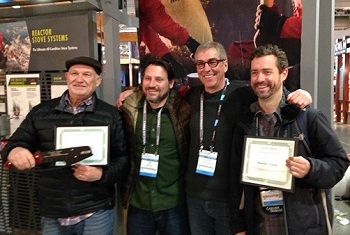 Cascade Designs® Names West Bay Trading Company Its Sales Agency of the Year
Award Acknowledges Outstanding Sales Performance and Service in 2013
Press Release from Cascade Designs
SEATTLE, U.S.A. (February 12, 2014) — Cascade Designs, Inc., the Seattle-based industry leader in the design and manufacture of premier outdoor equipment, is proud to bestow its 2013 Sales Agency of the Year award to West Bay Trading Company of Spring Lake, Michigan. The award recognizes West Bay for its efforts in propelling strong sales growth and service for the company's flagship outdoor brands: Therm-a-Rest®, MSR®, SealLine®, Platypus®, E-Case®, PackTowl® Hummingbird™, and Tracks®.
West Bay's talented team, led by partners Tom Meier and Walt Mayer along with representative Mike Kennedy and office manager Geri Mayer, has represented Cascade Designs' brands since 1978. The Sales Agency of the Year award acknowledges the agency's excellence in growing the Cascade Designs business in 2013 and providing outstanding support and service to their customers in Indiana, Kentucky, Michigan, and Ohio.
"West Bay stands out year after year with their can-do attitude and impressive ability to quickly adapt to a changing marketplace," said Fletcher Andrews, interim head of sales at Cascade Designs. "They continuously embrace challenging goals and find success through strong product placement and excellent service across their dealer network."
West Bay won the coveted Sales Agency of the Year award among a competitive field of excellent sales representatives. The award was given in January at the annual Cascade Designs sales meeting before the 2014 Outdoor Retailer Winter Market in Salt Lake City, Utah.
About Cascade Designs®
For forty years, Seattle-based Cascade Designs, Inc. has led the outdoor industry in designing innovative, useful and long-lasting equipment, manufacturing the majority of products in their Seattle, U.S.A. and Cork, Ireland facilities. From the original self-inflating Therm-a-Rest® camping mattress to the first multi-fuel stove, Cascade Designs has developed products that explorers, travelers, adventurers, outdoor enthusiasts and weekend campers can rely on to deliver optimum performance in the outdoors through exceptional engineering and quality. For more information on Cascade Designs or links to our premium brands: Therm-a- Rest®, MSR®, Platypus®, SealLine®, E-Case®, Hummingbird
---