Back to News
B$Z: Coronado x Cigar City Brewing Collaboaration Jurata Baltic Porter Launches Nationally
February 18, 2014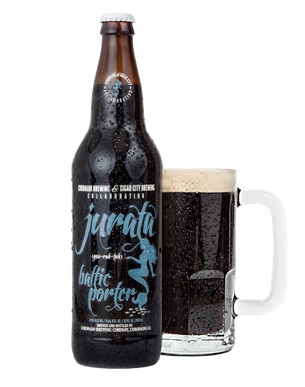 Coronado x Cigar City Brewing Collaboaration Jurata Baltic Porter Launches Nationally
Second collaboration between two coastal brewers produces winter seasonal Baltic Porter
Press RElease from Coronado Brewing Company
Coronado, CA — Jurata Baltic Porter, the second of two collaborations between San Diego fave Coronado Brewing and nationally acclaimed Cigar City Brewing out of Tampa, FL, is now hitting shelves and taps across the country. The highly anticipated winter seasonal pulls together the talents of craft brewing on both the left and right coasts.
Similar to last fall's "The Last Spike," this collaboration represents a unique fusion of styles and balance. It was brewed when CCB brewmaster Wayne Wambles and owner and CEO Joey Redner visited San Diego late last year. The name "Jurata" (pronounced Yoo-rah-tuh) is Polish for "sea", and rings true with both Coronado and Cigar City beside opposite oceans. It is also a mythical mermaid in the Baltic Sea.
"Jurata is our first Baltic Porter and we appreciate the help CCB has given us," said Coronado cofounder Rick Chapman. "Working with such a well-respected brewery as CCB has been a great partnership so far, and from what we hear this winter beer is flying off the shelves."
Jurata Baltic Porter specs:
Style: Baltic Porter
ABV: 8.0%
Bitterness: 30 IBUs
Package: 750 ml bottles and draught
Release: February 14, 2014
Malts: Vienna, Dark Munich, Caramunich, C 150, Carafa, Chocolate Malts
Hops: Nugget, Brewers Gold
Where to find it:
Jurata Baltic Porter is sold throughout Canada and 14 states: California, Hawaii, Nevada, Arizona, Washington, Oregon, Ohio, Massachusetts, Pennsylvania, Florida, South Carolina, North Carolina, New York and Connecticut.
Links:
Facebook: https://www.facebook.com/coronadobrewingcompany
Twitter: @CoronadoBrewing
URL: http://coronadobrewingcompany.com
About Coronado Brewing Company:
In 1996, when craft beer was still a foreign term and San Diego County was home to only a handful of breweries, the Chapman brothers Ron and Rick opened a brewpub in their hometown of Coronado. CBC brews abundantly hoppy West Coast-style ales staying true to their San Diego roots. They began distributing their beers throughout the local market, and today you can find Coronado beers in 13 states across the US. In addition to their long established pub in Coronado, the company opened a tasting room inside their newly built San Diego production facility in early 2013.
---