BACK TO NEWS
BIKE: MTBparks.com Announces Best Bike Parks of 2013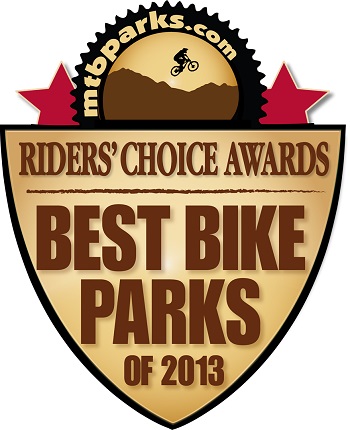 MTBparks.com Announces Best Bike Parks of 2013
Results of first annual 'Best Bike Parks' survey reveal riders' favorite North American mountain-bike parks
Press Release from MTBparks.com
Jackson, WY - MTBparks.com—the first and only online guide to North American bike parks—released the results of its first annual "Best Bike Parks" survey, crowning the rider-chosen best bike parks of 2013 in North America. The results list the top lift-served mountain-bike parks in eight separate regions across North America: Western Canada, Eastern Canada, Northeast, Mid-Atlantic/Southeast, Midwest, Southwest, Northwest and Rocky Mountains.
Over 3,000 riders participated in the online survey at MTBparks.com, which consisted of ratings in over 20 categories covering a variety of aspects from "Best Bike Park for a Day Trip" to "Best Jump Trails," but in the end it was the question, "What is your favorite bike park?" upon which the "Riders' Choice Awards" were determined.
"It all began when I saw a few 'Best Bike Park' articles circulating around the Internet," says Michelle Good, MTBparks.com founder. "And each article seemed to draw a spark of controversy amongst the vocal riders who would comment about how each article had completely missed the mark, excluded an obvious choice and so on. Regardless of the accuracy of each article, what was so consistently great was that they generally got a lot of riders talking about their favorite bike parks and why they should have been included."
Having launched MTBparks.com in 2012 as a one-stop resource for riders after frustrations encountered when planning a riding trip across the Western United States due to sporadic and inconsistent information, Good saw the opportunity for the survey as a chance to get riders involved and make their voices heard while providing insight to fellow mountain bikers.
Now entering its third year, MTBparks.com continues to grow as a resource for riders. In addition to currently allowing users to add content, photos, videos, events and news, the site is in the process of adding a rider-generated rating and reviews system as well.
More data from the survey will be released in the coming months.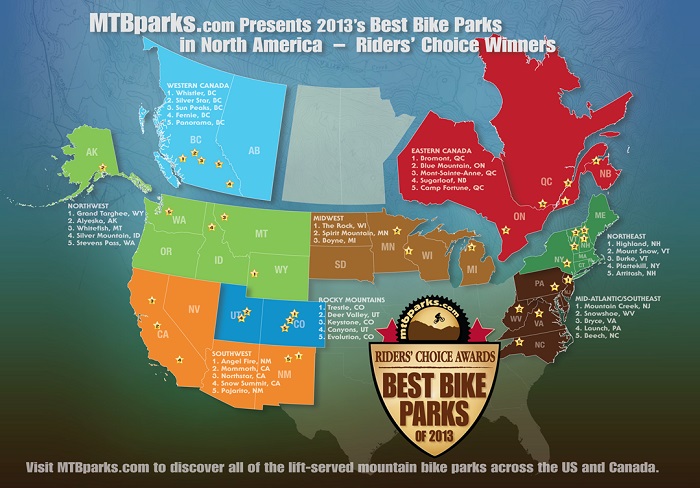 Results by region:
Western Canada
1.Whistler, BC
2.Silver Star, BC
3.Sun Peaks, BC
4.Fernie, BC
5.Panorama, BC
Eastern Canada
1.Bromont, QC
2.Blue Mountain, ON
3.Mont-Saint-Anne, QC
4.Sugarloaf, NB
5.Camp Fortune, QC
Northeast
1.Highland, NH
2.Mount Snow, VT
3.Burke, VT
4.Plattekill, NY
5.Attitash, NH
Mid-Atlantic / Southeast
1.Mountain Creek, NJ
2.Snowshoe, WV
3.Bryce, VA
4.Launch, PA
5.Beech Mountain, NC
Midwest
1.The Rock Complex, WI
2.Spirit Mountain, MN
3.Boyne Highlands, MI
Northwest
1.Grand Targhee, WY
2.Alyeska, AK
3.Whitefish, MT
4.Silver Mountain, ID
5.Stevens Pass, WA
Rocky Mountains
1.Trestle, CO
2.Deer Valley, UT
3.Keystone, CO
4.Canyons, UT
5.Evolution, CO
Southwest
1.Angel Fire, NM
2.Mammoth, CA
3.Northstar, CA
4.Snow Summit, CA
5.Pajarito, NM
Be sure to follow MTBparks.com on Facebook, Twitter, Instagram and YouTube for all the latest bike park news, info, stats and stoke.
About MTBparks.com
MTBparks.com is North America's only comprehensive online guide to lift-access mountain-bike parks. Developed to be the one-stop guide to all of North America's best bike parks including news, current conditions, trail maps, rider reviews, ticket prices and more to help other riders discover new bike parks and plan their next adventure, whether it's a weekend in the local mountains or an epic road-trip across the continent.
---