BACK TO NEWS
Pink Widow Distribution Q&A with Owner/Operations Manager Matt Gaudio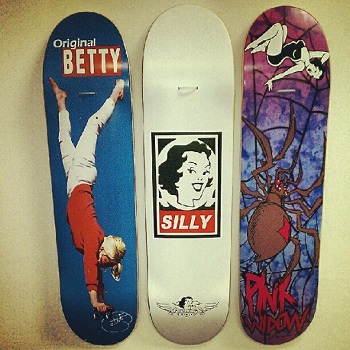 Pink Widow Distribution Q&A with Owner/Operations Manager Matt Gaudio
Pink Widow Distribution is a female-focused wholesale skateboard/apparel distribution and screen printing services company that was founded by Matt Gaudio in Fullerton, Calif. Seeing a void in the market and wanting to service the needs of girls that skateboard, Pink Widow was launched in 2010 as a hub to house multiple brands catered solely to females, including Silly Girl Skateboards, The Original Betty and Scallyragz Printing, and currently produces and manufactures skateboards, apparel, jewelry and accessories - all in the U.S.A.
"We are creating our own industry," said Matt Gaudio, Owner/Operations Manager of Pink Widow Distribution & Owner/Team Manager of Silly Girls Skateboards. "I am really proud of everyone that is involved and part of the Pink Widow family. I have never met so many passionate individuals and I'm stoked to call them my friends."
We interviewed Matt Gaudio to find out all about the brands housed and distributed by Pink Widow Distribution, to get the scoop on how he got involved in female-focused skateboarding & apparel brands, and much more!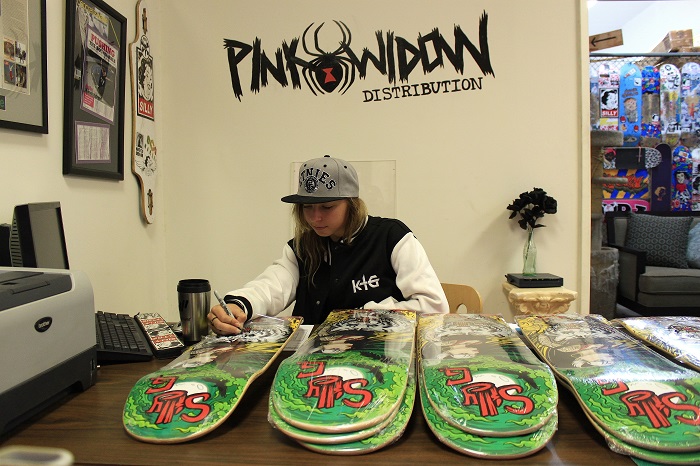 What brands are housed and distributed by Pink Widow?
We distribute two in house brands - Silly Girl Skateboards and The Original Betty. Silly Girl Skateboards is more than a company – it is a family, a lifestyle, an outlet for fun and creativity. There are no rules when you are a Silly Girl and the brand hopefully reflects that. The Original Betty brand is based off of Patti McGee's skateboarding legacy. OG Betty teaches and inspires the sisters of shred to remember their roots within skateboarding. We also work closely with Girl is NOT a 4 Letter Word, Girls Riders Organization, Recycled Skateboards International and a few small startup companies to be introduced this year.
What was the initial inspiration in launching a female focused skateboarding and apparel company?
Silly Girl Skateboards/Pink Widow Distribution was created as a fun project that has blossomed into what it is today. There was never an intention to become a skateboarding brand – the intention was to create art, promote individuality and have fun. We found a few girls in the area that skated back in 2006, printed some shirts and boards and gave them away – who could have imagined in 2014 we would be having this conversation?!
Who else is involved?
Hailey Villa and Kenzie Kovick also work within Pink Widow Distribution. Hailey is the in-house screen printer and Owner/Team Manager of The Original Betty brand and Scallyragz Screenprinting Service. Kenzie is our in-house fashion expert with a FIDM background. We also have a huge network of family and friends that have been instrumental in the development and progression of our greater mission to promote skateboarding.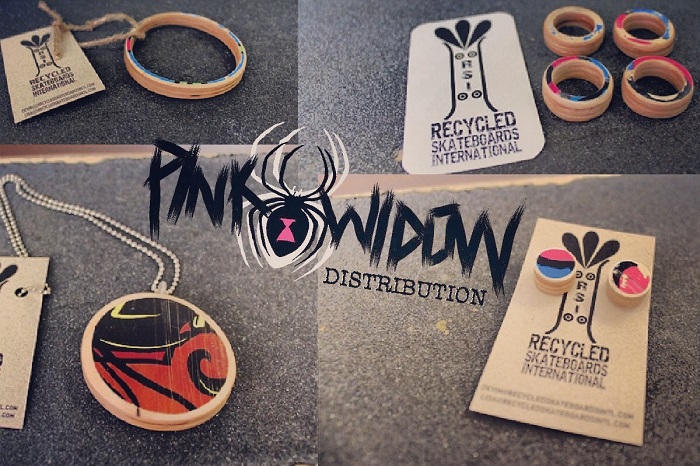 How did the relationship with Scallyragz form?
Scallyragz has been printing for Silly Girl since 2010 when I met Hailey and Patti at the Mighty Mama Skate-O-Rama. When they relocated to Southern California we decided to share warehouse space within Pink Widow Distribution.
What have been some of the most popular Pink Widow products?
Our most popular products within the last year have been Julz 'Silly G' Pro Model skateboard, the mini 'Silly Girl Team Rider' skateboard and the OG Betty 'Life Betty' skateboard.
Where do you see room for growth?
As far as growth within the female skateboarding scene – I think that finding more female friendly media outlets is essential to grow the community. The women want to be part of skateboarding and consistent media exposure can help further establish that. As far as growth for Pink Widow – we listen and we adapt, which will create unlimited growth that should reflect starting with our upcoming 2014 catalog.
How did Pink Widow get involved with working with the NSSL? Has the connection with NSSL impacted business?
Our close friend Katrina Foley with the NSSL is a huge supporter of female skateboarding and has offered us many opportunities to be involved in the growth of the league. We are proud to say that Silly Girl Team Rider Sarah Thompson has been involved since the beginning of the league, placing in the Top 3 in her 8th grade year – competing against all boys! The connection with the NSSL has created a valuable relationship – we have seen a rise in sales in the local area with the help of coaches, staff and parents pushing the Silly Girl brand, which we are beyond grateful for!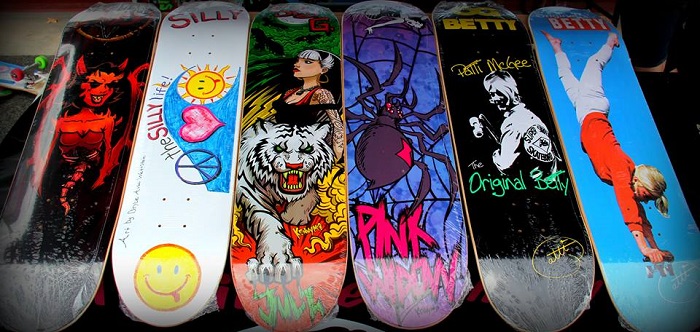 Can you share any details on the upcoming 'Gypsy Agenda' fashion show...who/what/where/when/why?
'Gypsy Agenda' fashion show at Pink Widow Distribution on April 19th. This show is to promote our upcoming 2014 Spring/Summer catalog and to introduce the addition of our new fashion coordinator Kenzie Kovick.
What excites you about the future of Pink Widow Distribution?
We have so much potential with the team riders and staff involved under the PW blanket. My goals for the future of Pink Widow are to help facilitate the ideas the girls create, teach them how to go about being involved in the industry properly and watching them kick butt doing it!
What has been the biggest reward for you in launching Pink Widow Distribution?
Being involved and accepted by the girls and their parents, but really that is not a reward; it is an honor that I take very seriously. We don't make much money at Pink Widow, but we are probably one of the richest companies in the world if you consider all the love and pride we share together.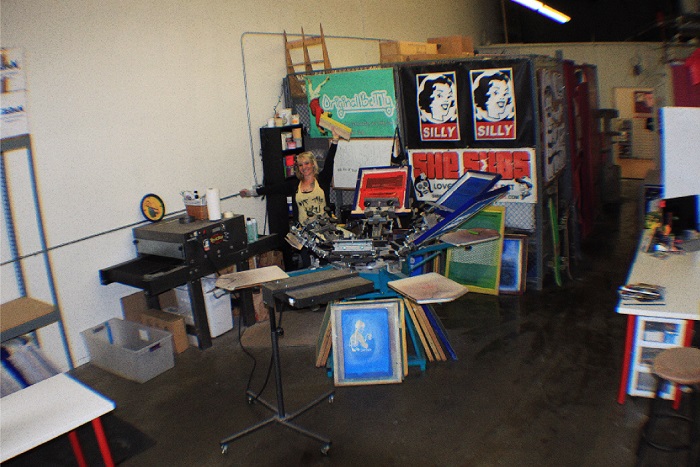 Any last words?
Thank you to everyone at Malakye for inquiring about Pink Widow, much respect and love from our family to yours.
Website Links:
pinkwidowdistribution.com
sillygirlskateboards.com
ogbetty.com
Instagram:
@pinkwidowdist
@sillygirlskateboards
@originalbettyskateco
@soulr3bl
Hashtags:
#sillygirlskateboards
#pinkwidowdistribution
#ogbetty
#thesillylife
#sillyg
#sillysisters
---