Back to News
GEAR: Skate with your dog and Natas Kaupas
February 25, 2014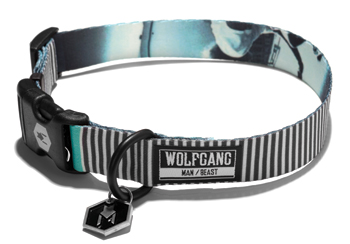 Introducing Wolfgang Man & Beast
Celebrating The Unique Bond Between Dogs and their People
Press Release from Azione PR
February 25, 2014 (Salt Lake City, UT) – Today marks the official launch of Wolfgang Man & Beast, a unique lifestyle brand for dogs offering American-made leashes and collars complimented by a distinctive collection of wallets, belts, t-shirts and hoodies for their owners. With the mission of combining the love of their two favorite things, the Wolfgang team has unveiled a collection of high quality products in celebration of their beloved dogs and their admiration for world-class design-centric products. Collaborations with friends, artists, photographers and athletes have provided the inspiration for the collection's modern designs. Wolfgang is proud to offer products made from the finest selection of American textiles, along with premium leathers from one of America's oldest and renowned tanneries, Horween Leathers.
Right out of the gates, Wolfgang has teamed up with some of their old friends, iconic street skater and artist Natas Kaupas and legendary skateboard photographer and photo editor Grant Brittain to create the Skate86 print as part of the Freehand Series. The print for this series infuses a photo-sublimated image of the classic Natas photo shot by Grant in 1986, an era which documents the birth of modern street skating. "It's a dream for us at Wolfgang to bring together our passion for product and the influences that have shaped that passion for many decades," says Jeremy Murray, Founder and President of Wolfgang, "Your dog probably doesn't street skate so he may not care, but at least you can enjoy this slice of cultural significance as you take him out to sniff the world and make his mark".
Another fresh Wolfgang crossbreed is with Goldcoast Skateboards. Together they have produced the Man+Beast+Skateboard collection bringing graphic excellence to the age-old practice of being sled-dogged down the street on your skateboard by your key companion. In this first-of-its-kind collaboration, Goldcoast brings their new symmetric ultra-cruiser, The Process, a skateboard that is made out of bamboo and which rides on reverse pivot trucks and 70-mm Shredboot wheels for grip. Alongside the board is a collection of leashes, collars, harnesses, and keychains, all infused with the repeating Process artwork.
About Wolfgang Man & Beast
Through all of our adventures growing up in the west, the members of the Wolfgang team were constantly flanked by faithful, loyal, and furry best friends. While we were fishing, climbing trees, building skate ramps, pretending our Stingrays were speedway bikes, or hanging out at home watching TV, those dogs were there as our partners, our guardians, our shadows. Neither they nor we would have had it any other way.
Wolfgang was created to celebrate the unique relationship between a dog and his people. We build our products locally, transport them minimally, and they'll be replaced rarely. For more information on Wolfgang visit WolfgangUSA.com.
Media Contact: Leland Drummond | Azione PR | 646-490-2945 | [email protected]
---