BACK TO NEWS
B$Z: TBI Partners with BRAIN to cover the Business of Triathlon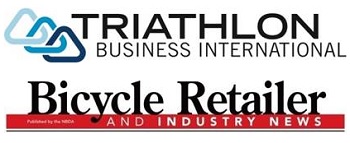 TBI Partners with BRAIN to cover the Business of Triathlon
Bicycle Retailer's editorial staff will manage and produce the publication, which will be a standard magazine format
Press Release from Triathlon Business International
Orange, CA – February 27, 2014 – Triathlon Business International (TBI), an industry organization dedicated to promoting the sport and the business of triathlon, and Bicycle Retailer and Industry News (BRAIN) have formed a partnership to launch a new trade magazine for the triathlon market, Triathlon Retailer and Industry News or TRAIN. The new publication will cover multisport business and product trends as well as supplier and retail news.
"The availability of timely and substantive business information for the sport of triathlon is definitely something that has been missing, and absolutely is needed," said TBI president Jack Caress. "TRAIN will follow the very successful editorial model created by BRAIN, and I have no doubt that the triathlon retailers, manufacturers, suppliers and others in the industry will find TRAIN as valuable as the cycling industry finds BRAIN."
Bicycle Retailer's editorial staff will manage and produce the publication, which will be a standard magazine format. The first edition will mail as a supplement with BRAIN's May 1 issue, with two other editions to polybag with BRAIN's August 1 and November 1 issues. The content will include a mix of statistics and research, retail and supplier profiles, features on best practices, one-on-one interviews with industry personalities, editorial columns and new product information.
"Triathlon has grown into a distinct business segment, but no media entity is creating relevant business content to specifically serve the tri community," said Megan Tompkins, publisher of Bicycle Retailer and Industry News. "Piggybacking on BRAIN's successful model, TRAIN will fill this information gap and serve as the newspaper of record for the triathlon market."
The magazine, which will be supported through display advertising, will be available free to qualified industry subscribers. TBI members will have the opportunity to access special advertising rates for the publication, and to make editorial submissions about topics that are top-of-mind to retailers, race producers, manufacturers, technology providers and others involved in the sport and business of triathlon.
Information about TRAIN, including a rate card and spec sheet, can be found on the TBI and the BRAIN websites.
About Triathlon Business International
Triathlon Business International is the world's leading organization dedicated to promoting the sport and business of triathlon. Founded by a coalition of industry leaders, TBI's mission is to leverage the knowledge, talent, and resources of the leaders in triathlon to the benefit of the sport by increasing and retaining advocates of triathlon and fostering a positive image of the sport. Follow TBI on Twitter and Facebook.
About Bicycle Retailer and Industry News
Bicycle Retailer and Industry News (BRAIN) is the leading trade magazine for the global bicycle industry, covering the business for more than 20 years. BRAIN is operated by the National Bicycle Dealers Association under license by Emerald Expositions, owner of Interbike. BRAIN is published 18 times a year in print and online daily at www.bicycleretailer.com. Twitter: @bicycleretailer
---