Back to News
B$Z: etnies and Fit Bike's Battle of the Fittest
March 3, 2014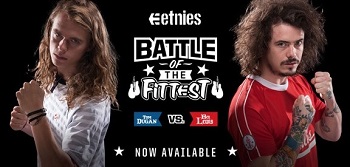 etnies and Fit Bike's Battle of the Fittest
Ben Lewis and Tom Dugan of etnies and Fit Bike Co. Present First-Ever Ramp vs. Rail Contest
Press Release from Master Plan Communications
March 3, 2014 (Lake Forest, Calif.) – Today, Ben Lewis and Tom Dugan unleash the etnies and Fit Bike Co. "Battle of the Fittest" collaboration with the first ever Ramp vs. Rail BMX contest. In the red corner, we have the Fit Bike Co. heavyweight champion hailing from Liverpool who is considered to be one of the most raw, down-to-earth street and rail riders: Ben Lewis. In the blue corner, we have his opponent and Fit Bike Co. lightweight champion who shakes up to be a larger-than-life, transition riding superhuman: Tom Dugan. As the dust settles from the brutal battle, the new etnies and Fit Bike Co. collaboration collection is unleashed. These products are only available on etnies.com and at select retailers around the globe.
Click here to see the "Battle of the Fittest" preview video, and see how you can enter to win a complete etnies and Fit Bike Co. package by following the fight through the @etniesBMX Instagram.
Below are more details on the "Battle of the Fittest" etnies collection that includes two footwear styles and five apparel pieces.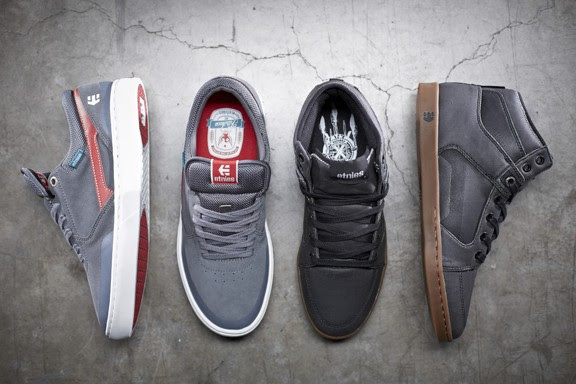 Left to right: The first piece in the collection is a new style for spring 2014. The etnies Ben Lewis Rap CL colorway features a new outsole with etnies Duo Grip. This grip incorporates a herringbone tread in the middle portion that is specifically constructed for gripping pedals. The Tom Dugan black/gum colorway of the Rap LS is a slim mid-top. It is built with an STI Foam Lite 1 footbed, a clean toe design without stitching to prevent blowouts and a heat-transfer rap bar logo.
Check out the complete "Battle of the Fittest" collection here: http://etni.es/botf
The collection also includes these apparel pieces: Vanowen Jersey, Krowley Henley and Amity, Lords and Prescott T-shirts.
WIN AN ETNIES X FIT BIKE CO. PACKAGE ON INSTAGRAM
etnies and Fit Bike Co. will complete the "Battle of the Fittest" collaboration by bringing out two exclusive BMX bikes. These bikes are limited edition and won't be sold in stores for long. Enter to win a complete package from etnies and Fit Bike Co. that includes one of these bikes. First, follow @etniesBMX on Instagram. Second, post your best ramp or rail photo or video to Instagram with hashtag #battleofthefittest. Please post only one entry per contestant. Ben and Tom will pick one winner from the Ramp category and one from the Rail category on March 21, 2014.
Empire BMX and Dan's Comp will also be hosting contests to give you a chance to win products from the collaboration this month too.
Keep the conversation going with these hashtags: #etnies #battleofthefittest
Connect with etnies on: etnies.com
Facebook: facebook.com/etnies.
Instagram: @etniesBMX, @fitbikeco, @tommydugan and @_bennyl
Vimeo: https://vimeo.com/etniesvideo and http://vimeo.com/channels/fitbikeco
Twitter: @etnies, @fitbikeco and @_bennyl
About etnies:
Established in 1986, etnies is the first skateboarder-owned and operated global action sports footwear and apparel company. etnies not only pushed the envelope by creating the first pro model skate shoe, but it pioneered technological advances and changed the face of skateboard footwear forever. Today, etnies' vision, led by owner and skateboarder Pierre-André Senizergues, is to remain the leading action sports company committed to creating innovative products that provide the most style, comfort and protection possible. etnies stays true to its roots by sponsoring world class skateboarding, surfing, snowboarding, moto x, and BMX continues its dedication by giving back to each of these communities. For additional information, visit etnies.com.
---